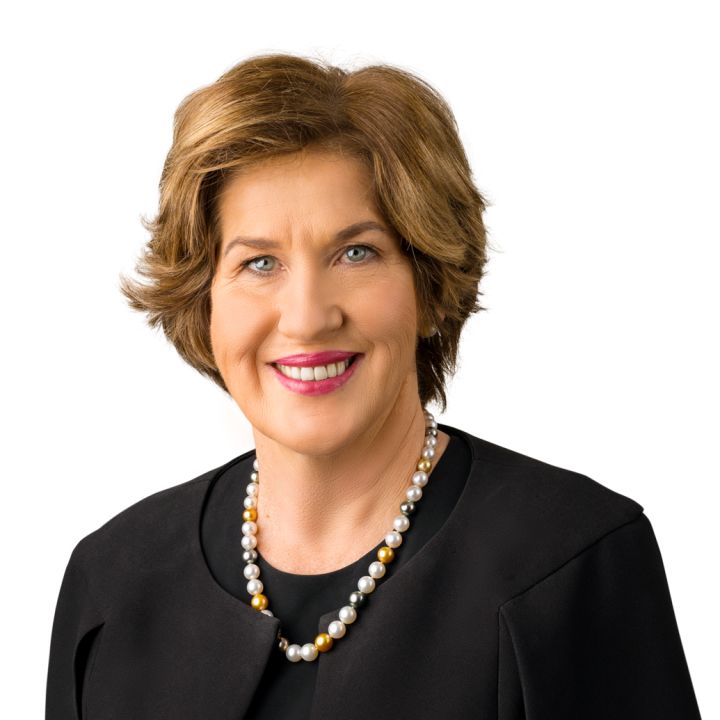 Christine McLoughlin AM
9 August 2022
Dear Shareholder,
The focus at Suncorp on delivering our strategic plan underpinned another strong year for the Group, despite the backdrop of continued global economic and political volatility. I am proud of the resilience of our company, and what our employees have delivered for our customers, communities, and shareholders in FY23.
Our achievements continue to be guided by our purpose of building futures and protecting what matters and are supported by our investment in our people, innovation, processes, and our products to support this.
Our purpose has become more relevant than ever in light of the significant complexities faced in recent years, including the global pandemic, a surge in inflation, supply chain dislocation and elevated levels of natural hazards, largely due to the occurrence of three consecutive La Niña climate patterns.
The frequency of extreme weather events across our regions has resulted in increased reinsurance costs for insurers, which in turn is compounding the problem of insurance affordability for customers. This is an industry wide concern and an important issue for Suncorp across its insurance businesses.
The march of technological innovation has been relentless and continues to be the driving force of change. Innovation is critical to our future success and continuing to deliver positive customer outcomes, and your Board and Executive team have worked proactively to understand the major trends, including how artificial intelligence will impact our business and our customers, how to operate effectively in an environment of increasing scams and cyber threats and how to ensure data privacy can be managed across our trusted brands.
#Our performance and capital position
---
Suncorp's performance continued to improve in FY23. The Group delivered a material increase in earnings, driven by continued momentum in top-line growth, improved underlying margins, and a significant turnaround in investment returns. You can read our ASX statement here.
Group net profit after tax of $1,148 million, was up by 68.6%, while cash earnings increased 86.3% to $1,254 million. This result reflects not only underwriting discipline but the significant contribution from investment markets and the release of the provision we had held for business interruption.
The Group delivered its FY23 plan and met its key financial and operational targets, which is a strong achievement given the enormity of the external challenges faced over the plan period.
Appropriate capital buffers have been maintained, in line with the Group's prudent and disciplined approach to capital management factoring in the changes to our reinsurance program and the elevated natural hazard activity.
The Board has determined to pay a fully franked final ordinary dividend of 27 cents per share. The Group's full year dividend payout of 60% of cash earnings is at the bottom of the target payout ratio range of 60% to 80%.
The dividend payout ratio reflects the Board's careful consideration of the current circumstances for Suncorp covering capital requirements including the reinsurance renewal, and the recently announced delay in the sale of Suncorp Bank as we work through the Tribunal review process. I provide more on the sale of the Bank below.
#Navigating our biggest challenges
---
Your Board regularly considers environmental, social and governance matters.
This year, the Group again assessed our most material topics for our business and our stakeholders. These include the affordability and accessibility of insurance and the closely associated issues of action on climate change and natural hazard resilience. Suncorp continues to play a central role in navigating these challenges, both by ensuring our customers and communities receive the support they need today, and by working with governments at all levels to advocate long-term change.
Providing affordable and equitable access to financial services products, while finding solutions to support customers who are experiencing vulnerability or hardship in the short-term, remains a priority for Suncorp. We remain staunch advocates for long-term resilience measures, such as improved public infrastructure, subsidies to improve private dwellings and an overhaul of planning laws, as the surest way to protect people and alleviate pressure on insurance premiums. It's been pleasing to see our advocacy agenda start to gain real traction this year, with greater investment committed by all levels of government.
Suncorp's focus on responding to climate change and embracing the opportunities from a transition to a net‑zero future continued in FY23. You can read more about our progress in reducing our own emissions, supporting our customers and partnering with others to make a difference in our Climate-related Disclosures Report.
Suncorp also published its third Modern Slavery Statement and introduced a Responsible Supply Chain Strategy this year aimed at reducing the climate impact and increasing employment opportunities, including for First Nations Australians.
Your Board remains deeply alert to the heightened threat of cybercrime, including scams and fraud, in both Australia and New Zealand. The cost of such incidents on businesses, our communities and economy continue to increase, with Australians losing more than $3 billion to scams in 2022, up 80% on the prior year. To counter this threat, Suncorp strengthened our capabilities to protect our business, people, and customers, while also building customer awareness on the growing threat of financial crime.
The people who work at Suncorp are front and centre in very challenging times for customers. Their experience and wellbeing continue to be of utmost importance to the Board. We appreciate and admire the way they responded when called upon during the significant weather events in 2023.
As outlined in my shareholder letter earlier this week, Suncorp has worked constructively with the relevant government and regulatory bodies to progress approvals in relation to the sale of ANZ Banking Group (ANZ). Last week, the Australian Competition & Consumer Commission (ACCC) announced it would not approve the proposed sale. Like our shareholders, we were disappointed with this outcome.
Given the changes in and the challenges across the sector we do not believe the ACCC decision reflects a contemporary appreciation of the Australian banking sector's true competitive dynamics, global market conditions, or how businesses need to operate in these circumstances.
That is why we are supporting ANZ in seeking consideration by the ACCC decision before the Australian Competition Tribunal ("Tribunal"). That process is led by a Justice of the Federal Court of Australia. We are confident the Tribunal will take an independent view based on a practical and contemporary assessment of the market and the evidence already produced by Suncorp and ANZ. We appreciate your patience as we continue to work through the merger authorisation process. Please be assured that your Board and executive team will continue to focus on running and investing in the business while the process is underway.
We remain firmly of the view that the sale of our Bank to ANZ is in the best interests of all our stakeholders. It will also deliver clear benefits to Queensland which were again acknowledged by the Queensland Government following the ACCC decision being announced.
Should all approvals be received, Suncorp Group will become a dedicated trans-Tasman insurance company with more focussed investment and management of the risks and opportunities associated with our changing climate. Suncorp Bank will continue to service our customers and communities but under different ownership.
On behalf of the Board, I would like to thank you, our shareholders, for your continued support of the Suncorp Group.
We believe our long history of helping our customers and communities when they need us, combined with a strong focus on our people and innovation, will continue to deliver positive outcomes for our shareholders.
I would also like to thank our Group CEO, Steve Johnston, his leadership team and all Suncorp employees for working so hard for our business and stakeholders, with the trademark dedication and sense of purpose we are known for.
Christine McLoughlin AM
Suncorp Group Chairman
9 August 2023