A culture maker | Suncorp Group's Innovating Women
---
Innovating Women is a series sharing the candid stories and viewpoints of women working across the business at Suncorp Group. It offers individual perspectives on the shaping of careers and attitudes, what the private sector can do to build a more gender equal future, and the strategies they employ to foster innovation in the workplace.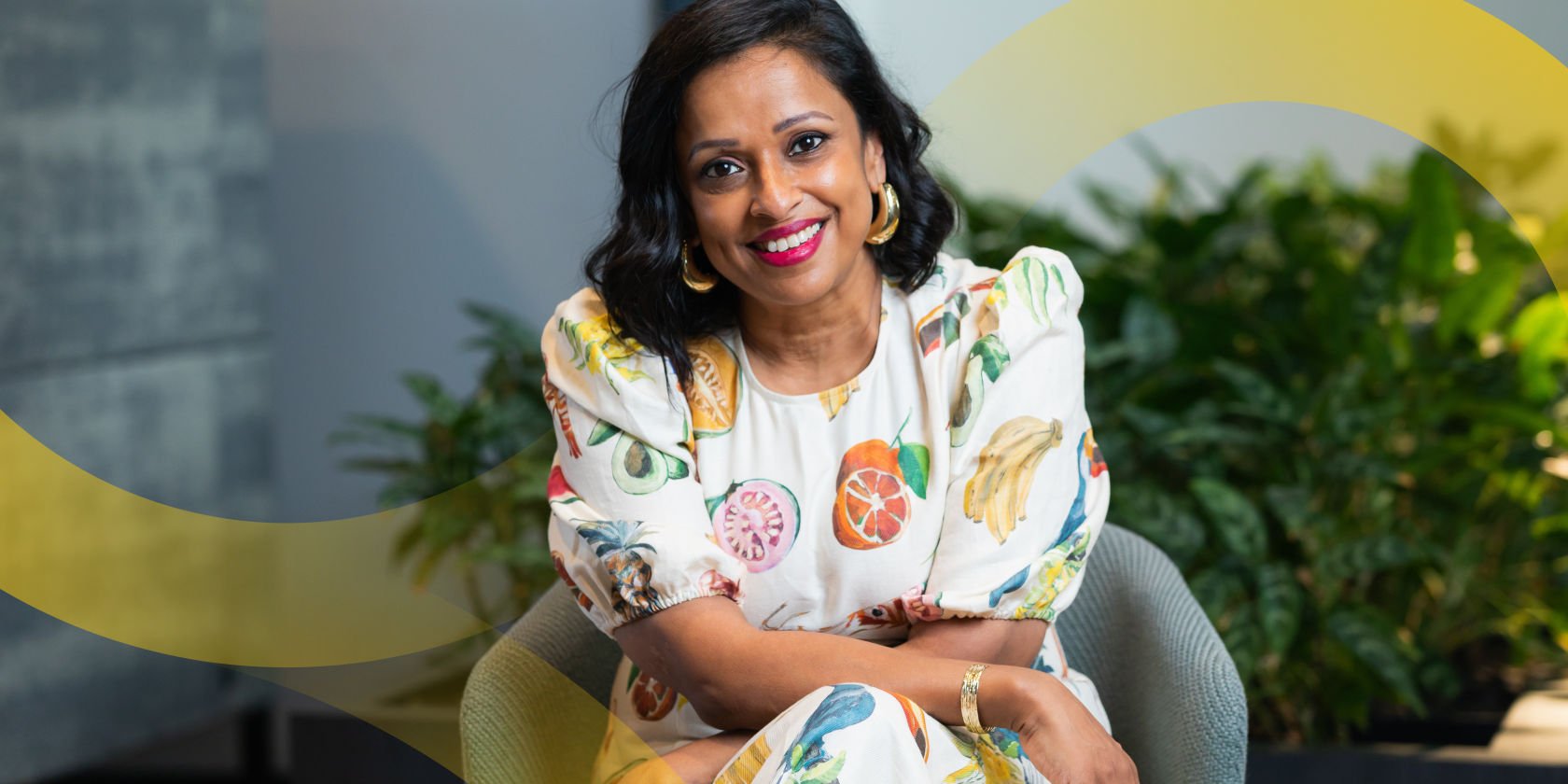 At Suncorp Group, we're determined to advance gender equality in and beyond our workplace. We're immensely proud of the work we're doing to ensure women are represented at leadership level. Since 2018, Suncorp has maintained at least 50% representation of women across all leadership positions.
When it comes to the Gender Pay Gap, we've made great strides but know we still have work to do. According to The Workplace Gender Equality Agency, the Financial and Insurance Services industry has the third highest gap in Australia, currently sitting at 19%. Suncorp's Gender Pay Gap is 18.1%, and we're aiming to reduce this to 15.5% by 30 June 2025.
Innovating Women explores career paths and turning points, barriers to equality, and how these women are championing innovation at Suncorp.
#​Rapthi Thanapalasingam, Head of Mass Brands & Sponsorships ​
---
With a career spanning decades and slew of groundbreaking campaigns to draw from, Rapthi Thanapalasingam is intent on challenging assumptions and putting Suncorp Group's purpose into practice. ​
#Tell us a little about yourself and who or what inspired your attitude towards your work?
---
"I was born in Sri Lanka and lived in Singapore, Malaysia, Thailand and Papua New Guinea before my family decided to call Sydney home, so a passion for travel and a multicultural lens on life was in my blood from a very young age. I studied Social Science & Policy, and completed a Masters in Commerce Marketing both at UNSW.
I started my marketing career in digital during the late 90s, when the landscape was completely different. With more experience, I ventured into more marketing generalist/brand roles. And over the past 20 years I've had the privilege of working on some of the great brands in Australia: Tourism Australia, Telstra, Mastercard, Virgin and now Suncorp.
I've also been lucky to have had some great female mentors along the way. They really pushed me to understand how to challenge my thinking, problem solve, rally teams and build self-confidence, which was important as a young manager just starting out. Because they left such an important mark on me, I now mentor two young professionals myself. Paying it forward really fills my cup.
I've been at Suncorp for just on two years now, and I know I'm completely biased but I think I work on one of the best portfolios in one of the best marketing teams in the country. No one day is the same, with different challenges to solve across the portfolio, and with a very clever and passionate team. I'll never forget working on Event Response in my first year here, especially during the floods. It was such a meaningful experience where you could really see us putting our purpose into practice."
#Thinking about what the private sector can do to accelerate an open, safe and equal future for women, what do you feel would be the most transformative commitments we could make?
---
"I would say closing the digital gender gap is where the private sector can really make a difference. And that means addressing not only access and online safety, but also digital literacy. It's these interlinked barriers that keep so many women offline and away from opportunities.
There's also a more specific role for marketers. Through the content we produce, we have the power to eradicate harmful stereotypes. Some of my Suncorp colleagues and I are members of the Australian chapter of the UN's Unstereotype Alliance, which is a global coalition intent on ensuring diversity is prioritised throughout the entire creative process. So, I see us as culture makers in a way."
#The theme for International Women's Day this year was 'Cracking the Code: Innovation for a Gender Equal future. How do you encourage innovation in your team?
---
"I'm very lucky in that it doesn't take much "encouraging" for our teams to think creatively, or innovatively, it's something we put into practice every day when attacking a marketing or portfolio insight, or a customer pain point, or working out how to deliver a first in market like One House and AAMI Rest Towns. Our team has been acknowledged industry wide as producing some of the most creative and effective work in the country, which is a testament to the innovative thinking at our core."
#What advice do you have for those who might not be used to thinking about gender equality in their work?
---
"Challenge your own assumptions and beliefs about gender when it comes to both your everyday work and the workforce. Most people have general beliefs about those who are different, because it's easier to make judgements about groups than about individuals - it requires less mental energy. But general judgements often become assumptions – and that's where most prejudice comes from."