Suncorp Wins Bank and Business Bank of the Year
---
For the fifth year in a row, Suncorp has been awarded Money Magazine's Bank and Business Bank of the Year.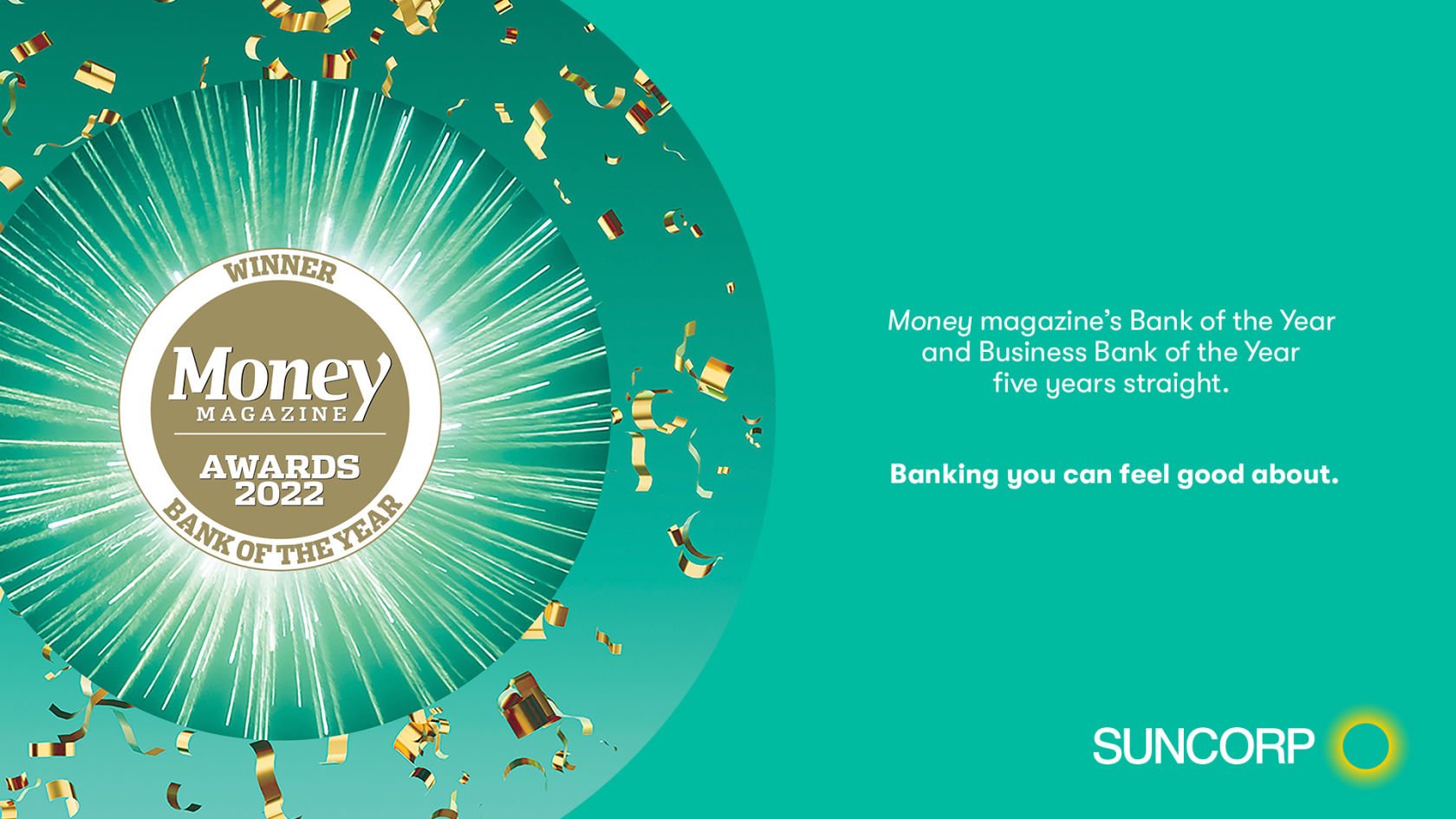 Suncorp Bank CEO Clive van Horen said: "Winning this award once again is a significant achievement and testament to our customer-obsessed team, who are dedicated to delivering for our customers.
"In this past year we've supported customers in the moments that matter, whether it's through challenging times such as the devasting floods, or the rising cost of living.
"We have enhanced our digital offering to make it easier for customers, introduced the Solar Home Bonus, launched PayLater, unveiled our recycled debit cards, and welcomed a new Green Upgrades Equity Home Loan. All the while offering competitive products and services which make our customers feel good about banking with Suncorp.
"We continue to be there for our business customers as well, providing everything from everyday banking and merchant needs, payments solutions, and finance across agribusiness and commercial businesses.
"And we've looked for opportunities to do better for our community, including launching a new offering which donates meals to OzHarvest on behalf of every customer who opens an award-winning Suncorp Everyday Account.
"I'm incredibly proud of the Suncorp Bank team for winning Bank and Business Bank of the Year for 2022," Mr van Horen said.
In announcing the achievement, Money Magazine attributed Suncorp Bank and Business Bank's win to 'its mix of home, business and agricultural lending which puts the Bank front and centre in the community'.
"It's easy to appreciate why Suncorp is so focused on environmental, sustainability and governance (ESG) principles, in particular natural disaster resilience, as well as accessibility and affordability, climate change responses, being a purposeful and responsible business and being available to vulnerable customers," shared Money Magazine.
"As important as these factors are, Suncorp's customers also need their bank to offer competitive products. Its basic home loans are consistently in the top 20 per cent for value, and variable rate loans are in the top 30 per cent."
High five to that!
Suncorp Bank