Strength, bravery and spirit on display, as Suncorp Group honours top QLD SES volunteers
---
Suncorp Group has paid tribute to a brave Queenslander – presenting the Suncorp Spirit of SES Award, as part of the Queensland SES State Awards in Brisbane.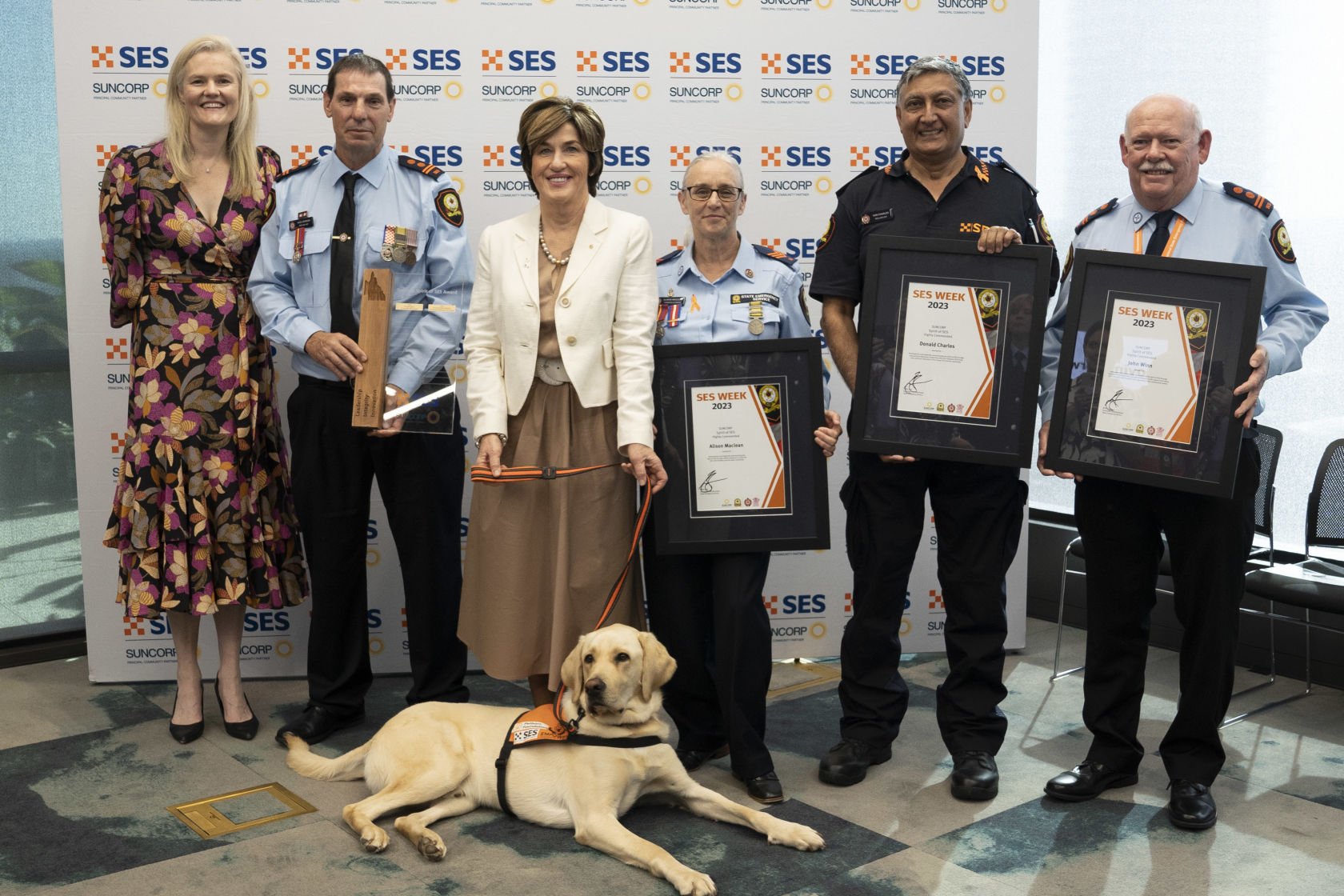 The best of the Queensland SES (State Emergency Service) were celebrated over the weekend, with the SES State Awards taking place in Suncorp's Brisbane headquarters, Heritage Lanes.
Suncorp Group partners with Queensland SES to help communities better prepare for natural disasters, and sponsors the 'Suncorp Spirit of SES' Award, presented to one standout SES volunteer each year.
This year, the award was presented to Alexandra Baines of the Redlands Unit for her outstanding professionalism and exceptional leadership in her 7+ years of service.
Suncorp Group Chairman, Christine McLoughlin AM, said the award is presented to an SES member who embodies the qualities of the SES.
"The Suncorp Spirit of SES award is presented to a volunteer who excels as a leader and is a strong role model to others," Ms McLoughlin said.
"Suncorp is incredibly proud of this partnership.
"As Queensland's largest insurer, we also see the devastating and long-lasting impact natural disasters can have on communities."
Christine McLoughlin AM, Suncorp Group Chairman

By partnering and working together, we are far better placed to support our communities and advocate for long-term change.
Queensland Fire and Emergency Services (QFES) Commissioner, Greg Leach, said partnerships like Suncorp's are vital in enabling the SES to continue its life-saving work.

"Our SES volunteers serve Queenslanders in their times of greatest need and for this, we are extremely grateful," Commissioner Leach said.
"I would like to thank our local government partners, our Principal Community Partner Suncorp, and other partners whose ongoing support allows the SES to continue to do the vital work they do."
The event was also attended by Mark Ryan MP, Queensland Minister for Police and Corrective Services and Minister for Fire and Emergency Services, who also commended the partnership.
Suncorp Group also partners with the New South Wales SES through its AAMI brand and recently celebrated 20 years of collaboration with the Victorian SES. This is the second time Suncorp has presented the Suncorp Spirit of SES Award.
Operational response of the year: Ipswich City SES Unit
Joyce Scorey Shield for the Queensland Trainer of the Year: Melonie Bewick, Atherton SES Group
Commissioner's Cup for Unit/Group of the Year: Deception Bay SES Group
Director's Cup for the Queensland Young Member of the Year: Sidrah Harcourt, Redland Bay SES Group
Minister's Cup for the Queensland Member of the Year: Blair Bloustien, Holloways Beach SES Group
Suncorp Spirit of SES Award: Alexandra Baines, Cleveland SES Group
Life Member Award: Karen Weston, Holloways Beach SES Group
Life Member Award: Giordano Laguna, Townsville City SES Unit
Life Member Award: Brendan Jones, Coolum Beach SES Group
Life Member Award: Robert Griffiths, Townsville City SES Unit