AAMI and What Ability team up to bring happiness to those living with disability
---
Suncorp Group insurer AAMI joined forces with new partner What Ability over the weekend to host their first event at AAMI Park. What Ability Days are always fun. Last weekend was no exception, with more than 200 carers, families, volunteers and some of Australia's most prominent sports stars coming together to put happiness first for people with a disability.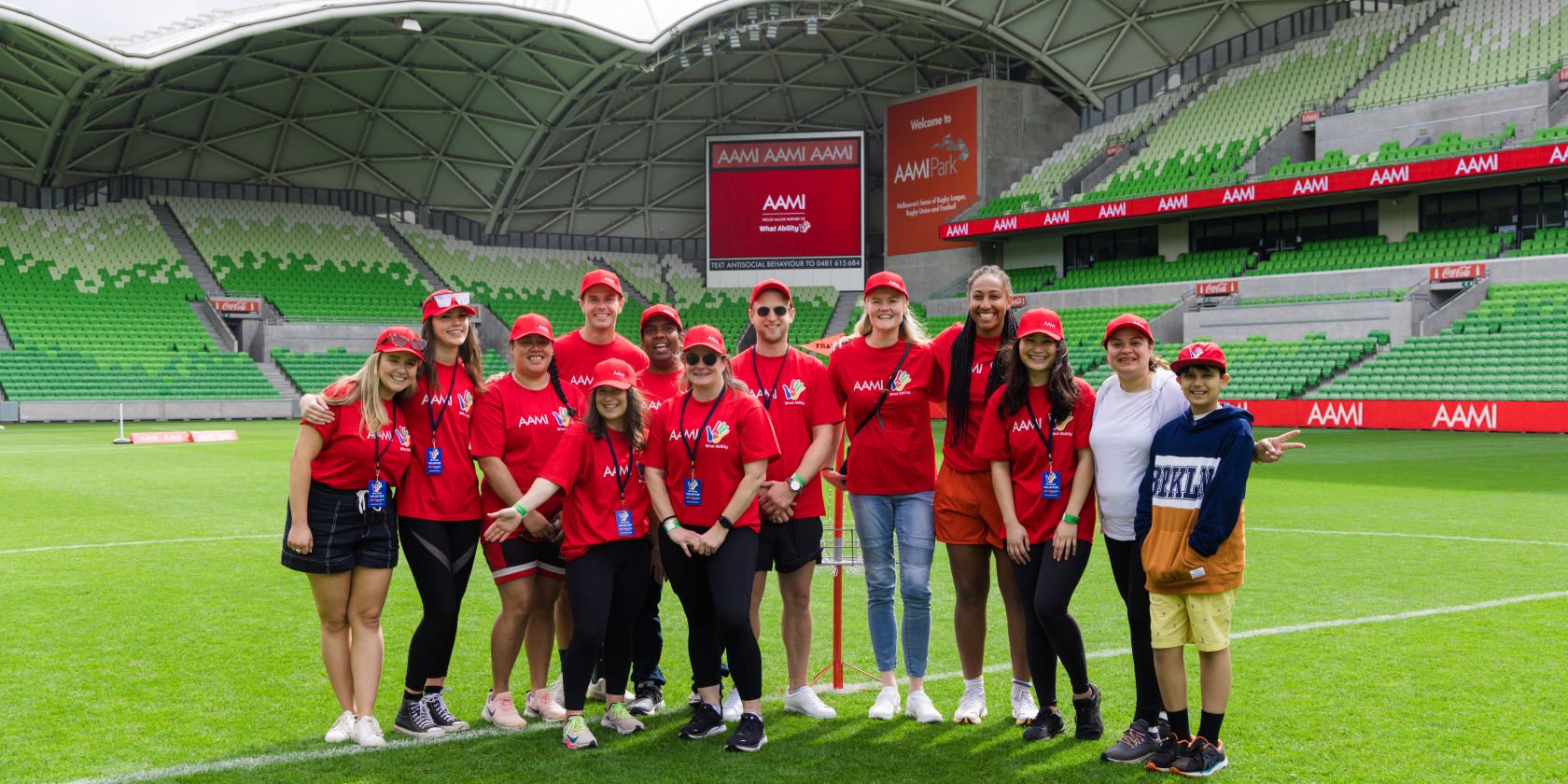 Following the announcement of their major partnership last year, AAMI and What Ability held their first partnered event over the weekend, providing a fun and enriching experience for people living with disability.
More than 200 people with disability, their families and carers came together at Suncorp Group's AAMI Park to meet local athletes and participate in a range of sporting activities.
What Ability is an NDIS-registered disability service specialising in community access and overnight camps. The organisation utilises the skills and passion of professional and semi-professional athletes, who act as their support workers.
With exclusive access to the field, attendees participated in a range of fun games, including kicking and passing the footy, playing a round of frisbee and dribbling soccer balls.
A number of high-profile athletes were on hand from a variety of sporting codes including AFLM and AFLW, Suncorp Super Netball and Western Force rugby, alongside AAMI Ambassadors Trent Cotchin and Sabrina Frederick.
The day showcased and celebrated the work that What Ability does for the community, and promoted the importance of inclusivity through fun and unique experiences.
Chief Executive Officer, Insurance Product and Portfolio at Suncorp Group, Lisa Harrison , says the event was a fantastic opportunity for the brand to back the community.
"When we announced our partnership with What Ability late last year, we had the goal of helping What Ability continue to promote their important service and their mission of bringing happiness to people with a disability," Ms Harrison said.
Lisa Harrison, CEO Insurance Product & Portfolio

Sunday's event was the opportunity to enjoy a day on the turf, at an iconic Australian venue, with some of the country's most loved athletes, which judging by the smiles on the faces of everyone there, created an experience to remember. We loved being part of it.
What Ability Founder, Steve Dresler was thrilled with the success of the event and the opportunity provided by AAMI to elevate it to the next level.
"Our event days used to just be at the local park, kicking the footy around. To now have the opportunity to do this in a stadium and showcase disability on a higher level, is incredible. We want to show the world how easy it is to be inclusive and to cater to everybody so that nobody gets left out."
A number of AAMI team members who work across the business also volunteered at the event, helping participants with the activities.
Sally Frank from the AAMI Brand and Marketing team, was amongst the army of volunteers.
"I jumped at the opportunity to volunteer at the What Ability Day for so many reasons. I love that I work for a company and brand that supports diversity and inclusion, and volunteering is a way I can say thanks to all the amazing people that make these events possible."
Sally Frank, Suncorp employee and event volunteer

It was so rewarding seeing the smiles on all the faces, their joy is infectious and by the end of the day my cheeks hurt!
"Having recently had a child diagnosed with ASD (Autism Spectrum Disorder), I have had some insight to what it is like to access services and navigate NDIS, so if putting my hand up to volunteer on a day like this helps just one other family, then it is worth every minute."
While this was the first partnered event between What Ability and AAMI, there will be several more What Ability days in 2023 across the country.