Message from the Group CEO FY21
---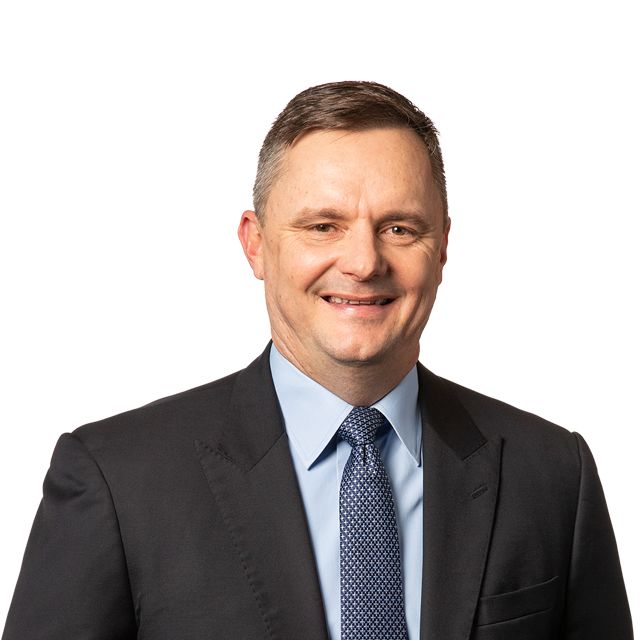 Steve Johnston, Chief Executive Officer
9 August 2021
Against the backdrop of unprecedented disruption, change and uncertainty, our business has remained true to its purpose of building futures and protecting what matters.
Our purpose is core to everything we do. It defines our culture; the work our people do every day and the role we play in communities across Australia and New Zealand. It provides stability, strength and comfort at a time when the unexpected occurs and it supports our customers during those big moments in life, such as buying a home, opening a business or protecting what they hold most dear.
Our purpose comes to life through our people: a capable, engaged and diverse workforce that enables us to deliver for customers and the communities we live and work in.
I am proud to lead a refreshed and experienced executive team. We are united on a clear strategy and plan for success in the near term and committed to building the foundations for our business.
In FY21, I appointed three new executives to the leadership team. Adam Bennett joined Suncorp in July 2020 as the Chief Information Officer, focused on driving transformation of the end-to-end customer experience through digitisation and technology innovation. Clive van Horen joined the Group in August 2020 as CEO Banking & Wealth and has contributed to the improved performance of the Bank and execution of the Wealth sale. Jimmy Higgins was appointed CEO Suncorp New Zealand in October 2020. Prior to this position he was CFO and helped drive Suncorp New Zealand's strong performance over many years.
In May 2021, I created the new role of Group Executive, People, Culture & Advocacy, and appointed existing executive Fiona Thompson to this position. This new function will ensure strong alignment between our people and culture objectives and our advocacy agenda.
This year, we have continued to embed a new operating model announced on 1 July 2020. Our 13,000 people are fully lined up to our core insurance and banking businesses and everyone knows their role in delivering products and services to our customers.
Perhaps the best demonstration of this purpose in action is how we support our customers impacted by natural disasters. During FY21, our customers and communities in Australia and New Zealand experienced 23 natural disasters – bushfires, floods, hail, and cyclones. These events are often life-changing, as I witnessed first-hand when I toured the community of Springfield, west of Brisbane, and saw the devastation caused by a large hailstorm. I heard from families who were clearly shaken, months after the event. They spoke of the fear and terror as they watched their homes be destroyed, but then also the relief of knowing they were insured with us.
The impacts of a changing climate mean that wild weather will continue to be a fact of life, and how we manage our business through these events is what sets us apart from our competitors. We are improving the performance of the claims supply chain, building end-to-end digital claims lodgement and tracking, and maintaining market leadership in how we respond to natural disasters.
We also recognise our customers and communities have had to fundamentally change the way they live, work and interact due to COVID-19. That is why we are improving our digital-first customer experiences and have reshaped and simplified our business in FY21, focussing on the portfolios and products that our customers want and need.
Everything we do at Suncorp is aligned behind four strategic pillars:
· being customer-led through digital and personalised experiences,
· technology-enabled using automation and modern technology platforms,
· having our workforce reimagined with exceptional people empowered to make a difference,
· and maintaining our long-held role of change advocated that is committed to building a fair and sustainable industry.
Our strategy is starting to see good results. The Group has delivered growth in its core Australian insurance and bank businesses in the year to 30 June 2021, resulting in a 42.1% increase in cash earnings to $1.064 billion and increased returns to shareholders.
As a result of our strong performance, we have returned capital to shareholders this year through a combination of fully franked ordinary dividends, a special dividend as well as an on-market buyback.
In our Australian insurance business, our priorities include revitalising our brands, which has seen AAMI reach new record levels for consideration nationally, extending its number one position. Pricing and risk selection is being improved and the delivery of digital-first customer experiences remains a key aim, with over half of our insurance policies now sold through online channels.
The Group has made a financial provision for potential business interruption claims of $211 million and will continue to monitor legal proceedings and assess all claims in accordance with policy terms and circumstances.
In our Bank, our home lending portfolio returned to growth for the first time in over two years while loan turnaround times improved to fewer than 11 days, down from 21 days pre-COVID-19. While we have more to do, our confidence is growing and our strategy is yielding early results. We have adopted a targeted growth strategy in business banking, accelerated digital adoption in everyday banking and structured our distribution channels to ensure customers are served in the way that best suits their needs.
Suncorp New Zealand has continued to perform well. We are driving growth by strengthening our brands and partnerships, looking to deliver best-in-class claims and creating a significant uplift in digital-first customer experiences.
Our business was further simplified during the past year. We announced the sale of our Wealth business to LGIAsuper and exited several portfolios and products including personal loans in our Bank; travel insurance; and Vero-branded consumer and construction insurance sold through brokers in Australia.
Our strong financial performance and solid momentum is only possible due to the hard work and dedication of our people. From branches, contact centres, corporate offices and home offices, we have adapted to keep our customers, people and communities safe. Teams accelerated solutions for our customers when they needed us most and our people have embraced a new hybrid model of working.
#Suncorp in the community
---
Within this report, you will find examples of the work Suncorp does to support the communities we live and work in. In FY21, our investment of 0.6% of pre-tax profit supported a range of important community causes. I'm particularly proud of our new community partnership with the Queensland State Emergency Service (SES), which complements our existing long-standing partnership with the Victorian SES. In times of natural disaster, the selfless volunteers of the SES are often the first responders to our customers and communities.
#Innovate Reconciliation Action Plan
---
It was with great pride that Suncorp launched our second Reconciliation Action Plan (RAP) in November 2020. Our new Innovate RAP further strengthens our commitment to building an inclusive, prosperous and resilient society for all Australians, and I would like to thank the individuals and organisations who have helped shape our commitments to First Nations communities.
The next 12 months will be critical for Australia and New Zealand. A vaccinated population is key to building confidence and restoring movement between the two countries and the world. We are strongly advocating for all Suncorp people to become vaccinated as soon as they can. As an organisation, we will maintain focus on living our purpose, relentless execution of our strategy and delivering our key performance targets.
Despite a year of challenges, we have delivered on our plan through FY21. I am confident we can continue to evolve to meet our customers' needs and demonstrate value to our shareholders.
I thank all our shareholders for the confidence and trust you have in our company.