Message from the Chairman FY21
---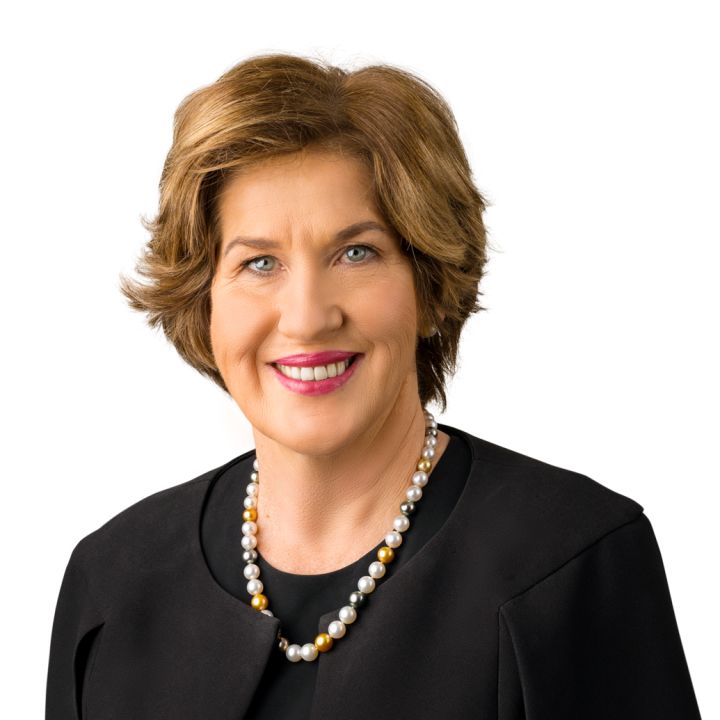 Christine McLoughlin
9 August 2021
Dear Shareholder,
There has never been a time when Suncorp's purpose of building futures and protecting what matters has been more relevant. Our purpose has guided the way we have responded to the challenges of the past year, and how we are evolving our organisation to realise the opportunities for our business.
When I wrote to you a year ago, we were in the midst of a health crisis and economic uncertainty due to the COVID-19 pandemic. These impacts have continued, with ongoing lockdowns and border closures, and it is now clear that recovery rests on the successful vaccination of our population. Your Board and leadership team came forward as soon as we were eligible to be vaccinated. We are strongly committed to supporting the rapid, safe and effective delivery of a COVID-19 vaccination program.
Since I was appointed Chairman in September 2018, and Steve Johnston's subsequent appointment as Group CEO in September 2019, Suncorp has advanced to be a more customer-led and sustainable business.
A new streamlined operating model was introduced on 1 July 2020, aligned around three core businesses: Insurance (Australia), Banking & Wealth and Suncorp New Zealand. This model, together with a clear plan, is creating positive momentum. We are revitalising our insurance brands and lending growth has returned to our Bank, while our strong capital position has been maintained despite the challenges of COVID-19.
As part of a more focused strategy, we have continued to unlock value through a range of initiatives including the sale of the life insurance business, the sale of the smash repair business and most recently, the sale of the Wealth business and our share of RACT Insurance.
In May 2020 we announced a pay and leave entitlement review which dated back several years. Remediation payments are underway and are expected to be within the reported provision. I would like to apologise once again for these errors.
#Performance and capital management
---
Net profit after tax for the year to 30 June 2021 increased by 13.1% to $1.03 billion, reflecting growth in the Insurance (Australia) and Banking businesses, as well as strong investment returns.
Your Board is pleased to announce a fully franked final dividend of 40 cents per share. This brings the FY21 total ordinary dividend to 66 cents per share, representing a payout ratio at the top end of the target payout range of 60-80%.
In addition to ordinary dividend payments, Suncorp will pay a fully franked special dividend of 8 cents per share and conduct an on-market share buyback of up to $250 million. This reflects the Group's strong capital position and the Board's confidence in the earnings outlook.
In total, FY21 dividend payments and the share buyback equate to almost $1.2 billion returned to shareholders.
#A responsible and adaptive business
---
We conduct a bi-annual materiality assessment to support our understanding of the most material environmental, social and governance (ESG) issues affecting our business. The assessment is conducted by an independent party.
This year, the assessment has deepened our understanding of the opportunities and consequences of accelerating change. The most material issues that face Suncorp include building our community's resilience to natural hazards; managing the impacts of climate change; building customer centricity; managing data, privacy and security; and supporting an evolving workforce.
Our most material issue – and indeed, an issue for the broader insurance industry and our nation – is the rising incidence of natural disasters. In the past year, we saw floods, hail, cyclones, and bushfires across all corners of Australia and New Zealand.
I had the opportunity to meet with customers in our home state of Queensland, including homeowners in Springfield, which was devastated by severe storms. It is clear that more needs to be done to help these communities withstand natural disasters, and is why Suncorp continues to advocate strongly for greater government investment in disaster mitigation and community resilience measures.
The increasingly digital world we live in and the growing threat of cyber risks is increasing customer and community expectations around how data, security and privacy is managed. Suncorp is investing in advanced data analytics and fraud detection technology, and we continue to run education programs to support customers impacted by financial scams.
Responsible investment also remains a key priority for your Board, and Suncorp has a range of guidelines to ensure consistent decision-making across the Group's investment, banking and insurance portfolios. Suncorp's new Sensitive Sector Standards enable us to appropriately respond to ESG risks and support the implementation of our Responsible Investment and Responsible Banking and Insurance Policies.
This year, the Group released its inaugural Modern Slavery Statement, reflecting our commitment to identifying and addressing the risks of modern slavery to the people who work in and support our business.
In terms of changing workforce patterns, our employees have embraced new hybrid ways of working, allowing for greater flexibility and choice for where and how they work. As digitisation and automation reshapes the workforce, we are investing in reskilling and upskilling our employees through our Future Ready learning initiative, with more than 1,300 employees participating in this program in FY21.
The last year saw a continued focus on the regulatory change agenda. A number of new regulations will come into effect in FY22, and Suncorp is well placed to meet the new requirements. The program will continue to consume significant resources.
Suncorp has responded to the challenges of FY21 by accelerating our change programs and increasing our focus on our customers' experiences. We intend to maintain this pace in the year ahead. I remain confident that Suncorp, its people, and the customers and communities we serve will emerge from this period with a greater sense of the things that matter.
I look forward to welcoming to the Board a new non-executive director in Duncan West, who will join us on 23 September 2021. Duncan is a highly experienced Board director with deep sector insight. He has held director, CEO and senior executive roles in regulated businesses and across a number of leading insurance brands both internationally and in Australia.
On behalf of the Board, I would like to acknowledge our executive team and all employees for their unwavering commitment to our organisation and customers.
Finally, I also want to thank you – our valued shareholders – for your continued confidence and support of the Suncorp Group.
Notice of Meeting
25 August 2021
Annual General Meeting
23 September 2021