Message from the Chairman FY22
---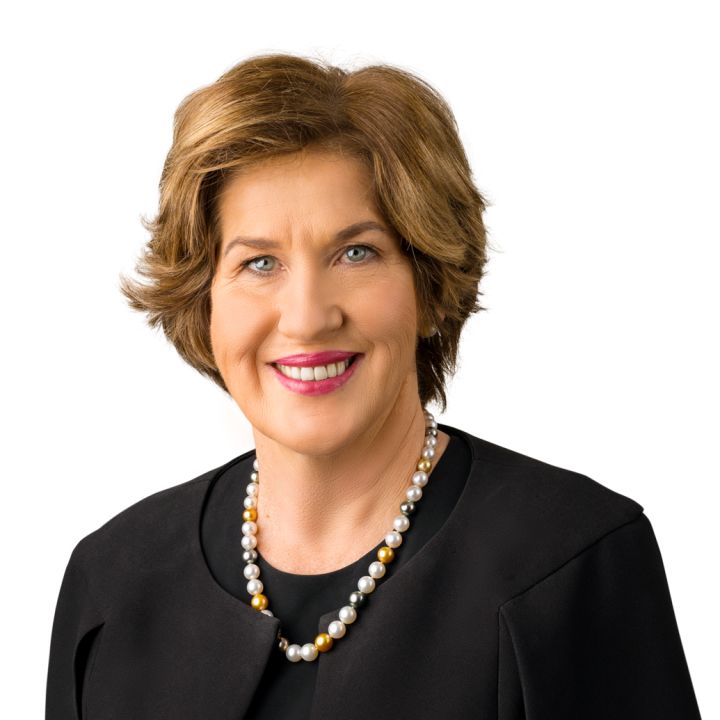 Christine McLoughlin AM
8 August 2022
Dear Shareholder,
The past year has brought its own unique set of challenges and change to navigate.
As I reflect on the intensity of events we've had to contend with as a business and a society in recent years, including the 2019-20 black summer bushfires and the lingering global pandemic, it is clear we are emerging stronger. We have built a new level of agility, resilience and capability that I believe puts us in good stead for the significant challenges and opportunities that lie ahead.
We continue to face into the ongoing impacts of global supply chain dislocation due to both the pandemic and heightened geo-political tensions, with simultaneous inflationary pressures, tight labour markets and investment market volatility presenting persistent challenges. As a financial services company we also continued to work through the complexities of a once-in-a-generation regulatory change agenda.
In what is a stark reminder of the increasing impacts of our changing climate, we have additionally been confronted by an extraordinary 35 separate natural hazard events across Australia and New Zealand throughout the year. This of course includes the devastating Eastern Australia flood disaster in early 2022, one of the worst on record for Australia and the largest weather event in Suncorp's 100-plus year history.
The extreme and relentless nature of these events has only served to intensify our efforts in addressing climate change as well as advocating for greater investment in resilience measures that better protect our communities and help address affordability pressures in high-risk regions.
I visited the impacted areas on the east coast of Australia, including Lismore and surrounds as soon as it was safe to do so. While confronting, the experience served as an important reminder of, and provided a deep appreciation for, Suncorp's purpose of building futures and protecting what matters. It also reinforced that the culture of Suncorp is built on the incredible dedication of our people.
Through the prism of our rapidly changing operating environment, as you know we recently announced the Board's decision to sell our banking business to ANZ, with Suncorp Group to become a dedicated Trans-Tasman insurer at a time when the value of insurance has never been greater. Your Board firmly believes the decision to be in the best interest of shareholders and pending completion, is committed to returning to shareholders any capital that is excess to the needs of the business.
#Our performance and capital position
---
While the underlying performance of the Group remained strong throughout the year, the enormity of the challenges faced this year have impacted our FY22 result. The Group's net profit after tax was down 34.1% to $681 million, with cash earnings down 36.7% to $673 million.
This was due to the combined impacts of elevated natural hazards costs, estimated at $1.08 billion dollars ($101 million over our allowance for the year), the purchase of additional reinsurance covers and the significant volatility in global investment markets.
As a result, your Board has declared a fully franked final dividend of 17 cents per share. This brings the FY22 total ordinary dividend to 40 cents per share.
While the total annual dividend to shareholders is lower than last year, it is at the upper end of our 60-80% target payout ratio at 75%. Your Board believes this is appropriate given the uncertain outlook we continue to face into, including ongoing global investment market volatility and the possibility of a third La Niña weather pattern.
Good progress has been made to reshape our business, drive premium and margin growth and deliver against our strategic priorities. This, combined with our prudent capital management approach, underpins our ongoing commitment to continue to unlock value for our company and our shareholders.
#Responding to our changing landscape
---
Your Board also recognises that Suncorp's future success and sustainability rests on understanding and meeting both the current and future expectations of a range of stakeholders.
This year's materiality assessment of environmental, social and governance risks and opportunities saw natural hazard resilience, our response to climate change and the accessibility and affordability of financial services prevail as the Group's most material topics.
This year, the Group refreshed its Climate Change Action Plan, reinforcing our commitment to reducing our own climate impact while supporting our customers, suppliers and investees in their transition to a low carbon future. Details of our FY22 progress can be found on pages 32 to 47 of our Annual Report.
The Group also published its second Modern Slavery Statement which outlines our approach and progress in identifying and addressing the risk of modern slavery in our operations and supply chains.
You can learn more about our progress this year in driving a responsible and purposeful business in our 2022 Annual Report, including how we're delivering better customer outcomes, adapting to the rapidly accelerating digital environment, addressing the important issue of cyber risk, and continuing to invest in our workforce as we plan for the future.
On behalf of the Board, I would like to thank all of Suncorp's employees for continuing to live our purpose and deliver value for all of our stakeholders.
I also thank you, our valued shareholders, for your ongoing support of the Suncorp Group in what has been another challenging year.
I look forward to engaging with you at Suncorp's 2022 Annual General Meeting, which will this year be hosted as a hybrid event, providing shareholders the opportunity to attend virtually or in person at the Sofitel Brisbane Central.