Next stop Tokyo: GIO NSW Gladiators crowned National Wheelchair Rugby Champions
---
Great mates and two of the best wheelchair rugby players in the world, Andrew Edmondson and GIO Brand Ambassador Ryley Batt are gearing up for the Tokyo Paralympics, following an action-packed tournament on the Gold Coast.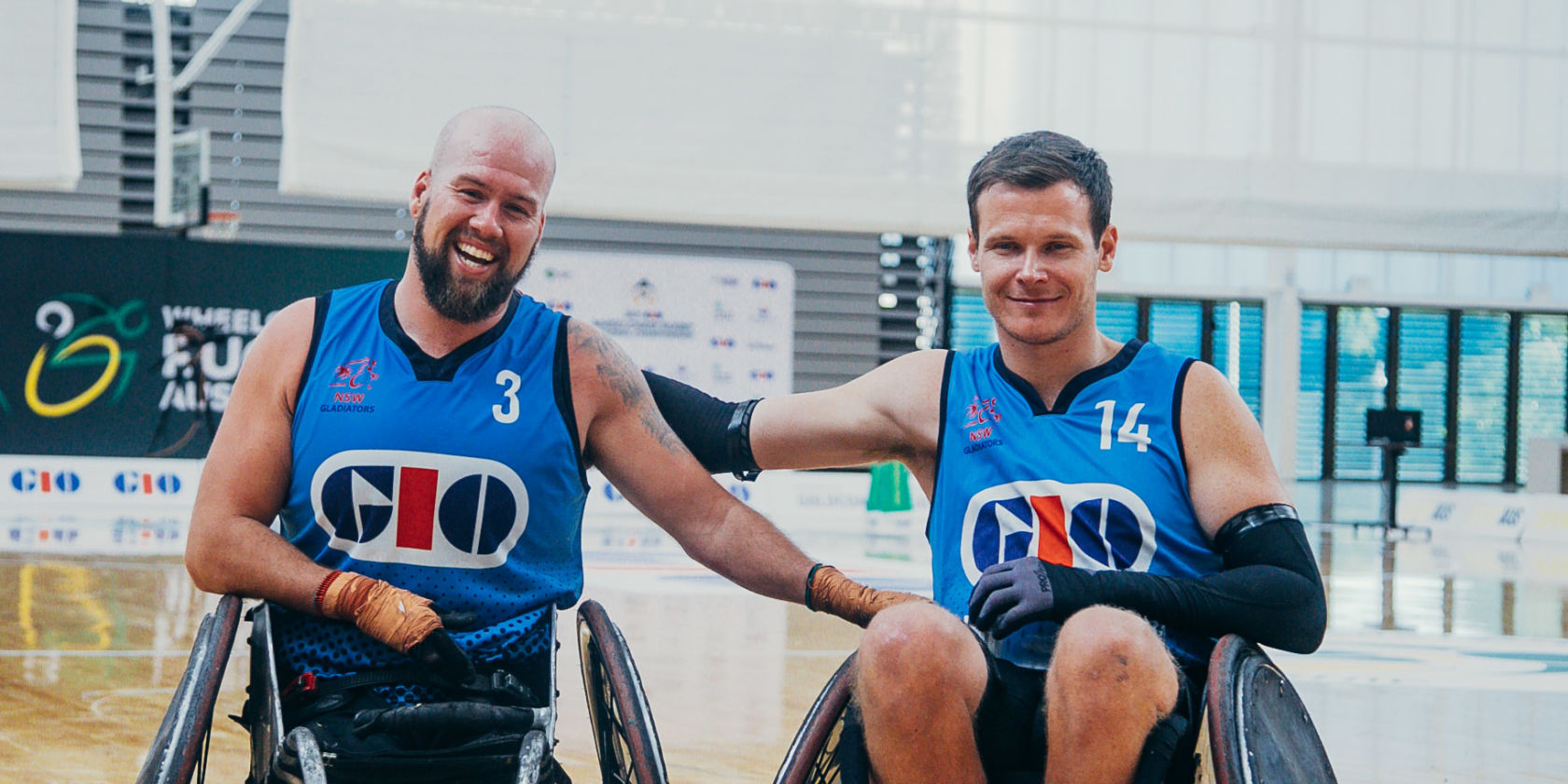 What seemed like a missed opportunity at the time, turned into anything but for wheelchair rugby champion, GIO Brand Ambassador and member of the GIO CTP Customer Proposition Team, Ryley Batt.
"I wasn't at school the day you got to tick the boxes for sport, and I missed out on all the fun stuff like surfing and got stuck with the last form that was PCYC," remembers Ryley.
"Nobody wanted to go to the PCYC and do things like squash, table tennis and wheelchair rugby."
Despite watching the other kids having a great time mucking around and bashing into each other, Ryley was still sceptical, because he hadn't had much experience with a wheelchair before.
"I was born with my disability but spent a lot of time as a young kid getting around Port Macquarie, NSW on a skateboard.
"When my parents tried to give me a wheelchair and I said, "nup! I'm not using that." I never thought of myself as disabled," said Ryley.
It only took a few weeks for Ryley to overcome his aversion to wheelchairs and give rugby a go.
"The wheelchair became my kryptonite," he said. "I jumped in the chair and had an absolute ball of a time."
It was the first time in my life that I felt like I was on the same level playing field as all of my friends.

Ryley Batt, Wheelchair rugby champion and GIO Brand Ambassador
GIO NSW Gladiators and Paralympic teammate Andrew Edmondson experienced an entirely different introduction to the sport. At 13 years old he was injured while swimming at Sydney's Coogee Beach.

Andrew had been enjoying a promising junior rugby career; he was a keen Wallabies fan and had dreams of one day playing for Australia.

"About three months after my accident I came across this crazy rec (recreational) therapist who showed me videos and took me along to a 'come and try day' for wheelchair rugby," remembers Andrew.

"I got into the chair and from that day forward developed a huge passion for the sport."

Andrew's dreams of competing for Australia were not lost, just reimagined. He represented Australia in wheelchair rugby at the 2016 Paralympics in Rio and came home with a gold medal.
Ryley's donned the green and gold at four Paralympics and is hoping to captain the team to a third gold medal when the pair compete in Tokyo in August.

"The Paralympics really is the pinnacle of our sport," said Ryley. "All of your time, energy and sacrifice goes into that week every four years and it's the biggest event in the world for a reason, it's absolutely amazing."
"As athletes, we hear a lot of negativity about the Games and whether they should go ahead," said Andrew. "From our point of view though, we're putting all of that aside to make sure we get there, stay healthy and win a gold medal."
As preparations ramp up for Tokyo, Ryley Batt's grateful his work for GIO allows him the flexibility to train and compete.

"I've worked for GIO since 2013 and it's been absolutely amazing to work flexible hours and work from home and from the office. It's worked so well with my training for the GIO Gladiators and the Australian team," he said. "I'm so thankful to work for such an amazing company that's supported me through my sporting endeavours."
But, to Ryley and Andrew wheelchair rugby is more than a sport. "I wake up every day with something to strive for," said Andrew. "It's also great to have my family able to watch me play."
I always tend to look at my abilities and not my disabilities.

There is not one day in my life where I think why am I in a wheelchair, or why me?

I think the chair gives me independence.

Wheelchair rugby has just brought me so much.

Ryley Batt, Wheelchair rugby champion and GIO Brand Ambassador