Remembering to Remember | Why observing 11.11 will always bring us together
---
Today, Suncorp veterans, reservists and defence families are commemorating Remembrance Day around the country, reflecting and taking pause for those who have served.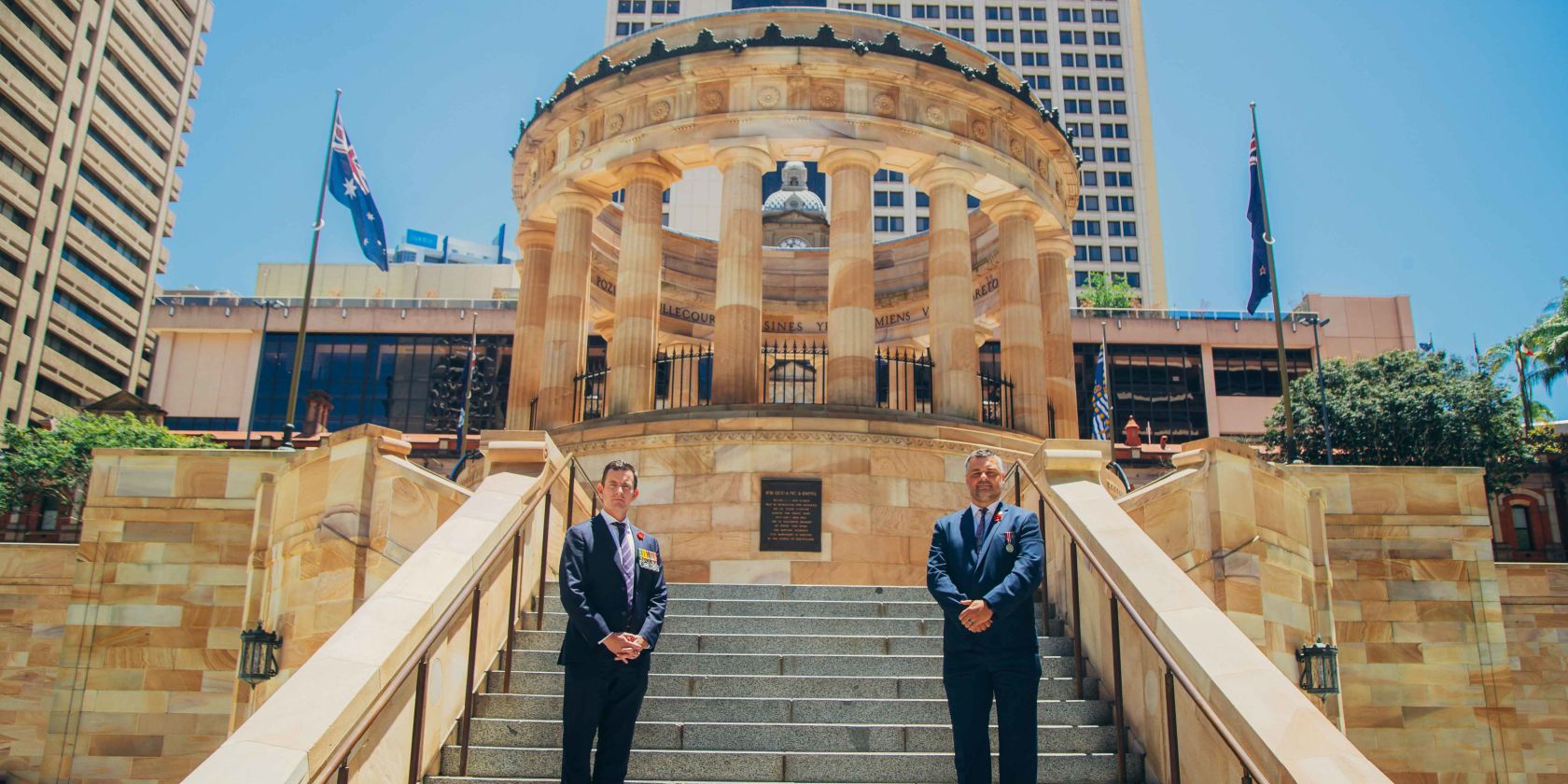 On the 11th hour of the 11th day on the 11th month the guns fell silent on the Western Front, marking the end of World War I. Each year since that day in 1918 we have paused to remember.
Today, veterans will attend the COVID-safe Remembrance Day ceremony in Brisbane's ANZAC Square, with a number of Suncorp veterans playing a role in the proceedings.
To mark this year's Remembrance Day, members of Suncorp's Servus Employee Resource Group have generously shared their stories, sharing what Remembrance Day means to them and what we can all do to honour those who have served.
Formed in 2018 to support Suncorp veterans, reservists and defence families, Servus provides members a platform in which to connect with, and support, other veterans and volunteers. It also helps advocate for increased employment opportunities and employment conditions for veterans and emergency service volunteers, while giving back by supporting organisations like Legacy and the RSL.
Suncorp Group is also a proud Remembrance Day partner of RSL Queensland, who are calling on us all to Remember to remember, Remember to pause and Remember to thank on November 11.
Ben Dullroy, EM Project Delivery, Veteran and Chair of Servus ERG

I'll be heading along to Anzac Square in Brisbane with a number of fellow Veterans and members of Servus – Suncorp's employee reference group for employees with links to Defence and Emergency Services.

We'll be laying a wreath on Suncorp's behalf at the official service and having lunch together reflecting on our own service and mates we've lost. Mick Fussell will be in my thoughts – we served together in 4 Regiment Royal Australian Artillery before he died in Afghanistan in 2008 aged just 25.

Really simply observe a minute's silence at 11 am to remember those who have paid the ultimate sacrifice in service of our nation. Secondly – don't just remember – buy a poppy or a pin or make a donation via the RSL's Poppy Appeal.
Dominic McMullan, Vero Businesses Development Advisor and Veteran

I'm the first of my family to join the military but I come from a long line of doctors and missionaries, many of whom spent their lives campaigning for peace.

I see Remembrance Day as a meeting point where we can all pay tribute and respect to those who have suffered in wars, whether as active participants or innocent bystanders. I'll be marking it by laying a wreath on behalf of Suncorp at Melbourne's Shrine of Remembrance and in silent reflection at the eleventh hour.

You don't have to be a soldier, a veteran, have family members who are or were, or any great interest in history to show respect for those touched by war over the years. Just be silent for a minute and reflect on the human effects of war, and let your reflections guide your behaviour, I hope towards pity and compassion.

This quote from author Robert Reich captures what the day means to me – "To live in hearts we leave behind is not to die."
Lisa Stone, P&C Consultant

Remembrance Day gives me an opportunity to show my respect to those that have made sacrifice for our country. It doesn't matter where you are at the time you can pause, be respectful and reflect. I will be in attendance with the Servus ERG at the Brisbane ANZAC Square service.
​​
As a families representative of the ERG and not a defence member I show respect by attending services or events that my husband, brother in law or father in law may be at as they're all veterans. If this is not possible I make sure to mark the moment of silence wherever I may be and reach out to them with a message of thanks on the day.
CAPT Nathan Blume, Senior Leader RI Claims

Whilst it is important to honour the fallen and remember their sacrifice for our freedoms, Remembrance Day also serves as an important reminder of the consequences of global conflict.

We must never forgot tragic human cost, suffering and loss of life that occurs, particularly in the unstable global environment we find ourselves in today.

To mark the day I have been asked to lay wreath on behalf of Suncorp and will be attending the Remembrance Day service at the Martin Place Cenotaph in Sydney.

For non-defence members honouring a minutes silence at the 11th hour on the 11th day of the 11th month is small but important acknowledgement of the significance of the day allowing time to pause, reflect and remember.

Additionally reminding yourselves of the history and meaning of the day Remembrance Day | Army.gov.au is also worthwhile.​​​​​​​
Davor Strbac, Physical Security Manager and Veteran

[Remembrance Day] reminds me of all those brave service men and women who gave their ultimate sacrifice so that we all can enjoy our freedoms today. It is also important time to remember the families of those who have lost their loved ones.

Whilst this year I will not be able to physically attend a Remembrance Day service, I will be making sure to observe a minute of silence and also reach out to current and ex serving defence mates to check in.

It does not matter where you are at 11 am on the 11th November, you should pause, reflect and observe a minute of silence. It is the least that we can do in the recognition of the great sacrifice those before us have made.