Suncorp Group delivers strong FY21 results
---
In spite of a challenging year due to the COVID-19 pandemic and La Nina weather pattern, Suncorp has delivered a strong full year cash earnings result of more than 40 per cent, a 13.1 per cent jump in group net profit after tax, and a special dividend for shareholders.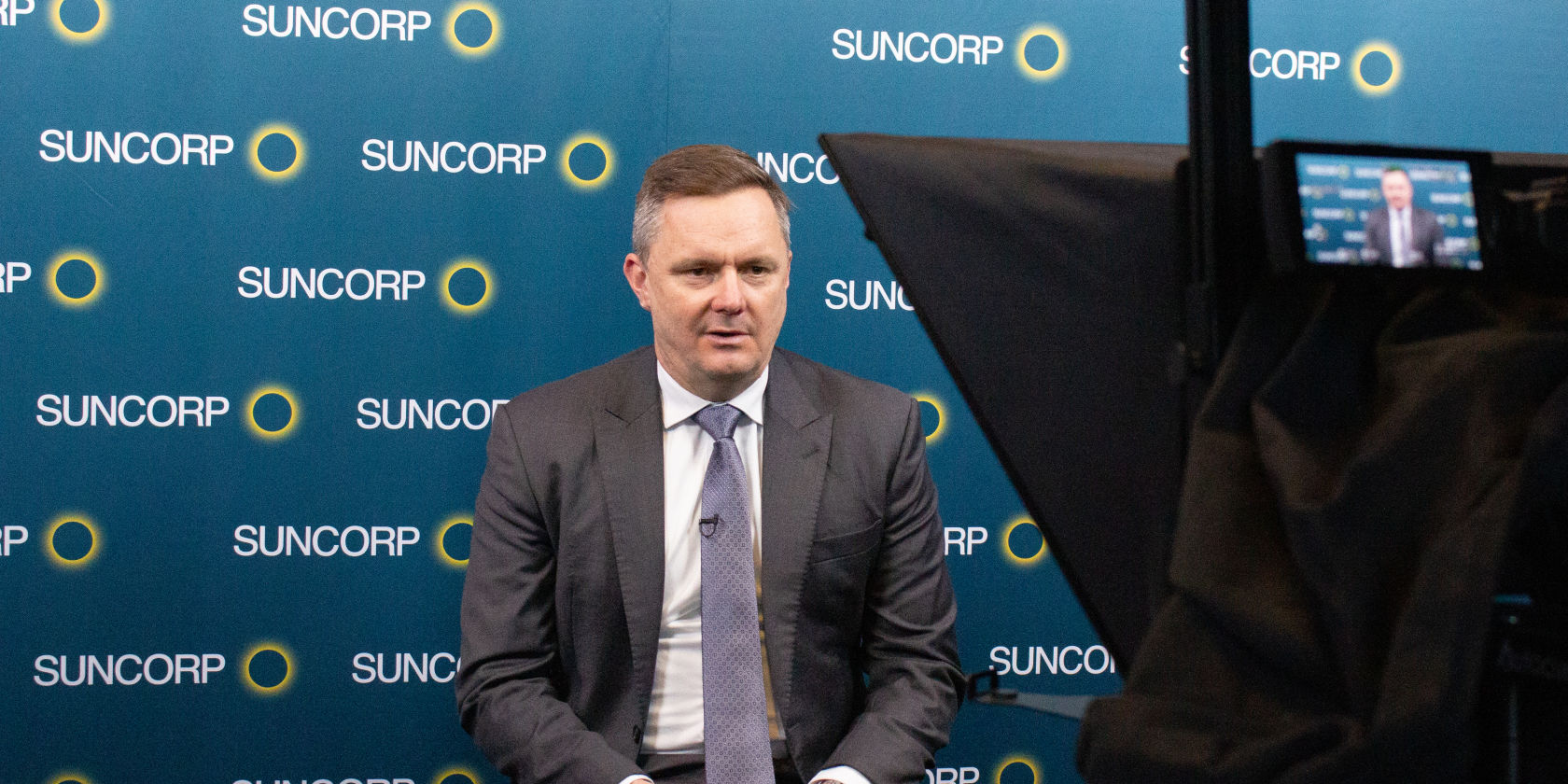 Group Cash Earnings - $1,064 million (up 42.1 per cent)
Group NPAT - $1,033 million (up 13.1 per cent)
Final Ordinary Dividend (fully franked) - 40 cps
Special dividend (fully franked) - 8 cps
Total full-year ordinary dividend (fully franked) – 66 cps (up 83.3 per cent)
On-market buyback announced - $250 million
Insurance Australia profit after tax - $547 million (up 42.4 per cent)
Banking profit after tax - $419 million (up 69 per cent)
The Delta strain outbreaks on Australia's east coast required a scaling back around Suncorp's annual results announcement this year. With Sydney's ongoing lockdown and Brisbane's snap eight-day lockdown last week, Suncorp's team produced a virtual presentation and implemented health protocols, including mandatory mask-wearing and strict social distancing for the executive team.

Making use of Suncorp's own in-house production facilities, CEO Steve Johnston led a virtual presentation in Brisbane, with other executive members participating remotely from interstate locations, including Group Chief Financial Officer, Jeremy Robson in Sydney.
In launching the presentation, Mr. Johnston pointed out that the 42.1 per cent increase in group cash earnings to $1.064 billion, and the higher group NPAT of $1.033 billion, demonstrated that Suncorp's strategy of refocusing and simplification was gaining traction and paying off.
The initiatives we have are clear, they're simple and we believe the full year results confirm the good progress that we're making.

Steve Johnston, Suncorp Group CEO
Suncorp's strong performance against the backdrop of intense volatility on global share markets over the last year has facilitated the return of capital to investors. The Board declared a fully franked ordinary dividend of 40 cents per share, taking total fully franked ordinary dividends for FY21 to 66 cents per share.
In addition, the Board declared a fully franked 8 cent per share special dividend, while also announcing an on-market share buyback of up to $250 million.
Mr. Johnston said Suncorp was well-known for its long-held commitment to return any capital, surplus to the needs of the business, to shareholders.
"While there is still risk associated with the external operating environment the outlook for the business and the economy is more positive and that's the lens through which we reviewed the balance sheet position," he said.
"We entered COVID with a very strong balance sheet, giving us confidence and flexibility through the early stages of the pandemic, and unlike many of our competitors, we've not had to raise discounted equity and we've been able to maintain our dividend within our target payout ratio range."
#Strong growth in Insurance Australia and Banking
---
The improvement in Suncorp's FY21 earnings was driven by a strong result in its Australian Insurance and Banking divisions. Profit after tax for Insurance Australia increased 42.4 percent to $547 million, with the Bank reporting a 69 per cent increase to $419 million.
Insurance Australia delivered its best top-line growth since 2013, with overall gross written premium (GWP) up 5.5 per cent. New Zealand GWP grew by 9.2 per cent, however, this was partially offset by higher natural hazard costs due to the La Nina weather pattern, a reduction in investment returns, and a normalisation in working claims.
CEO Steve Johnston said the home, motor, and consumer insurance portfolios all grew in the 12-month period, proving the overall strategy of refocusing and simplification was working.
"In the Australian Insurance business, the plan of attack we've had to reinvigorate our brands, to refine our customer value propositions and improve our marketing are translating to stronger growth," he said.
Meanwhile, in the Bank, Mr. Johnston said Suncorp had managed to achieve its key priority of "winning in home lending", with a rise of 0.8 per cent in the second half of FY21, representing six consecutive months of home loan growth. This was helped by improvements in broker lodgements and settlements and sustained improvements in mortgage processing turnaround times, which are now ahead of most major banks.
Group Chief Financial Officer, Jeremy Robson said very low interest rates and exceedingly strong demand in the real estate market had created a very competitive environment for mortgages, but one in which Suncorp was performing solidly.
"We have continued to see high levels of loan repayments, increased property sales, and elevated refinancing activity, but importantly we remain better than market in terms of retention levels," Mr. Robson said.
During the financial year, the process of simplifying in the Banking division continued, with Suncorp moth-balling personal loans and several other smaller products, as well as the sale of its superannuation business to LGIASuper.
While a strong earnings result is always welcome news, Suncorp acknowledges its customers remain the heart and soul of its business.
Mr. Johnston said in FY21 Suncorp contributed $9 million to a range of community organisations across Australia and New Zealand, including the Queensland and Victorian SES, The Australian Road Safety Foundation, and Shine in New Zealand.
"Supporting and advocating for our customers and our communities ultimately contributes to improved outcomes for shareholders."
He also said the impact of COVID-19 had propelled community advocacy to the forefront.
"Since the beginning of the pandemic, we've prioritised the safety and well-being of our customers and our people and provided relief and support to over 85,000 insurance and banking customers.
"We know that short-term relief can go a long way and in light of the current lockdowns, we have reinstated the banking and insurance support packages that were a feature of the initial lockdowns," he said.
Although the operating environment for banks and insurers and health of the global economy have improved since the COVID-19 pandemic began, the outlook remains uncertain.
An effective vaccination program with maximum coverage is essential to reducing the frequency and severity of lockdowns and allowing the Australian and New Zealand economies to fully open up.
Mr. Johnston credited Suncorp's entire workforce for the Group's firm position and future prospects for growth.
"The full year results reflect the hard work and dedication of all Suncorp people, who collectively have rallied around our purpose and focused on our customers.
"While the uncertainty from COVID is far from over, we have good momentum, we have a sensible plan and a capable and aligned team," he said.