Suncorp team spirit raises $1 million for cancer research with Tour de Cure
---
Spirit to Cure is a new Suncorp initiative in partnership with Tour de Cure and has already smashed our $500,000 fundraising target for cancer research, support and prevention.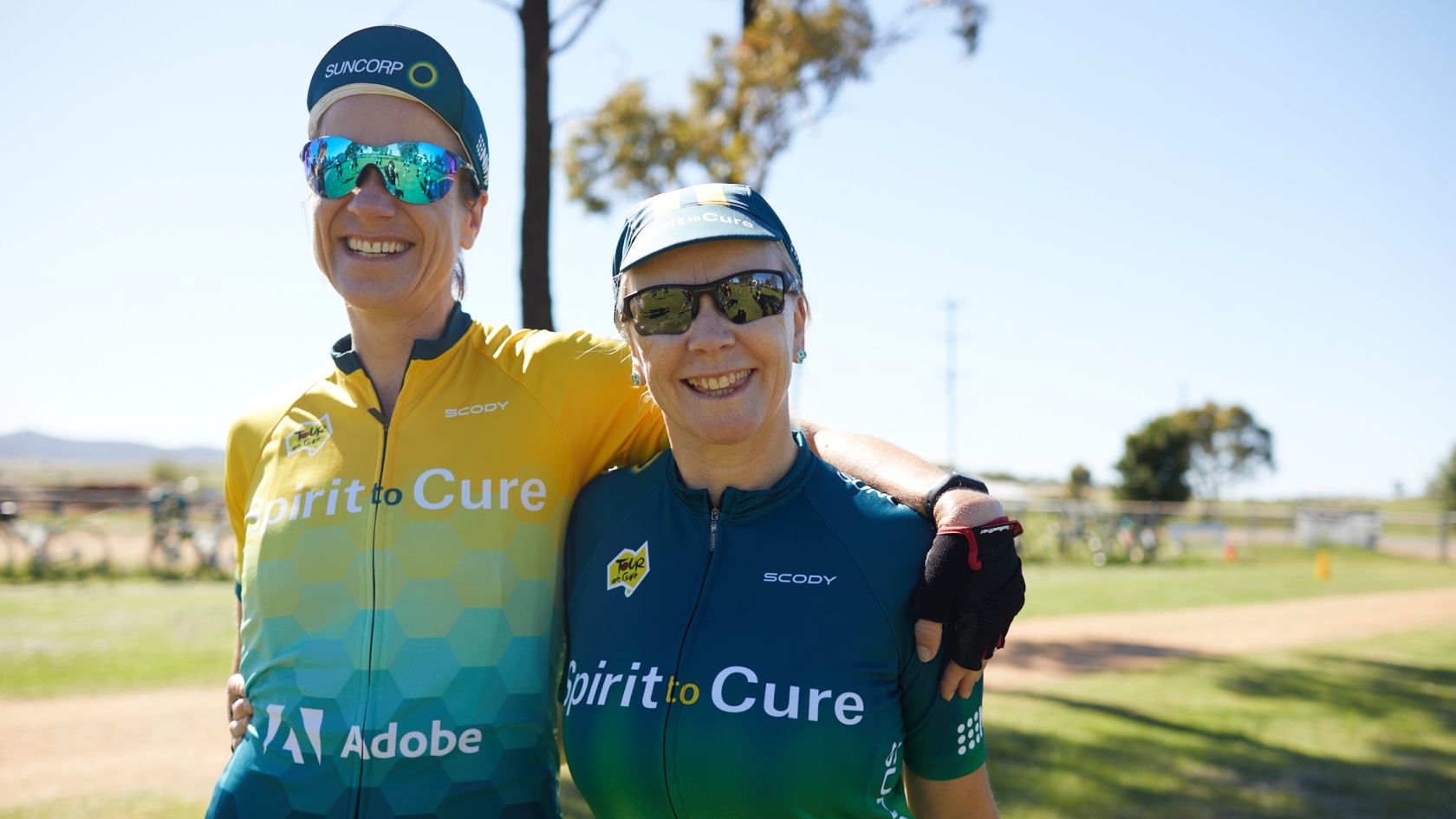 Over 1,000 riders, walkers and support crew across three states are lacing up and lycra-ing up in pursuit of a cause that's affected so many.
This week, our Spirit to Cure cycling team concluded three days of stunning riding from Sydney to Bowral, Wollongong and back to Sydney, covering 307km and 3,606m of elevation, while on foot our walkers covered 21km through the Sydney CBD.
It follows similar events in Queensland last month, while our Victorian teams will get their turn in February.
Funds raised will support Suncorp's Brighter Future's foundation partners including the Toowoomba Hospital Foundation, Cancer Council Queensland, Cancer Council NSW and Koala Kids along with Tour de Cure's cancer research and prevention grants.
Suncorp Bank CEO Clive van Horen said Suncorp was excited to be partnering with Tour de Cure in its mission to cure cancer and change lives.
"I lost my first wife to cancer, so I understand the impact cancer has on people's lives," he said.
"Spirit to Cure builds on the amazing passion and caring spirit of our own people, who have jumped on board with great energy and commitment.
"Together, we will make a real difference."
Since 2007, Tour de Cure has raised over $70 million, funded 563 projects with 50 scientific breakthroughs.
Huge thanks goes to our sponsors, including our platinum sponsor Nine, our gold walk sponsor WNS and our gold ride sponsor Adobe, who have helped us reach $1 million – we couldn't have done it without you.
Jason O'Brien: "Cancer is a hell of a mental game"
While most people agree that 2020 was challenging, for Technology Executive Manager Jason O'Brien, COVID-19 was the least of his concerns.

His wife, Kate, was diagnosed with a particularly aggressive form of breast cancer known as triple negative breast cancer in January last year.

For anyone who doesn't have personal experience, Jason describes cancer as "a hell of a mental game".

"You're trying to mentally prepare yourself for the months ahead and trying to balance that with getting on with daily life and ensuring there were minimal changes for our three children."

Thankfully, Kate is now cancer free, but Jason said they're painfully aware that there are no guarantees.

"At the moment, every little thing – a sore neck – feeling really tired – and we're asking ourselves: 'is it back? Is it back?"
Maddy Whitting: "My mum is one of my best friends"
For Suncorp's Maddy Whitting, cancer has dogged her family for years.

She's lost her uncle, her aunt and her grandpa to cancer, and then just before Easter this year, her mum received the diagnosis.

"My mum was diagnosed with breast cancer," Maddy said. "She had to go in for surgery before starting chemotherapy treatments.

"It's been a very big process, but she is on the mend and she's been very positive, which is amazing."
Gareth Rochester: "Everyone knows someone"
Gareth is an experienced cyclist, but with the cause close to his heart, it's spurring him on.

Sadly, he lost his mother to cancer in May this year.

"It's the reach of this disease that gets me," he said.

"Everyone knows someone. I have a few friends from my extended army family who are going through it now."

Gareth is currently our leading individual fundraiser and is closing in on his target of $10,000.

"Tour de Cure recently celebrated their fiftieth breakthrough in cancer research, so it's encouraging to see the tangible impact that the fundraising will have."