Suncorp's Spirit to Cure raises $1.7 million for cancer research
---
Suncorp team members rallied together to complete a physical challenge in pursuit of funding vital cancer projects.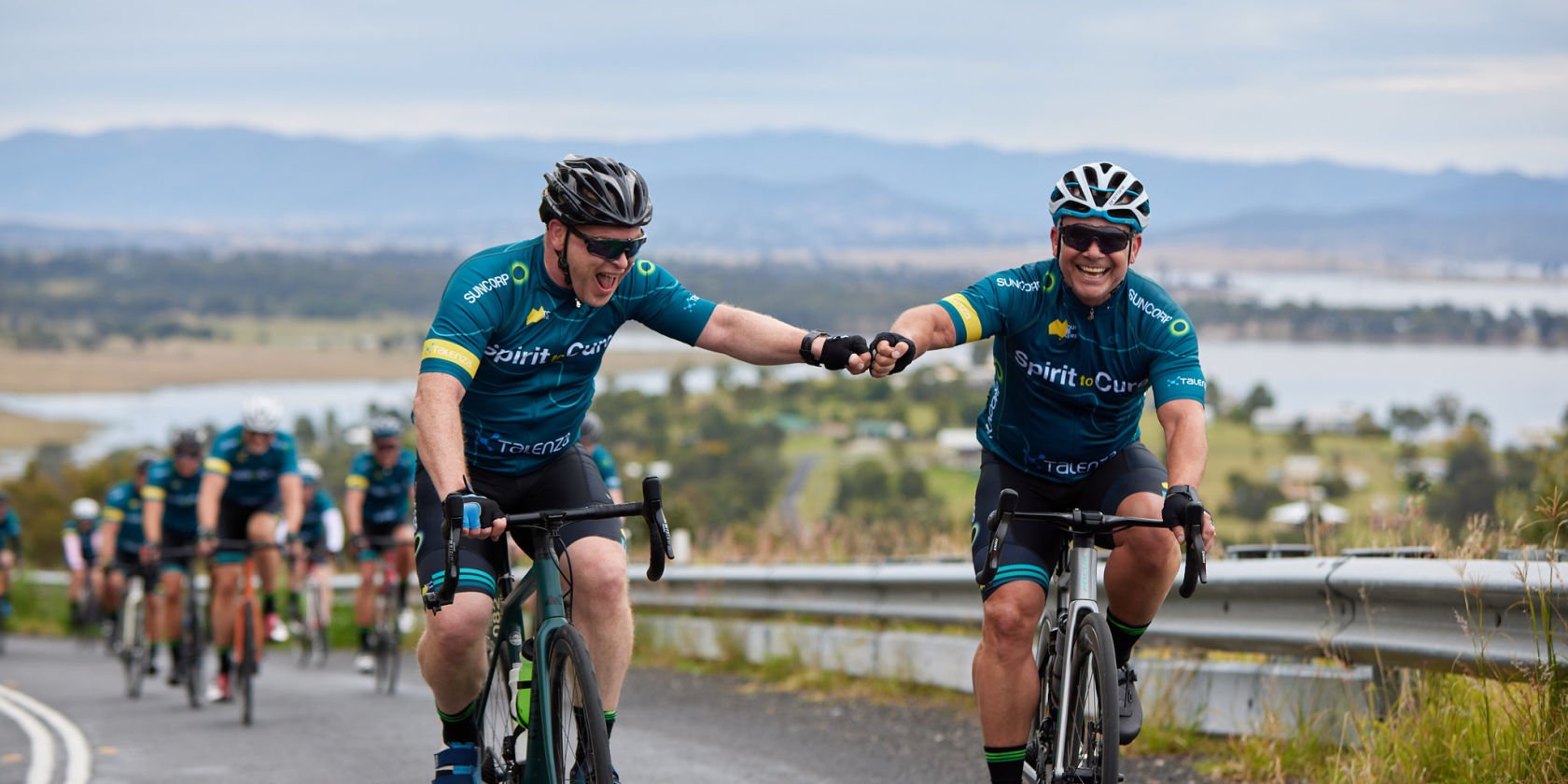 More than 2500 participated in Spirit to Cure, undertaking a 21km walk, 350km ride or personal fitness challenge, with the aim of changing the lives of cancer patients and their families. The Australian events were held in partnership with Tour de Cure, while the Kiwis supported Leukaemia & Blood Cancer NZ, and Cancer Research Trust NZ.

The $1.7 million will fund pioneering research into the diagnosis and treatment of cancer, as well as support programs to improve the day-to-day life of people affected by cancer.

One of the grant recipients this year was the Smiling for Smiddy Cell Cycle Research Group at the Mater Research Institute. Lead of the Research Group, Professor Brian Gabrielli, shared how the funds will support their studies into melanomas and developing drugs for clinical use.
"We have found a defect that is common in many cancer types – while melanoma is the one we have specifically been working on, we know that ovarian cancers and lung cancers have the same defect," he said.
"We are able to specifically target the tumours with a combination of molecules… and hopefully we can develop this into something that is really going to make a difference."
Professor Brian Gabrielli, Lead of the Smiling for Smiddy Cell Cycle Research Group

What we do, and what is funded by the likes of Suncorp, is not for just Queensland or Australia, it is something that is contributing to the worldwide push to improve cancer outcomes.
This was the second year Suncorp ran its Spirit to Cure event, with the impacts of last year's grants now being realised. Suncorp's Brighter Futures foundation partner, Toowoomba Hospital Foundation, received two grants in 2021 and used the funds to make things easier for those undergoing treatment.
#The impact of Spirit to Cure
---
Warwick Hospital Oncology Patient Services
It is important to be able to accurately weigh cancer patients, as majority of chemotherapy doses are individualised based on weight. But due to their current health situation, many patients require wheelchairs as part of their ongoing treatment and don't have the capacity to stand on a regular scale. The Warwick Hospital Oncology Patient Services used the grant to fund a wheelchair scale, giving patients the opportunity and dignity to be weighed without having to move from the comfort of their wheelchair.
Toowoomba Paediatric Oncology Unit
For some kids with cancer, both themselves and a parent are kept in an isolation for a period of time following treatment. This keeps the immuno-compromised child safe, and away from others on the ward who may have transmittable illnesses. The Toowoomba Paediatric Oncology Unit used the grant towards installing ensuite bathrooms in the isolation rooms. For patients like young Parker, who has been receiving treatment for Leukaemia, this means he no longer has to put himself at risk leaving the room for a shower or toilet.
Suncorp would like to thank all the event sponsors for their contributions to reaching our fundraising total: Adobe, Channel 9, Cushman & Wakefield, Deloitte, DXC Technology, Equifax, Genpact, Inventec, Kearney, O'Brien, Publicis Sapient, PWC, RPF Building, Talenza Visa, and WNS.