Bushfire-resilient homes: "Build houses that don't need defending"
---
As the Royal Commission into National Natural Disaster Arrangements begin their first hearings, respected architect Dr Ian Weir joins the Suncorp Talks podcast to discuss how can adapt our thinking when it comes to living in bushfire-prone landscapes and the considerations around building resilient homes.
Dr Ian Weir is an architect who specialises in designing for bushfire-prone landscapes, with an emphasis on sustainability and the conservation of biodiversity. Dr Weir facilitates design-led architectural research at Queensland University of Technology and is an expert advisor to the Bushfire Building Council of Australia.
Growing up on a farm on the south coast of Western Australia, Dr Weir is fascinated by Australia's biodiverse landscapes, and also by the people who choose to reside there.
He argues the key for living safely in the bush is to build bushfire-resilient homes, rather than increasing landscape clearing.
"People want to live in the bush, and it's an incredible privilege to live in these landscapes," Dr Weir said.
"We love to blame the bush for our bushfires rather than our houses. We tend to find in this country that every time there is a fire event, there is a push towards more clearing around homes rather than building more resilient homes. And all this does is disconnect people from the landscapes they've chosen in live in in the first place.
"If we build houses that don't need defending, then people would be able to leave early and firefighters wouldn't need to put themselves in danger to defend the asset," Dr Weir says.
Dr Weir explains that while most people think of houses being destroyed by the flame front, 80-90% of houses are lost from embers landing on combustible elements like timber decking or windowsills or through embers being sucked into the gaps of the house.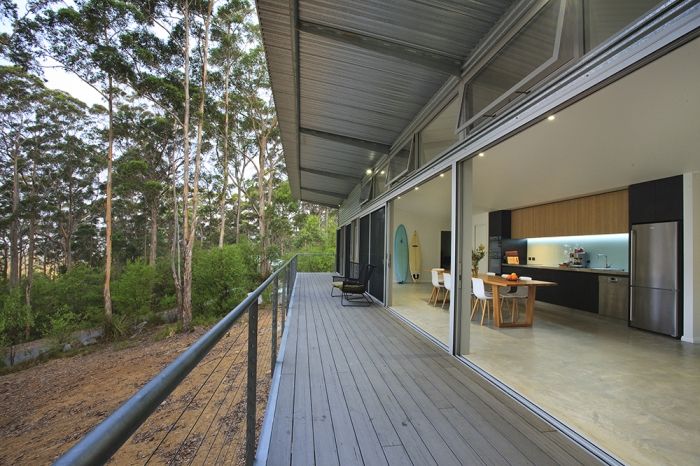 One of Dr Weir's designs for bushfire-prone landscapes.
It's an incredible privilege to live in these landscapes.

Dr Ian Weir
The Australian Standard AS3959, which Dr Weir co-authored, outlines different levels of protections for homes in bushfire-prone areas. At the lower end, building homes from non-combustible materials and closing up gaps greater than 2mm is a suitable first line of defence for protecting against ember attacks, while at the top end, specialist architects can design houses to withstand flame contact.
If it sounds complex and challenging to base a housing design around a potential bushfire that may never happen, you wouldn't be the first to think it. However, Dr Weir says there are other advantages to having a bushfire-resilient home.
"Bushfires are an accelerated weathering event. So if you design your home for bushfires, it may never experience a bushfire, but what it will experience is fantastic durability over a long period of time. So it's actually a really sustainable way to build a home," he said.
"My principle is to ensure that every bushfire-related feature in a home can also perform many other features.
"For example, one thing that's often forgotten is that most bushfire-prone landscapes are also our coldest in winter, like the Blue Mountains in New South Wales for example. And some of the best materials used to create thermal mass and warm a home, like concrete floors, mud bricks walls or round earth walls, are also fireproof. So there's always a dual purpose.
"Ultimately, it's just about designing homes that respect the landscape we live in."