Rebuilding a 40-year legacy for one incredible bushfire survivor
---
In September 2019, bushfires ravaged the quiet seaside town of Peregian Beach on Queensland's Sunshine Coast, leaving Pam Murphy without a home.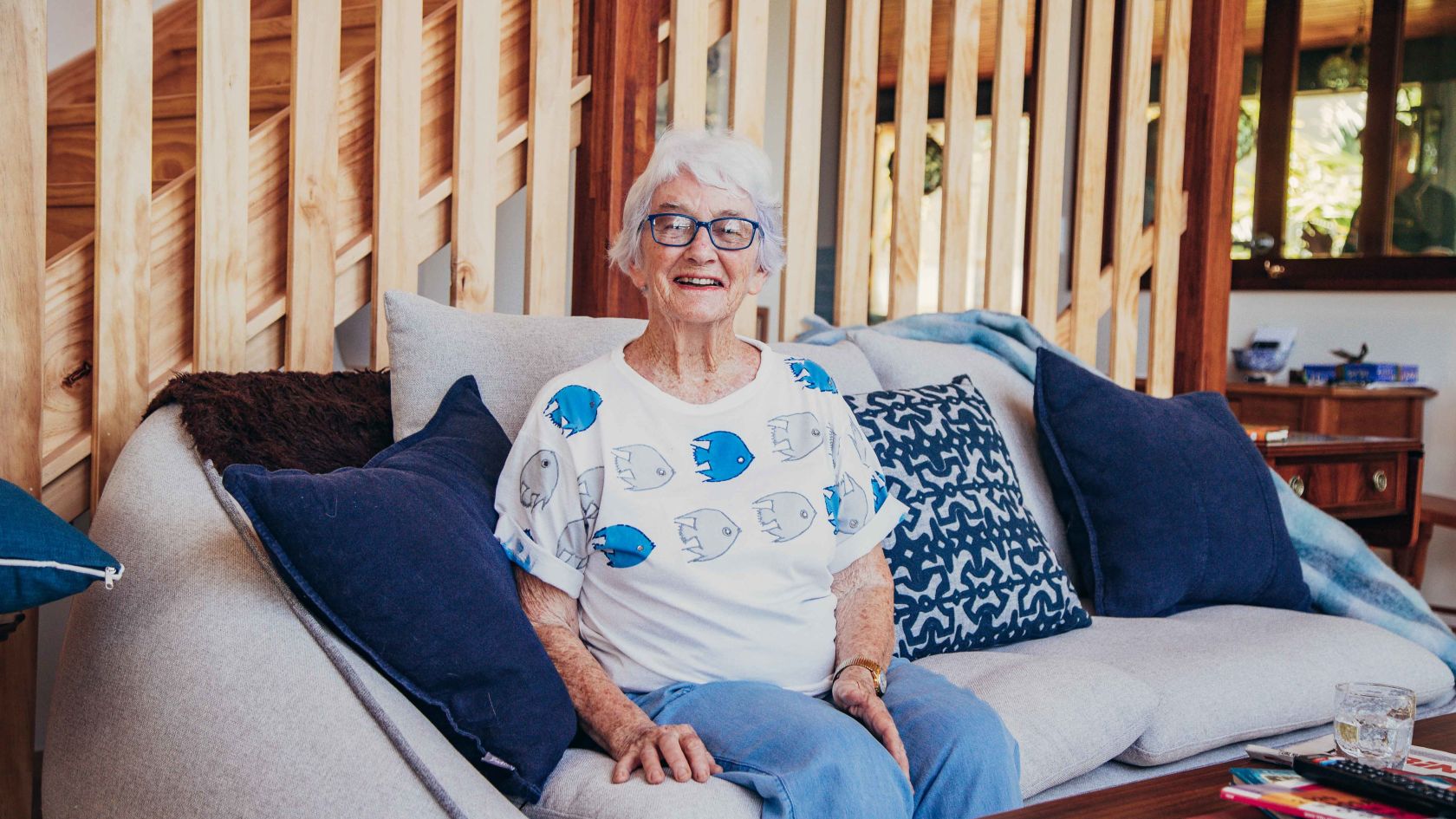 Home to approximately 4,000 residents, devastating fires ripped through the local region with ferocity, forcing residents to evacuate their homes. One of those residents was 91-year-old Suncorp customer, Pam Murphy.
Living in the home built and designed with her late husband 40 years ago, Mrs Murphy was oblivious to the approaching fire.
"I was in the garden and there was no thought of fire risk," Pam recalled.
"The fire started at Peregian Springs late that afternoon. I didn't think it would get this far, but the wind came up and it quickly became a roaring inferno. I couldn't see due to smoke and embers – everything was red."
A short time later Pam was asked to evacuate.
"I quickly grabbed a small bag, and one of my two cats as the other cat had run away." Pam remembers.
Once she was able, Pam was anxious to return to her property. "I recognised the roofs of my neighbours on either side, and there was mine in the middle, burnt."
Pam's home was the only one in the street to burn to the ground.
Within hours, she was on the phone to Suncorp to start the rebuild. Suncorp Assessor, Graeme Adin met with Pam to explain the next steps.
"We sat down and took Pam through the whole process; how the rebuild was going to take effect, getting plans and specifications together."
One of the few items Pam managed to take as she fled her property were the plans to her original home. She passed these onto Suncorp, committed to rebuilding the same house.
As we were going off Pam's original plans, we worked closely with local builders to make small tweaks to ensure the build was compliant with today's standards, but still replicated her dream home.

Suncorp Assessor, Graeme Adin
"The key objective was to keep any stress away from Pam, and deliver a home that she really loved," Mr Adin said.
Amongst the rubble of Pam's home, a treasured family heirloom dating back to 1856 was salvaged. A one-of-a-kind wooden barometer used to measure atmospheric change in the weather.
Understanding how special this was to Pam, the Suncorp claims team restored the barometer and placed it on display inside Pam's new home.
"The first thing that hit me when I walked in the kitchen was the barometer on the wall," said Pam. "It was all covered in white and water damaged. They polished it up beautifully. I couldn't believe it."
Pam is now safely back in her home.
"I'm so pleased with Suncorp, they've treated me exceedingly well, they were marvellous."