Diary of an event assessor
---
With our summer season of severe weather upon us, Suncorp assessor Deb Odger shares what's like working in the aftermath of a natural disaster.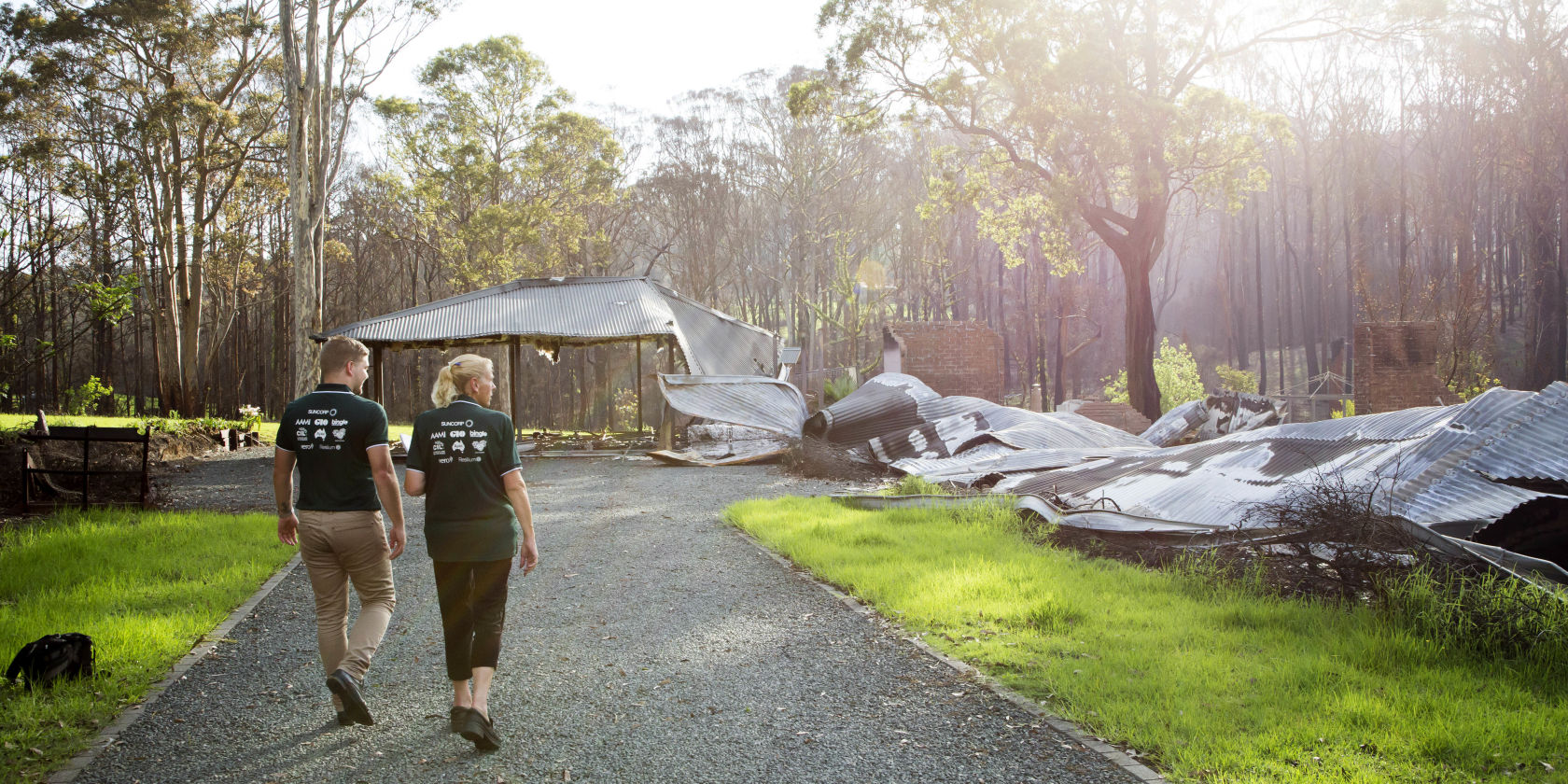 As a Suncorp event assessor, Deb Odger is one of the first people on the ground following a severe weather event. She visits customers at their homes to assess the damage and start their insurance claim, then checks in throughout the recovery process. As she tells here, it's taxing work, but she can't imagine doing anything else.
Diary of an event assessor
It's not easy, because you're often walking in on people during their worst possible moment.
No matter how many times I've seen it before – the photos I've held, the stories I've listened to – I walk into someone's home as though it's the first time. Because it's the first time for them. Often, they just need someone to talk to, and if it takes them half an hour, an hour, I listen.
I've been at Suncorp for 16 years, and assessing for 11 years, but I always knew I wanted to specialise in event assessing. It's where I can make the most difference.
It was a conversation I absolutely had to have with my family though, because I can get a phone call at any moment and I'm on the next plane.
Last year, I spent months flying back and forth between Brisbane and Townsville while I was helping our customers recover from the Townsville floods. It certainly isn't regular office hours.
But I love doing this job because you meet so many amazing people. Resilient people. And there's a bond you build with people going through that process together – from the day that you help them strip out their home, to the day you're handing over the keys to their new home.
There are some stories that stay with me.
When the Queensland floods happened in 2011, our group was one of the first to leave. First we went up to Bundaberg, and then onto Biloela. And then we came home to Brisbane just as the floods reached here, so we had to hit the ground running again.
We did see some horrific sights. The water was up to the roof level of some houses. Doing what I do, it takes a lot to make my cry, but when you walk into house, after house, after house…it does affect you. I remember one customer who had 80 years of her life floating down the river. What else can you say but "we'll get through this together"?
They had only moved into their home two weeks previously. They were planning on turning it into an Airbnb.
And then last summer we had the bushfires. There was one couple I particularly remember who had had a pretty traumatic time. They initially weren't on the evacuation list, but this fire was unpredictable and by the time they got the call to leave, the fire was already burning down their driveway. They only just made it out in time, and were pretty shaken up, so I was able to get them in touch with some counselling.
They had only moved into their home two weeks previously. They were planning on turning it into an Airbnb.
While the work can be emotionally taxing, it's also been great to see some of the improvements we've introduced over the years. For example, now we often do dual assessments at the same time as the builder, which means we can make joint decisions on the spot and give the authority to go ahead and complete the building work right away, knowing that it'll be covered in the insurance claim. It just makes it that little bit easier for the customer during a difficult time.
And while COVID-19 has made it difficult this year for us to travel and visit people face-to-face, our virtual assessments tools have meant our claims have continued to be resolved quickly, and gives additional peace of mind for customers who are particularly vulnerable or self-isolating.
Knowing that you're helping a person during one of the toughest moments of their life – that's what gets me out of bed every morning. I can't see myself doing anything else.
Photography taken in February 2020 in Batemans Bay, NSW, following the bushfires.