On the road to recovery
---
Suncorp's dedicated flood response teams are helping customers return to their homes following the devastating damage from the East Coast floods.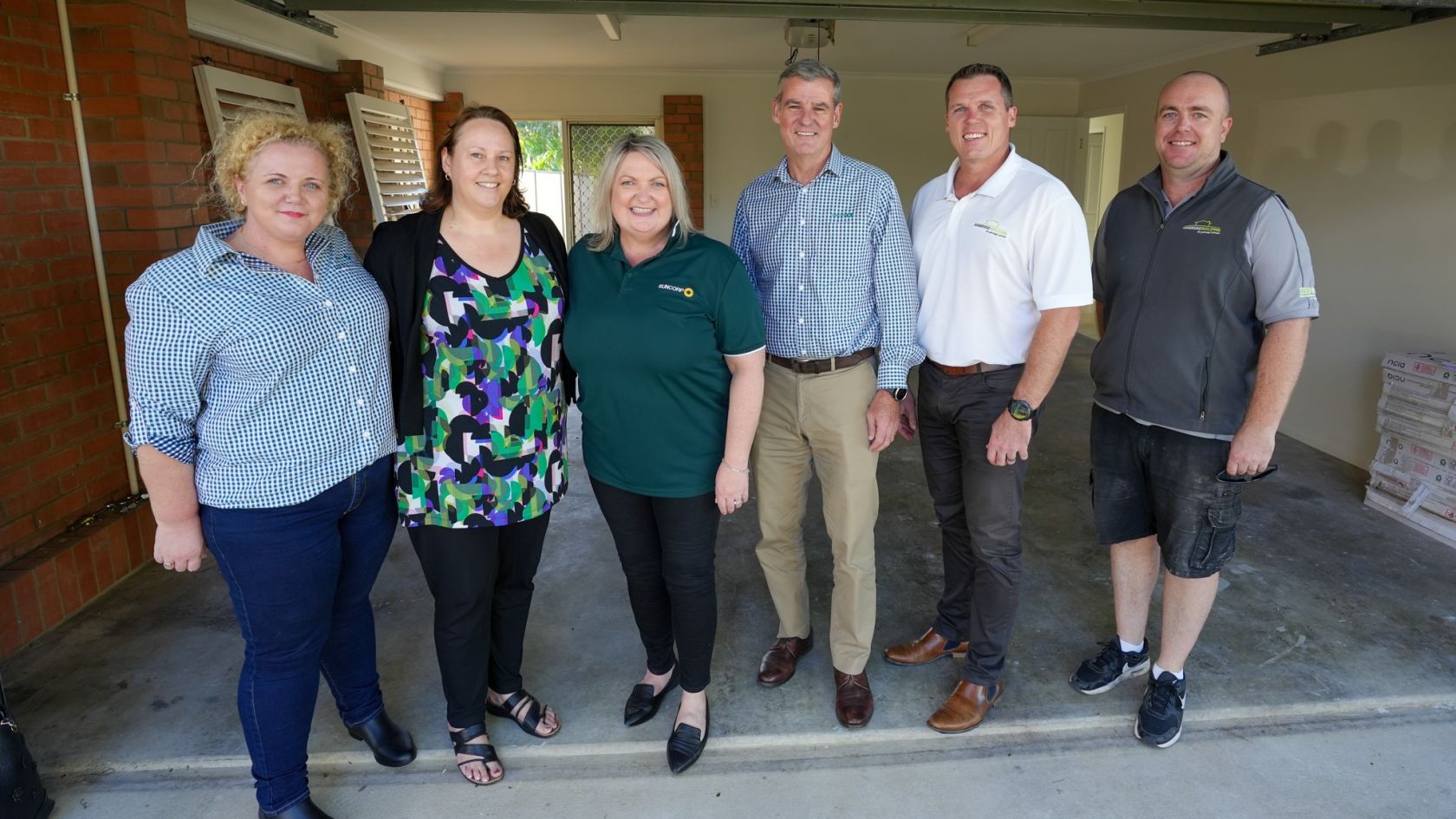 Video transcript

Natasha Winkle:
0.05: "It had been raining pretty constantly for about 3 days, and the water kind of came up really quickly.
0.10: like, within an hour, water was coming up underneath the house.
0.15: The whole street went under, all houses both sides of Poplar Place.
0.20: When I left, it was probably... evacuated at about 3,
0.25: and when I stepped out into knee-deep water, I had my dog in my arms.
0.30: Some of the other neighbours had parked their cars around the corner and
0.35: we walked on foot, and then they drove me to my mum's, who was
0.40: a couple of blocks away on higher ground. As soon as we got to mum's on that Sunday night, I got on
0.45: my mobile phone, onto the website and put in an online claim.
0.50: So Suncorp allocated builders Ambrose to me,
0.55: so that's how I first came in contact with Ambrose.
1.00: They have been really good.
1.05: So an Ambrose assessor came out with Jordan, which is a Suncorp assessor, both on the same day
1.10: so I got to ask a lot of questions to them at the time.
1.15: Because I had got a rental close by, I was able to come back
1.20: and check on the work so when things didn't happen
1.25: accordingly, I could see them and then I had the one person to ring."
Anthony McLean:
1.30: "So it's just gone over 70 days since the event, and we've got trades moving between the properties we have,
1.35: so we can actually move carpenters backwards and forwards, painters backwards and forwards, and the benefit to Natasha,
1.40: is that she is one of the first majors to be handed back after the flood event."
Ali Stewart:
1.45: "I'm very lucky to be here today to hear straight from Natasha, I've taken copious amounts of notes to take back to the team.
1.50: Some really great feedback in there on what we could do differently, or better,
1.55: but at the same time, Natasha could not be more grateful for the support she's had from us,
2.00: and the builders to get her to this stage.
Natasha Winkle:
2.05: "For me, it's a no-brainer. I will definitely be staying with Suncorp - I've said that,
2.10: words probably can't express the gratitude."
"The East Coast flood and storm event was of a scale we rarely see and it certainly has had an enormous impact on so many of our customers," Head of Flood Response and Event Claims, Cath Stewart said.
Ms Stewart said with over 50,000 home, motor, and commercial claims, the East Coast floods are the largest set of weather events Suncorp Group has faced, but it was pleasing to see customers beginning to return to their homes.
"It's a huge task, but with a dedicated Flood Response team, a strong recruitment drive, close collaboration with local builders, and a commitment to get customers back on their feet across impacted areas, Suncorp's number one priority is helping our customers through this challenging time," she said.
"The floods affected areas from Maryborough all the way to Victoria, and along with impacts from COVID and shortages on building materials, recovery isn't quite as straightforward as we'd like to see, but we're pleased to work with builders like Ambrose to help our customers get back to their homes as quickly as possible."
With ongoing flooding at the outset of the event and constant rain throughout, I'm thrilled to see how quickly the team has been able to help Natasha – it was a total of 70 days.

Ambrose Operations Manager, Anthony McLean
Ms Stewart said that there's still a long way to go, but the Suncorp team and their building partners are committed to being here until the last customer returns home.
"It's a timely reminder that rebuilding after devastating weather events is a collective and community effort and we are committed to making sure our impacted customers are coming home to high quality repairs and safe and healthy homes," she said.
"We're looking forward to seeing more of our customers like Natasha back home and on the road to recovery and we'll be with them every step of the way."
#More on the 2022 East Coast floods
---