Elliott's recipe to help kids out of poverty
---
Suncorp New Zealand's Elliott Meldrum has a side hustle outside of Suncorp life – writing recipes for a good cause.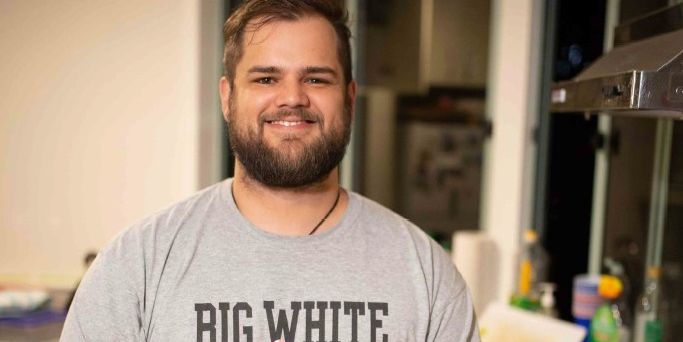 Known as the Chamberlain Chefs, Elliott and his five flatmates published a cookbook – Not All Cooks Are Chefs – with the sole purpose of donating 100% of proceeds to KidsCan NZ and helping to bring New Zealand children out of poverty.
Eighteen months of hard work paid off when all 150 cookbooks sold out in nine days, raising more than $3000 for KidsCan NZ and helping support the work they do in providing essentials to children affected by poverty. A further print run is now underway to extend the success and raise more funds.
The investment analyst said the idea for a cookbook began as an Instagram page called the @chamberlain_chefs, which the flatmates created on a whim after joking that their dinners would give Instagram food influencers a run for their money. They soon became invested in the page and decided to turn their recipes into a cookbook.
"There are around 254,000 Kiwi kids living in poverty and KidsCan helps lift them out of poverty by ensuring they have food in their bellies and the opportunity to go to school for an education just like any other New Zealand children," Elliott said.
"It was fitting that our cookbook sales helped support this awesome organisation, because their Food for Kids program provides food for more than 40,000 hungry school children every week, from Monday to Friday across 16 regions around New Zealand."
Elliott said Not all Cooks are Chefs is designed with everyday people in mind.
"Our goal was to create a cookbook with recipes that use ingredients easily found in the supermarket, with realistic cooking times, and recipes that anybody can create.
"Some of my favourite recipes in the book include Mum's Lasagne, Grilled Vegetable and Feta Tart, Chamberlain Fried Chicken, and Ratatouille," he said.
While Elliott suggests he and his flatmates weren't 'terrible' cooks to begin with, the process of creating the cookbook has been a learning experience and it has pushed them to perfect their culinary skills.
He said the biggest challenge was motivating six mid-20-somethings to write recipes outside of their busy jobs.
Now the Chamberlain Chefs have set their sights higher and want to sell a further 50 cookbooks by the end of October. Of the money raised, $1000 will be matched by Brighter Futures, Suncorp's employee giving program.
Read more on Brighter Futures