Local artist hoarding project comes to life at Heritage Lanes
---
As building works progress at Suncorp's new Brisbane-based HQ, Heritage Lanes, a new project has brightened up the site, giving the city an opportunity to witness some of its most esteemed street artists in action.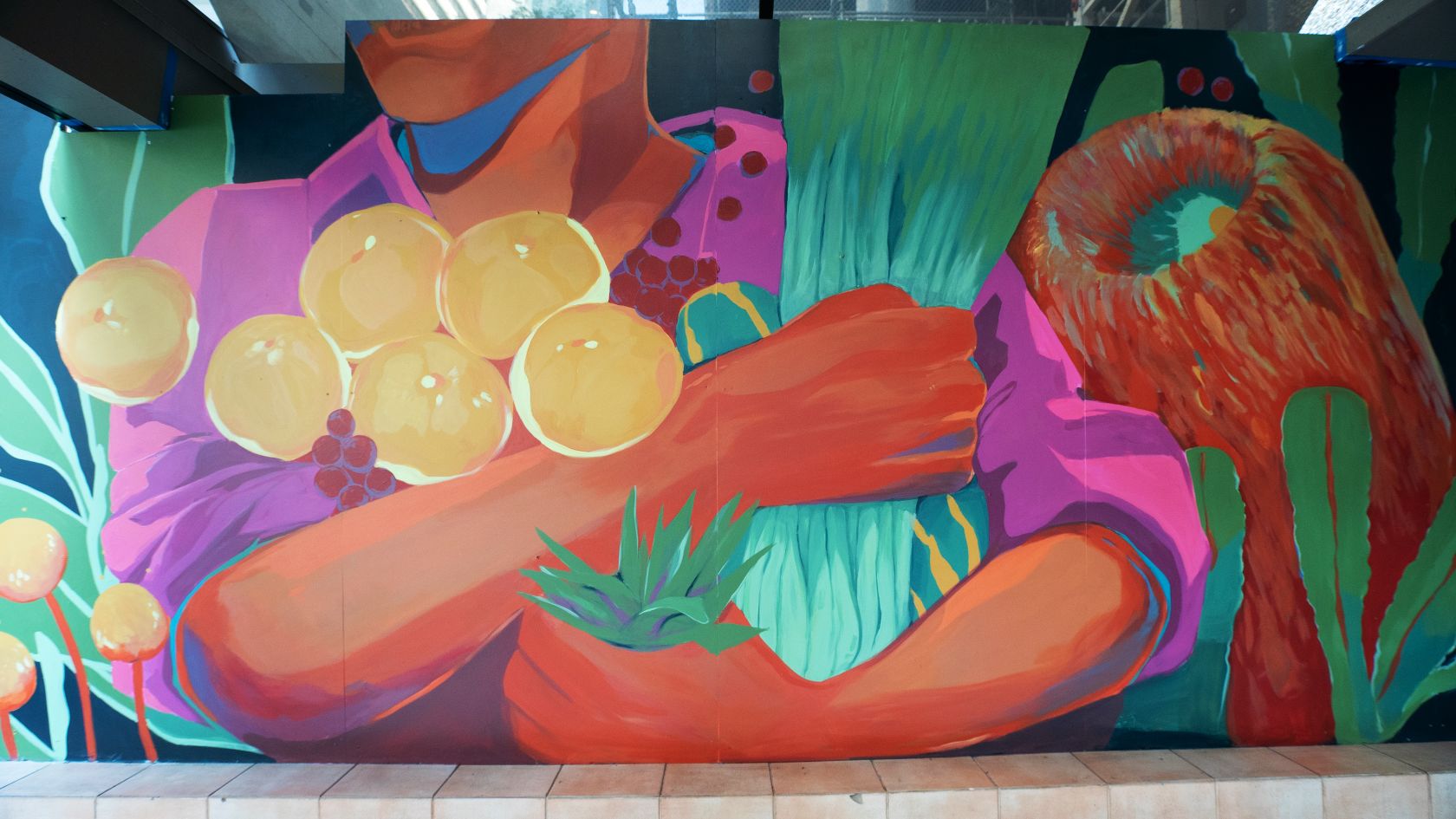 Connecting residents and city commuters to the ever-evolving development site at 80 Ann Street in Brisbane's CBD, 62-metres of construction hoarding enveloping the front of the building site has been transformed by four local street artists.
Part of an ongoing art-led project by Mirvac, Vast Yonder and Suncorp, the hoarding activation centres around how the community interacts with large-scale developments, creating a sense of anticipation and connection during construction process.
Taking inspiration from the historic Brisbane Fruit and Produce Exchange which resided between Turbot and Ann Street between the early 1900s -1960s, artists were asked to submit their response to a simple, yet poignant, brief: what does marketplace mean to you?
"Vast Yonder were engaged to bring the hoarding to life during the construction phase of the project," said Maria Penny, Design Manger at Suncorp Group.
"We asked artists to demonstrate how the markets could be brought to life and how that really resonated with them."
With both the name and the building's design heavily influenced by the location's distinct history, artists Gus Eagleton, Tori-Jay Mordey, Joel Fergie, and Ash Taylor were selected to bring their winning submissions to life.
Some of the really successful public spaces around the world have been activated by urban art. It's what makes at city. Heritage Lanes at 80 Ann Street is a very significant milestone project in Brisbane.

Cris Johansen, Project Director at Mirvac
"The hoarding project is just one element of an overarching initiative for the building to connect with the city and its inhabitants. Artwork is very much part of integrating the community; we want the building to feel it belongs to Brisbane and see artwork as an overarching component of building an urban community."
"We saw an opportunity" Cris continued, "collaborating with Vast Yonder and the incredible artists they represent, to start a journey which will go on much longer than the development phase, eventually with Heritage Lanes becoming part of the network of street art in the city."
Tori-Jay Mordey, one of the four artists commissioned to create a large-scale works on a section of the hoarding, was influenced by her own childhood memories of Central Queensland.
"Growing up in Hervey Bay, we'd always go to the Sunday market, so that has been my personal inspiration for this piece," she explained. "It's about reconnecting with childhood wonder, the playfulness, the excitement of going to the markets—all the food and the colours."
Known for her large-scale, illustrative-style works which have popped up around the Brisbane CBD in recent years, Tori's playful colour palette bring an other-worldly, dream-like element to her murals, this time distilling a wonderfully nostalgic feeling in response to the original brief.
"One of my main goals with all my pieces is to create something that brings a certain feeling. I try to make something that doesn't need explaining, where people naturally get drawn to it," said Tori.
With a lot of the public murals I've been doing, my main goal has been to create a playfulness about it, so that people can see something different on their everyday commute, to feel something different, a different energy as they walk past it.

Tori-Jay Mordey, artist
Memory and connection are also reflected in Joel Fergie's piece for the hoarding project at Heritage Lanes.
Professionally known as 'The Zookeeper', Joel is no stranger to creating large-scale works. His artwork has popped up across the country, most recently working in rural areas of Queensland, northern New South Wales, and Victoria, transforming towering barn silos into outback works of art.
"There is a rich Indigenous culture in those communities that I travel to, so I feel it's a duty of mine, as a storyteller, to try to understand the stories of the people whose stories I'm trying to tell through my work. To find a way that empowers people and brings people together—everyone has their own idea of what community means to them. I approach all my works in the same way."
"I really felt the space needed some organic matter amongst this massive urban landscape," said Joel when explaining how he developed his response to the brief. "My sister's a florist and I love what she creates with the flowers she gets from the market."
For Joel, bringing that organic feeling of nature into the city was an important element.
I want to draw people closer to nature, I want them to feel calm. I know that I personally benefit from being out in the bush, so I want to give people a small opportunity to have that feeling, too. That contrast of environment.

Joel Fergie, artist
The project's grounding in bringing the wider Brisbane community together at the place where the city's historic Brisbane Fruit and Produce Exchange stood, makes for a meaningful connection between artist, people and place.
"Part of the original market structure on Turbot St is listed as having historical significance, which is a theme to the overarching build," said Cris. "Going much further back, the site also holds important Aboriginal heritage, which we are reflecting through artworks selected for the building, representing the waterway which used to run through this site. The end result is for the building to embody a relationship with the Indigenous heritage of the land pre-European settlement, as well as the fruit and vegetable exchange from the 1900s."
"The beauty of creating public art is that it's for everyone," said Joel. "It's not for a gallery space where only a certain people can view it, that's why in this kind of setting we have the opportunity to connect with everyone."
"The hoarding has been a really exciting part of the project and both Mirvac and Suncorp couldn't be happier with the result," said Maria. "We really can't wait for Heritage Lanes to become a vibrant part of the city once the project is complete."
The artworks will remain on display for the next 12 months while construction work progresses along 80 Ann Street. Heritage Lanes remains on track to be completed in 2022.