AAMI turns up the volume on live music
---
Suncorp Group's AAMI has today announced the extension of our partnership with Roundhouse Entertainment, part of the Mushroom Group, to deliver A Day On The Green for an additional two years, reinforcing our decade-long commitment to the live music industry in Australia.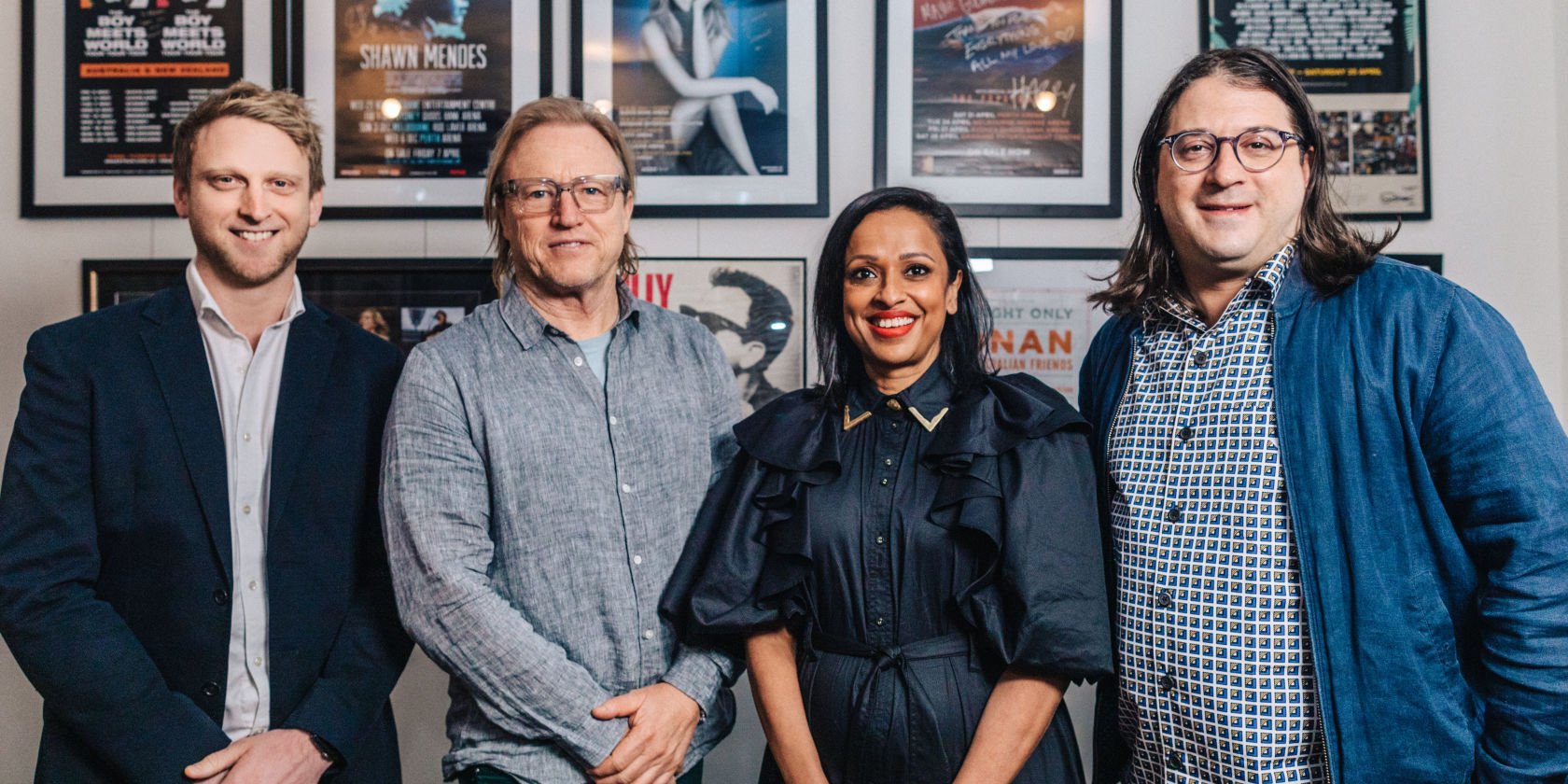 L-R: AAMI Marketing Manager, Toby Gill, Roundhouse Entertainment Director, Michael Newton, Head of Mass Brands & Sponsorships Suncorp Group, Rapthi Thanapalasingam and Mushroom Group Chief Executive, Matt Gudinski.
A Day On The Green is Australia's original and premier outdoor winery concert event. Since its first show in January 2001, A Day On The Green has firmly established itself as one of Australia's most popular concert events and has hosted some of the biggest music acts in the world including Elton John, Rod Stewart, Leonard Cohen, Fleetwood Mac, Red Hot Chili Peppers, Florence & the Machine and Alicia Keys, as well as Australian superstars like Kylie Minogue, Tina Arena, John Farnham, Jimmy Barnes, Cold Chisel, Missy Higgins, Paul Kelly, Crowded House, Hunters & Collectors, Hoodoo Gurus and hundreds more.
Facilitated by Mushroom Creative House, our partnership with A Day On The Green has already spanned more than ten years, with AAMI continuing to support the music industry throughout COVID-19. As one of the hardest hit sectors during the pandemic, the live entertainment industry was severely impacted, resulting in unprecedented and repeated cancellations, closures and strains on the industry.
Our unwavering support and forward-thinking enabled the Mushroom Group to deliver events such as Music From The Home Front in the uncertain times of 2020 and 2021.
Learn about A Day On The Green
Click to read the transcript.


0.05: AAMI have been supporting live music for the last decade, with partnerships including A Day On The Green R&B Fridays and more.
0.10: Bringing the joy of music to customers for 10 years and counting, from the world's
0.15: biggest pop stars, to local Australian talent – AAMI have set the benchmark in music partnerships and experiences.
0.20: The past 24 months have been a massive setback for Aussie music,
0.25: from headlining artists and crew, to the far-reaching corners of the industry, AAMI's support
0.30: of music throughout this period has been unwavering with commitment to live events like
0.35: Music From The Home Front. Now, like so many Aussies, AAMI is so excited to
0.40: see live music, and the thousands of people behind it, returning in person and stronger than ever.
0.45: AAMI are committed to their continued support of major music events,
0.50: including A Day On The Green, and can't wait to see you at a show soon,
0.55: because who understands what live music means to aussies? AAMI Does.


Reminding us that we are all in this together, Music From The Home Front's inaugural event on Anzac Day in 2020 was a unique celebration that brought together artists and audiences in isolation, uniting us all through the power of music.
Conceptualised and created by the Mushroom Group's Michael Gudinski, the event was broadcast on Channel Nine and watched by nearly 1.5 million people, capturing an important moment in history. Staged as a thank you to the country's COVID-19 frontline workers and to pay tribute to Australia and New Zealand's rich ANZAC history, it also raised essential funds, with profits from merchandise donated to Support Act (Australia) and MusicHelpsLive (New Zealand).
In addition to Music From The Home Front, and our support of A Day On The Green over the last 10 years, AAMI's sustained support of the Mushroom Group includes: Ed Sheeran Live At Hanging Rock, 2017; RNB Fridays Live, 2018 and 2019; So Pop, 2020; RNB Vine Days, 2019; and Em Rusciano 2019.
In the absence of live shows during COVID-19, we provided exclusive live-streamed music-themed events and online activities to our customers.
We have been working with Mushroom Creative House since it first launched in 2017. Acting as a conduit for our relationship with A Day On The Green, Mushroom's full-service creative agency works closely with us to identify and deliver unforgettable content, events and experiences, ranging from event procurement to the delivery of on-ground activations for AAMI customers, all the way through to digital platform development, website design, creative asset delivery and event content capture.
Without the support of event partners, the unrivalled quality of these events would not be possible. And through the partnership, we provide exclusive access to our customers, with opportunities to attend once-in-a-lifetime and history-making events like Ed Sheeran performing at Hanging Rock, where winners were escorted to the top of the iconic rock where Ed performed to just 100 people. Benefits to AAMI customers also include early access to pre-sales, express entry and bar lanes at events, dedicated and exclusive areas at shows, priority parking, chill-out zones, as well as surprise upgrades on the day and money-can't-buy backstage experiences including meet and greets.
We have continued to support promoters like Roundhouse Entertainment to bring world-class artists like Elton John and Florence & the Machine to regional areas, not only reducing some of the financial risks for events but also injecting massive tourism dollars into the regions.
AAMI and Mushroom have a long-standing relationship and together have created a deep music and entertainment partnership. Their commitment to the industry, A Day On The Green and many of our projects have been unwavering, even in times of uncertainty. This is shared by Mushroom's loyalty and dedication to AAMI from our ongoing partnership. In the absence of live shows during the peaks of COVID, AAMI supported the delivery of Music From The Home Front and many other initiatives at a time when it was needed most.

Mushroom Group Chief Executive Matt Gudinski
Suncorp Group's Head of Mass Brands & Sponsorships, Rapthi Thanapalasingam said: "AAMI is a proud Australian insurance company that exists to support all Aussies and protect the things that are important to them. Over the past few years the live music industry has been doing it tougher than most. Music has a very special way of bringing people together, and like so many Aussies, AAMI wants to see live music – and the thousands of people behind it – come back stronger than ever. To help this happen, we're proud to continue our support through the renewal of our major partnership with Mushroom, as live music makes a long-awaited comeback. We are also thrilled to be able to continue to provide our customers with access to event perks and unforgettable experiences through this national partnership."
Later this year, A Day On The Green will be celebrating its 500th show. We're very lucky we're with AAMI. We couldn't have got to this milestone without the support of AAMI, particularly during the past two years. Their remarkable commitment to live music has meant we've been able to take some international superstars to regional areas for some unforgettable shows. And we look forward to many more exciting ventures together.

Roundhouse Entertainment Director Michael Newton
Revellers can go to AAMI Events and Experiences for further information and to see how to jump the queue and gain access to score the best seats in the house before they go on sale to the general public. Some may be delighted on the day, with an upgrade to the best seats in the venue, a tour backstage or a meet & greet with a favourite artist. T&C's apply and are available via the website.

AAMI Events and Experiences
Click to learn more on the partnership.

About the Mushroom Group

Mushroom is Australia's largest and most successful independent music and entertainment group.

Since the Group's inception in '72 when a young Michael Gudinski formed Mushroom Records and Mushroom Music Publishing, Mushroom has grown to become a collective of near two dozen specialist brands who are each leaders in their own right across the music and entertainment industry. Incorporating international and domestic touring, booking agencies, record labels, merchandising, music publishing, creative and marketing services, venues, exhibition and events production, film and television production; there is almost no end to what the Mushroom Group is involved in and can offer.

About Mushroom Creative House

Mushroom Creative House is a creative agency and production house; one of 25 companies that make up the Mushroom Group. Originally created to service the wider Mushroom Group companies, Mushroom Creative House began its life as two designers in a small room off a corridor creating band artwork and tour posters. Thanks to the wider group connections and its consistently high standard of output, Mushroom Creative House grew quickly, and now delivers output from music videos (The Avalanches) to live events (concepting and creative directing the entertainment for the AFL Grand Final) to broadcast TV (The Sound) to festivals (Sugar Mountain), to strategic partnerships (AAMI, Telstra, Qantas), to documentaries (in development), to experiential and branded content/advertising (Bonds, Bacardi, Spotify, lululemon, Menulog).

About a day on the green / Roundhouse Entertainment

a day on the green is Australia's original and premier outdoor winery concert event. The brainchild of Michael and Anthea Newton, since its first show in January 2001, a day on the green has firmly established itself as one of Australia's most popular concert events hosting some of the biggest music acts in the world. 2022 marks the 21st season of a day on the green. After nearly 500 shows and more than 4 million happy patrons, the a day on the green experience of good food, fine wine and great music in magnificent locations remains unrivalled.

About AAMI

AAMI is a leading national insurance provider that exists to help Australian's prevent and recover from life's unexpected events. AAMI believes actions speak louder than words — that's why they're proud to be the doers of insurance. AAMI has been providing Australians with great value insurance and excellent service for over 50 years.