Suncorp partner Australian Road Safety Foundation sees 100,000+ pledges to #ChooseRoadSafety
---
The Australian Road Safety Foundation, in partnership with Suncorp, commemorated its 15th annual Fatality Free Friday last week, urging Australians to take care on the roads in an effort to reduce the tragic impact of road trauma on the community.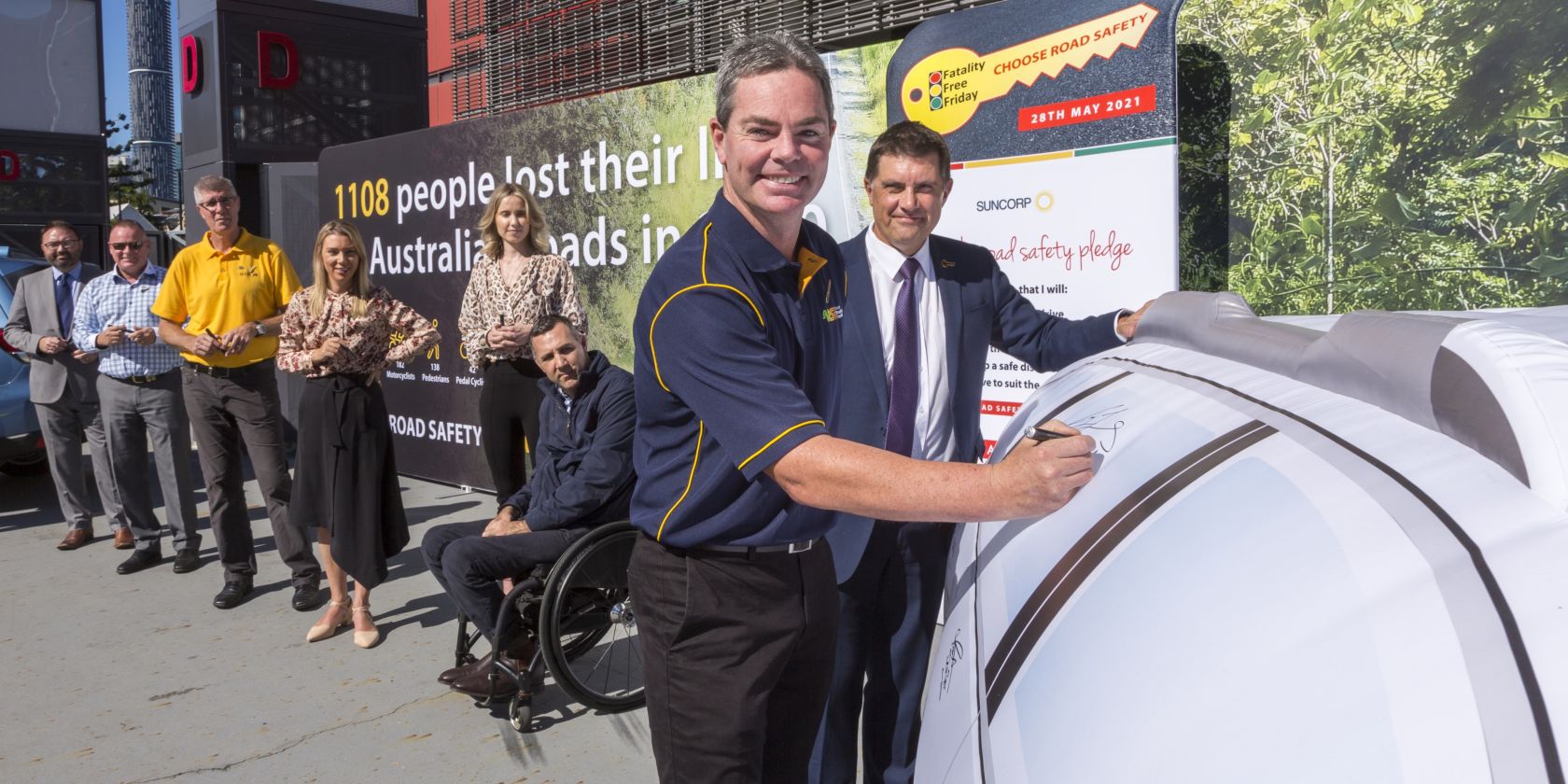 Last year, more than 1,100 people lost their lives on Australian roads, and each year more Australians are affected by the knock-on effect of road trauma. This year, the Australian Road Safety Foundation (ARSF) endeavoured to change that.
Fatality Free Friday is an occasion marked each May that strives to educate road users in Australia of the dangers of driving, cycling, motorcycling and walking. This year, the theme of Fatality Free Friday is 'The Ripple Effect' – referring to the devastating domino effect that road trauma can have upon its victims' family, friends and community. The campaign attracted significant attention from the community, including Suncorp staff, who make up some of the 100,000 people who pledged to #ChooseRoadSafety this Fatality Free Friday.
Russell White, Founder and CEO of the ARSF said research indicated there needs be further education for road users, who predominately believe that drivers make up the majority of the road toll when realistically, more than half are passengers, pedestrians, cyclists and motorcyclists.
"Individuals have a responsibility to make the right choices when using the roads and it is imperative, they understand the devastating consequences their choices can have not just on other road users, but on the wider community," said Mr White.
Deputy Prime Minister Michael McCormack MP revealed at the Fatality Free Friday press conference that 78 per cent of Australians admit to speeding, and more than two thirds admit to having broken a road rule. Alarmingly, a quarter of people admit to breaking a road rule at least once a week.
"These findings are a harsh reality and this is why this Government is taking a strong leadership role and making significant investments in road safety," the Deputy Prime Minister said.
"Even one death on our roads is one too many, which is why it is vital we continue delivering priority upgrades to get motorists home sooner and safer," he concluded.
Kylie Horton, Suncorp's Executive Manager for Queensland CTP Claims revealed that on-the-road incidents even affect her team of Claims Managers, who say their roles can be emotionally confronting in the event of road trauma.
"Our claims team sees the impact of road accidents on injured road users and their family, friends and communities every day," Ms. Horton said.
We know that road trauma is preventable. Road safety is a choice we can all make, and a responsibility we should all carry when we travel on the road, whether we drive, ride, cycle or walk.

Kylie Horton, Suncorp Executive Manager for Queensland CTP Claims
As part of the Fatality Free Friday initiative, the ARSF announced it has funded a PhD scholarship with QUT's Centre for Accident Research and Road Safety – Queensland (CARRS-Q) which, since the program's inception in 1996, has seen more than 75 graduates fulfil roles within government and industry that inform road safety practices.
Through the Ainsworth 4 Foundation, the ARSF has funded QUT psychology graduate Glenn Mullins who will investigate how to better understand the entire footprint left on society by road traffic crash trauma.
In a collective plea for road-users to #ChooseRoadSafety, representatives at the Fatality Free Friday press conference mutually agreed that a partnership approach is integral to achieving zero road fatalities.
"A fatality free future is something we can only achieve if we all work together. From those planning the roads, to designing cars, to educating our kids. Mums, dads, colleagues, footy mates - everyone has a part to play in making our roads safer."