Suncorp apprentice program welcomes 55 new recruits
---
Suncorp Group is proud to welcome 55 new recruits to our Suncorp Apprentice Scholarship Program, established to support training in the motor industry and provide young Australians with qualifications and career opportunities.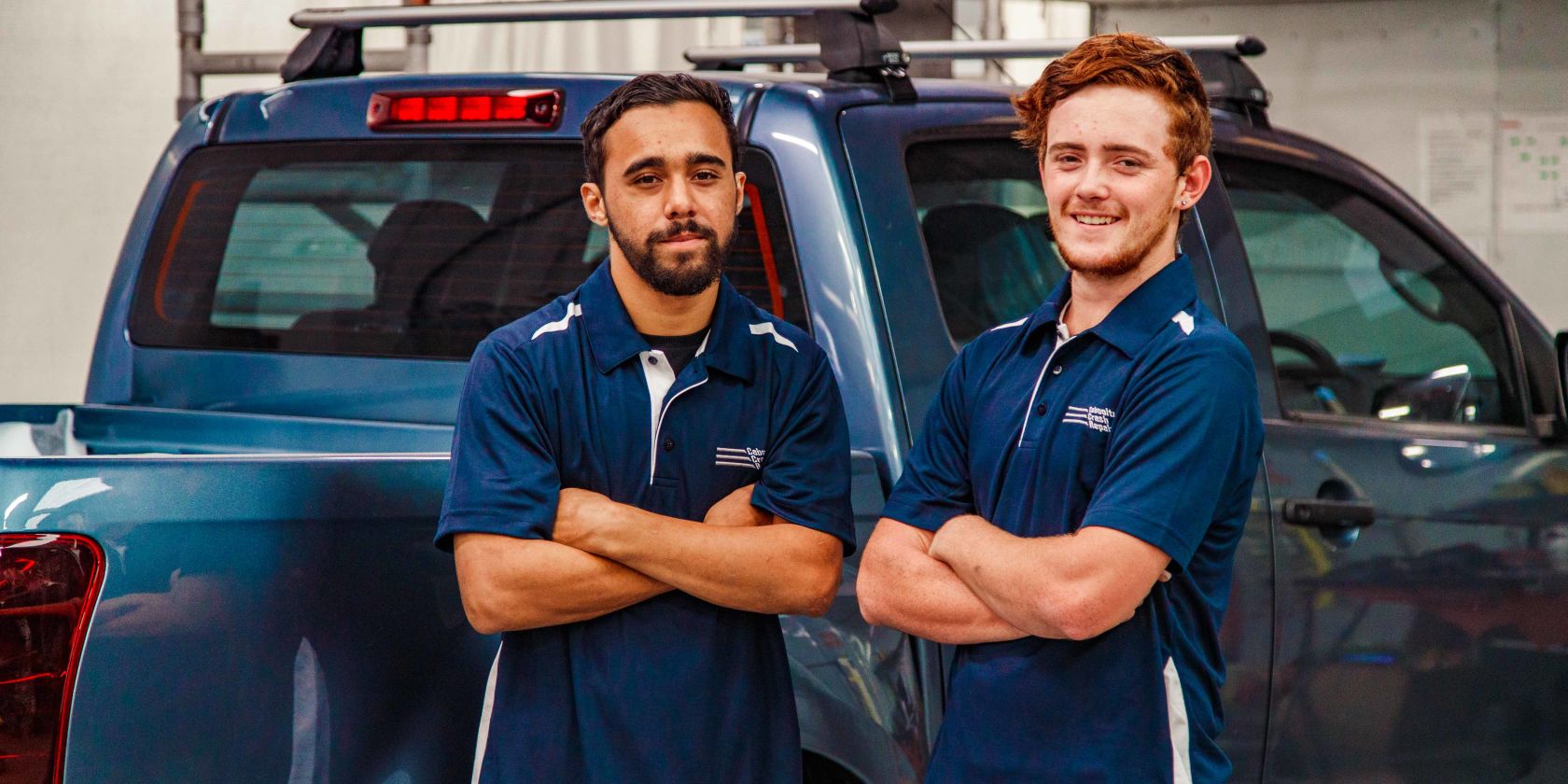 Pictured above: Program recipients Michael Skelton (left) and Ricky Collins (right) are completing their apprenticeship at Caboolture Smash Repairs.

New recruits were advised of their acceptance in late February and have already commenced training within Suncorp's various Network Panel Repairers throughout the country.

The scholarship program has been running for more than ten years and currently supports over 100 apprentices across Australia. Since inception, more than 600 apprentices have been through the program.
As part of the program, Suncorp provides subsidies to repairers to the value of $12,000 for a four-year apprenticeship, to help with the costs of employing and training the apprentices.
Additionally, for every year of successfully completed studies, Suncorp provides apprentices with $1,000 to assist with tools, equipment and study-related purchases.
Suncorp's Executive Manager Assessing and Repair Performance Brett Wallace said the program is something to be immensely proud of.
"The Suncorp Group needs quality repairers to ensure we are providing the best service to our customers. Our apprenticeship program is one way we ensure quality repairers are coming up through the ranks and contributing to the future of the motor repair industry."
Mr Wallace also said the success of the program is a testament to the repairers' commitment to the industry.
"It is a true reflection of our repairers' commitment to supporting a sustainable industry.
It improves the industry's skillset as a whole, by welcoming fresh talent into their businesses and ensuring the next generation of repairers receive quality training.

Brett Wallace, Suncorp Executive Manager Assessing and Repair Performance
Apprentices receive the majority of their training in the workshop – where they specialise in either panel beating or spray painting – and also attend local TAFEs to support their on-the-job training with theoretical knowledge. Once completed, apprentices graduate the program with either a Certificate III in Automotive Body Repair Technology or a Certificate III in Automotive Refinishing Technology, and are eligible to work as fully qualified panel repairers or spray painters.
For each graduate completing their apprenticeship and the scholarship program, Suncorp welcomes a new first year apprentice – ensuring the longevity not only of the program, but the motor repair industry.