AGM 2022: "The value of insurance has never been greater"
---
Suncorp Group's Board, including Chairman Christine McLoughlin AM and CEO Steve Johnston, today spoke with shareholders at Suncorp Group's first in-person Annual General Meeting (AGM) since 2019.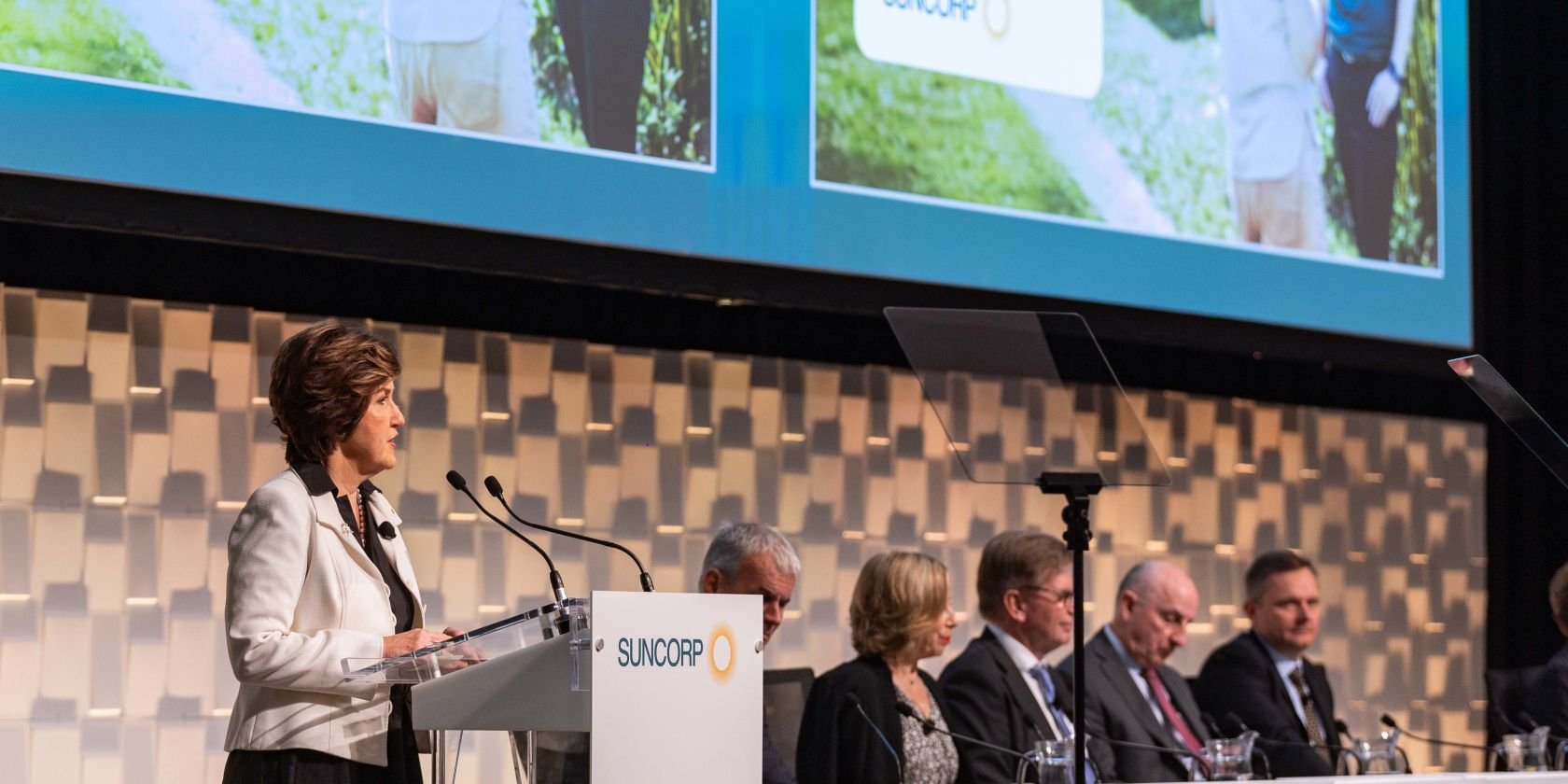 Ms McLoughlin opened by addressing the current challenges in the external operating environment and said the value of insurance has never been greater.

"These destructive set of events have highlighted more than ever the critical role we must play in advocating for greater investment in resilience measures that better protect and safeguard our communities and address insurance affordability pressures in high-risk regions," Ms McLoughlin said.
"Building greater resilience to natural hazards, responding to climate change and ensuring insurance remains accessible and affordable prevail as Suncorp Group's most material topics to address."
Suncorp Group CEO Steve Johnston confirmed Suncorp remains committed to our FY23 strategy.
"At the heart of our strategy is purpose," Mr Johnston said.
"It's why I often make the point that while business success should always be measured in terms of profits, dividends and valuations, equally as important for a business like ours are the lives we restore, the futures we assure and the communities we rebuild.
"Three years ago, we laid out a simple strategy and a clear set of FY23 targets. And despite the challenges we have stared into between times, we remain on track to deliver.
"The growth and progress we have made this year has been delivered by a capable and united team and the clear alignment of all Suncorp people to our strategy."
Mr Johnston also discussed the Group's Full Year Results, which were released last month.
"As you know, the Group's net profit after tax of $681 million, cash earnings of $673 million and a full year ordinary dividend of 40 cents per share were significantly down from the previous year.
"These headline results, however, mask the significant progress we are making to improve the business and this is reflected in record growth, higher margins and improved customer metrics."
Insurance Australia gross written premium (excluding emergency services levies and portfolio exits)*
Suncorp New Zealand gross written premium
Suncorp Bank home lending, up 9.0%
* All changes refer to the prior corresponding period unless otherwise stated
Looking ahead, Mr Johnston closed by confirming Suncorp's focus remains on building on the strong momentum across our three businesses.
"As Australia and New Zealand stare into the challenges of a changing climate, we need banks and insurers who can dedicate all their time and resources to supporting their customers and enabling the transition that will be required."
AGM materials and recording