Suncorp renews commitment to women's sport
---
Suncorp will continue to support netball at all levels in Australia, recommitting as Principal Partner of Netball Australia for up to five more years.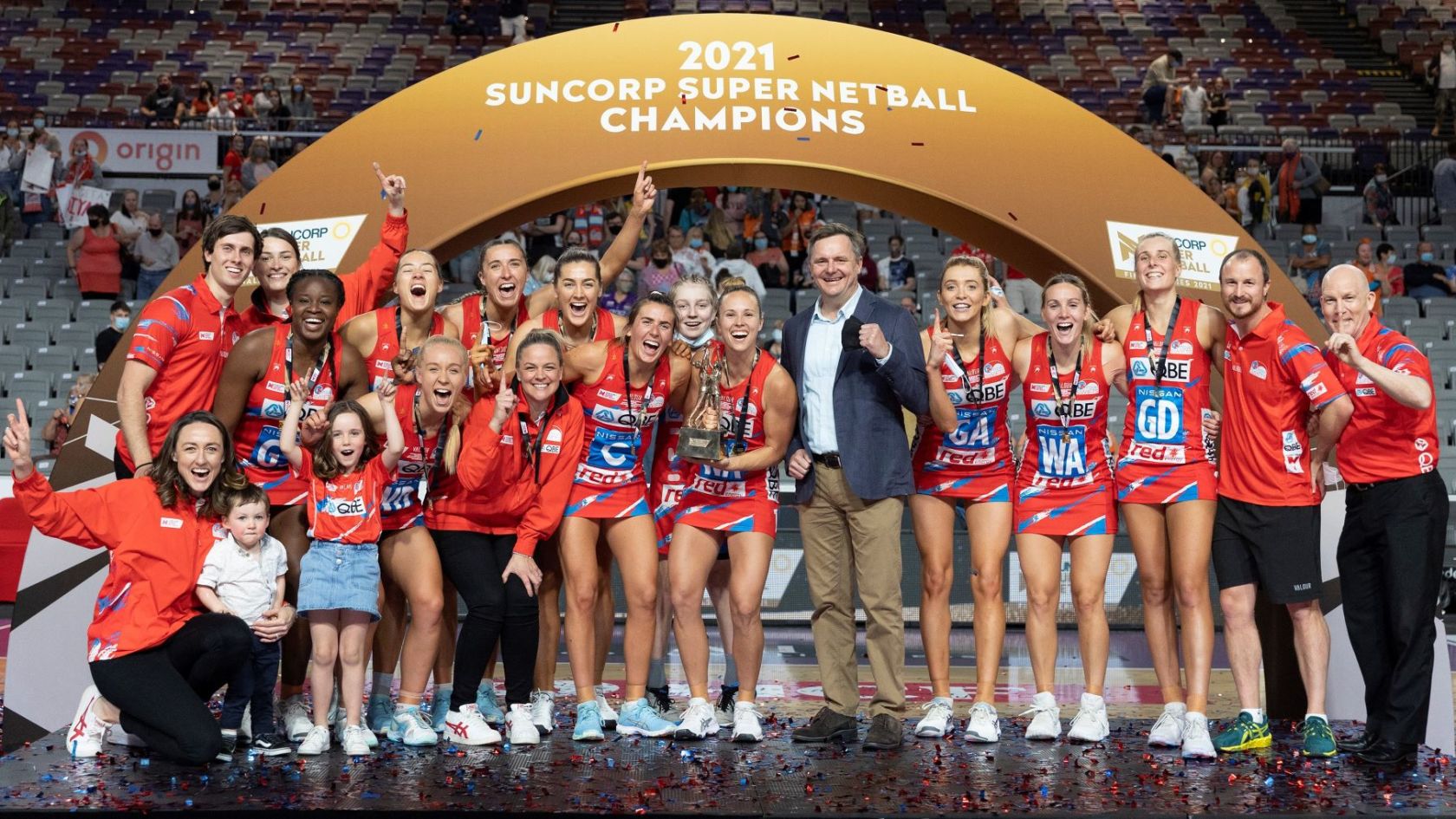 Suncorp Group CEO Steve Johnston with the NSW Swifts, the 2021 Suncorp Super Netball Champions.
Through the new deal, Suncorp will remain as Naming Rights Partner of the Suncorp Super Netball League and continue its support as a Major Partner of Net Set Go and the Origin Australian Diamonds.
Suncorp's support since the beginning has helped grow Suncorp Super Netball League into the undisputed best netball competition in the world, featuring athletes from across seven countries.
Suncorp began its partnership with Netball Australia in 2017, with a shared vision to elevate netball, empower girls and maintain their participation in team sport.
Suncorp also developed Team Girls in collaboration with Netball Australia, in response to a startling statistic that nearly 50 per cent of all girls stopped playing sport by the age of 17.
Over the past five years, Suncorp has worked with a range of experts including ReachOut and Sport Australia, as well as netball ambassadors and parenting experts on Team Girls. This included resources designed to keep girls engaged with sport and reduce the dropout rate of teenage girls.
Netball Australia CEO Kelly Ryan was delighted to announce Suncorp had renewed its commitment.
As we conclude another season it is a perfect opportunity to acknowledge Suncorp's involvement in growing the sport of netball from the grassroots level to the Suncorp Super Netball League and the Australian Diamonds.

Kelly Ryan, Netball Australia CEO
"We are delighted Suncorp is aligned with our future direction, especially as we look towards the 2027 Netball World Cup in Sydney.
"Suncorp has been a fantastic partner of Netball Australia since 2017 and we look forward to working side-by-side to continue to grow netball over the next five years."
Suncorp Group CEO Steve Johnston said Suncorp and Netball Australia enjoy a very successful partnership.

"It's a privilege to support one of Australia's most popular sports and the world's leading netball competition," Mr Johnston said.

"For girls right around the country, the competition stands out as an example of teamwork, resilience and leadership.

"We are committed to backing this incredible community and women's sport. We look forward to continuing to support the growth of netball for many more seasons to come."