Yanalangami: Suncorp employee's heartfelt artwork featured on 2023 Spirit to Cure uniforms
---
Dharug woman and Suncorp employee, Belle Artates, shares the story behind her Spirit to Cure artwork, 'Yanalangami: walk together, me and you'. The artwork, which features on the 2023 uniforms for riders and walkers, serves as a meaningful reminder of how often cancer touches each of our lives – including Belle's own ancestors.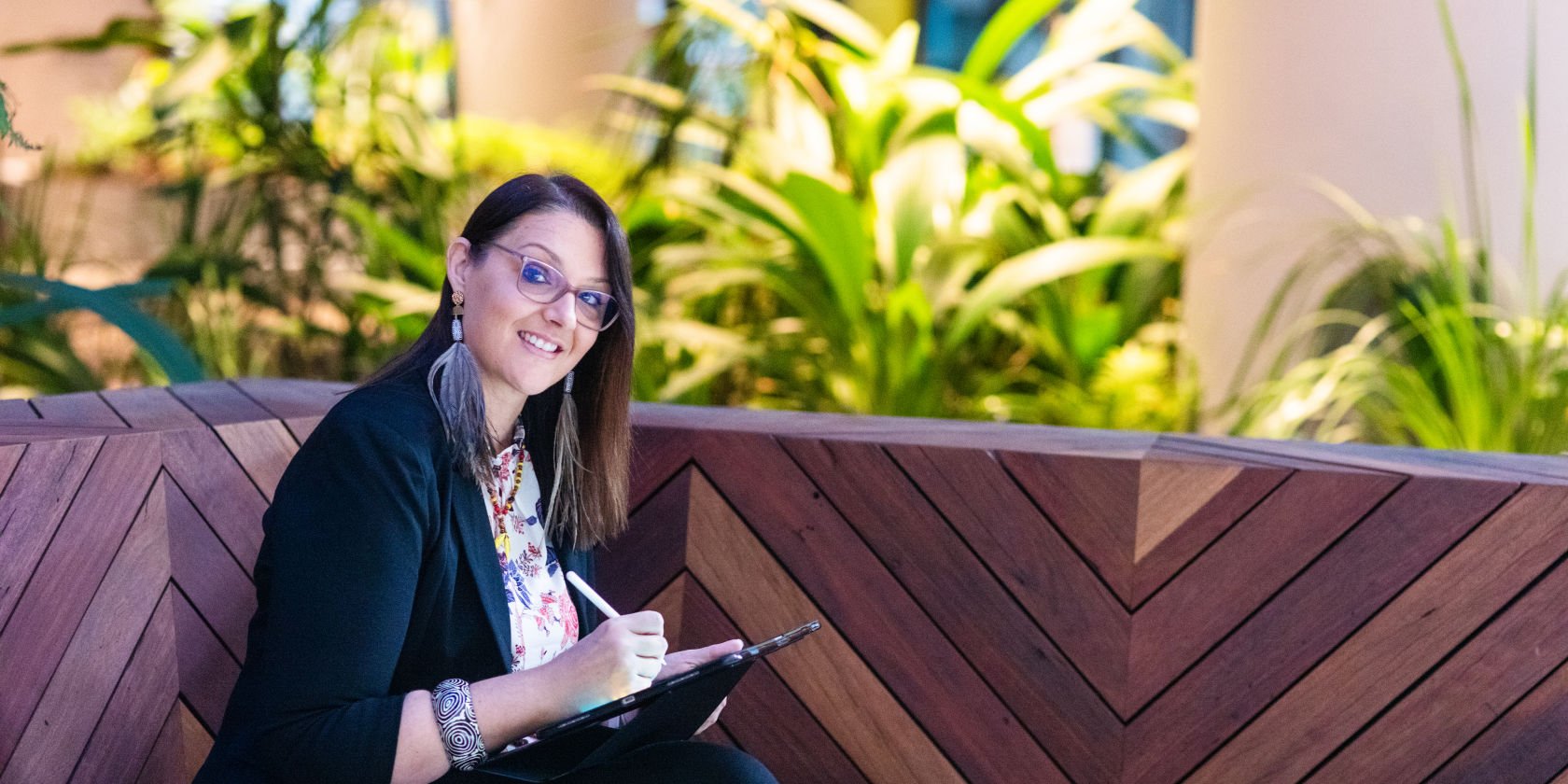 "Yanalangami" is a Dharug word meaning "walk together, me and you." This is the title of Belle's artwork which is featured on this year's Spirit to Cure cycle kit and walk shirt.
Belle Artates is a proud Dharug Woman and part of the Boorooberongal Clan based in Richmond. Her ancestry can be traced back to Gombeeree, an Aboriginal elder of the Dharug clan who met with Captain Philip in 1791. His granddaughter Maria was reported to have the first sanctioned union between a convict and an Aboriginal woman.
Warami Ngabayi. Yanudy'u Ngurrawa. Warrungady Yiyurawi.
Ngaya ngurrabirang. Bimal wayangagu. Burra biyangagu. Babugu
Ngarady'unga, Naady'unya, Ngalawady'u, Bayady'u Ngurragu, Ngarady'nya.
Yandy'u Ngurrawi ngubadygu.
Hello future. I walk on Country with the grey hair ones. I belong to Country, to Mother Earth, to Father Sky, to waters. I hear you; I see you; I sit with you. I speak to you Country, I understand you. I walk with Country towards love.
"Unfortunately, I did not grow up knowing of my mob or having a connection to culture due to the Stolen Generation and stigma associated with being Aboriginal. It was only once my nan had passed that we were allowed to investigate our heritage. We have been recognised as being Dharug descendants since 2003, however my connection with our mob and ancestors has only grown stronger since my battle with postnatal depression in 2015. We connected with our mob through social media, and together we started to recolonise our language, as this was a huge part of what was lost through colonisation.
In 2020, a spark ignited within me and my connection to my ancestors grew stronger. A feeling deep inside me kept guiding me to paint. I never painted as a child and if I did, I was terrible at it, but this time was different; I had the spirits guiding me. Whenever I started a new piece, I would not know what would transpire. It was only at the end of the painting that the picture and story would reveal itself. Sometimes the story would take some time to reveal itself and this would only happen when the Ancestors felt I was ready to know.
My Elders gifted me my traditional name "Goomedah Tamira" which translates to "hands are guided by the spirits" and this piece, "Yanalangami", holds great significance to me with our connection to Mother Earth as well my Elders who have passed due to cancer. The collaboration and guidance of this piece was with my uncle who was diagnosed with melanoma. While producing this piece, I felt a large presence and connection with my uncle and his journey to discovering he had cancer through to the final moments when unfortunately, he lost his battle and returned to Mother Earth.
Yanladyi bulbuwul (stronger walking together) was the main theme of this piece as we can't cure cancer alone; together we are stronger. There is a quote by Mother Teresa which keeps me strong and moving forward recognising that we all have different strengths and that when these are brought together, remarkable things can be achieved: "I can do things you cannot, you can do things I cannot; together we can do great things."
Yanalangami represents this with the Human, Kangaroo & Emu footprints all walking together on Country along the riverbeds and mountain ranges, which are symbolic of the ride event across Queensland and Northern NSW. The rivers also signify the twists and turns that each patient goes through with their cancer journey and that this is never a straightforward process. The Yarning Circles illustrate the collaboration of this event, both through our collective fundraising efforts and the knowledge work of scientists to create change, and hopefully cure cancer."