Nala the accessibility dog lends a helping paw at Melbourne Spirit to Cure
---
While Spirit to Cure wasn't in the job description for Nala, she and owner Shelley Parker took on the 21km Melbourne walk with enthusiasm and tenacity this week. While the walk for many signifies Suncorp's commitment to curing cancer, for Shelley – the achievement held personal meaning, representing how far she's come with the support of man's best friend.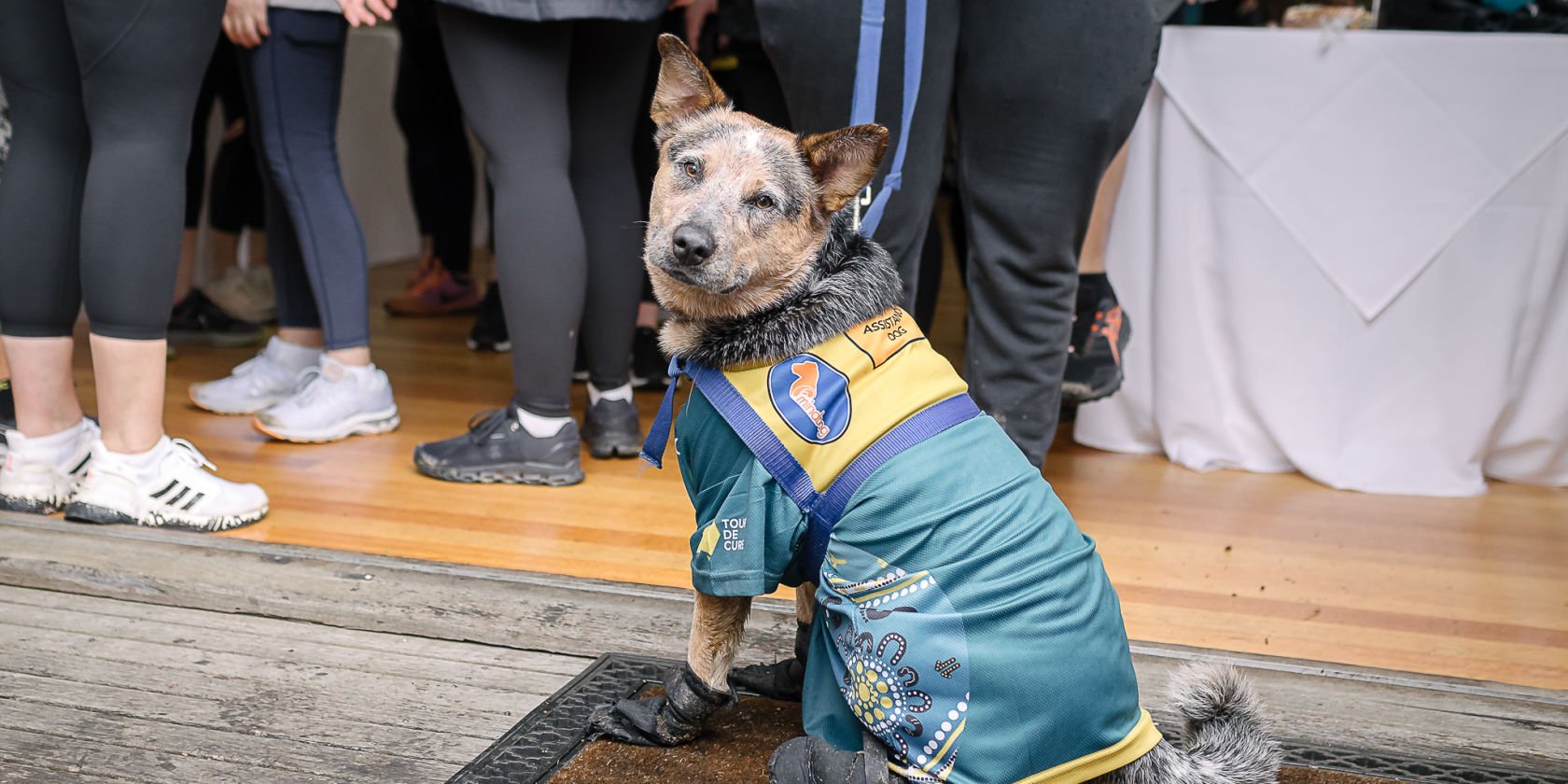 WARNING: This story contains content relating to mental health and trauma. If this content is triggering for you, we encourage you to skip this story.
______________________________________________________________________________
Several years ago, Shelley Parker experienced a traumatic attack at her place of work. While working at a Youth Justice Centre in Victoria, Shelley became trapped, isolated in her office while five youths rioted her workplace armed with metal bars, eventually forcing their way into her space. While Shelley escaped the riots, she was left with chronic post-traumatic stress disorder (PTSD) and, for some time, felt hopeless at the thought of possible change. At the time, Shelley was not expected to work again.
There is a happy end to this story, though.
Shelley found a psychologist who deals specifically in PTSD management who helped her manage her condition to a point she felt comfortable to work, and to be social once again. Along that journey, Shelley found Nala, the accessibility dog who became Shelley's right-hand woman through all of life's adventures – including walking recently in the Melbourne Spirit to Cure walk.
While Nala didn't trot on the treadmill in preparation for the 21km walk, her training is pretty extensive in other areas. Nala boasts special skills in managing Shelley's PTSD, including being able to interpret signs of anxiety and management of symptoms, including giving a nudge with her nose, distracting Shelley from thoughts of fear, and even jumping up for a cuddle when Shelley needs extra support.
Shelley walked in the Spirit to Cure event with tenacity, and her peers were excited to have Nala, the extra guest, along for the ride. Shelley says she was inspired to join in the walk due to her own experience with cancer through impacted family members.
"I have had several family members pass away from cancer," says Shelley.
"I also watched my mum care for my grandfather while he was dying of this horrible disease."
With such passion for cause, Shelley was determined to participate in the walk. Despite never having walked 21km, she trained hard in advance, walking regularly at her home and the gym. She said that preparing mentally for the walk wasn't so much of a challenge, knowing she had the support of her Suncorp colleagues by her side.
"I have never worked for such a supportive company," says Shelley.
"I know that when I go into the office, I'll always be greeted with support and excitement from our team. Nala loves going in too and seeing all the employees."
I have never worked for such a supportive company. I know that when I go into the office, I'll always be greeted with support and excitement from our team.
As for encouraging others to participate in Spirit to Cure, for that – Shelley Parker is adamant. There are several events left to go in New Zealand, Perth, Adelaide and Brisbane.
"You can do anything if you put your mind to it," says Shelley.
"We should all support each other no matter what our disability."