Anna Bligh reflects on why resilience runs deep for Queenslanders
---
Anna Bligh was a familiar face during one of the darkest periods in Queensland's history. As the state marks the 10th anniversary of Tropical Cyclone Yasi, former Queensland Premier Anna Bligh reflects on why the devastating weather events of 2010 and 2011 will always be with her - and what it is about Queenslanders that makes them so resilient.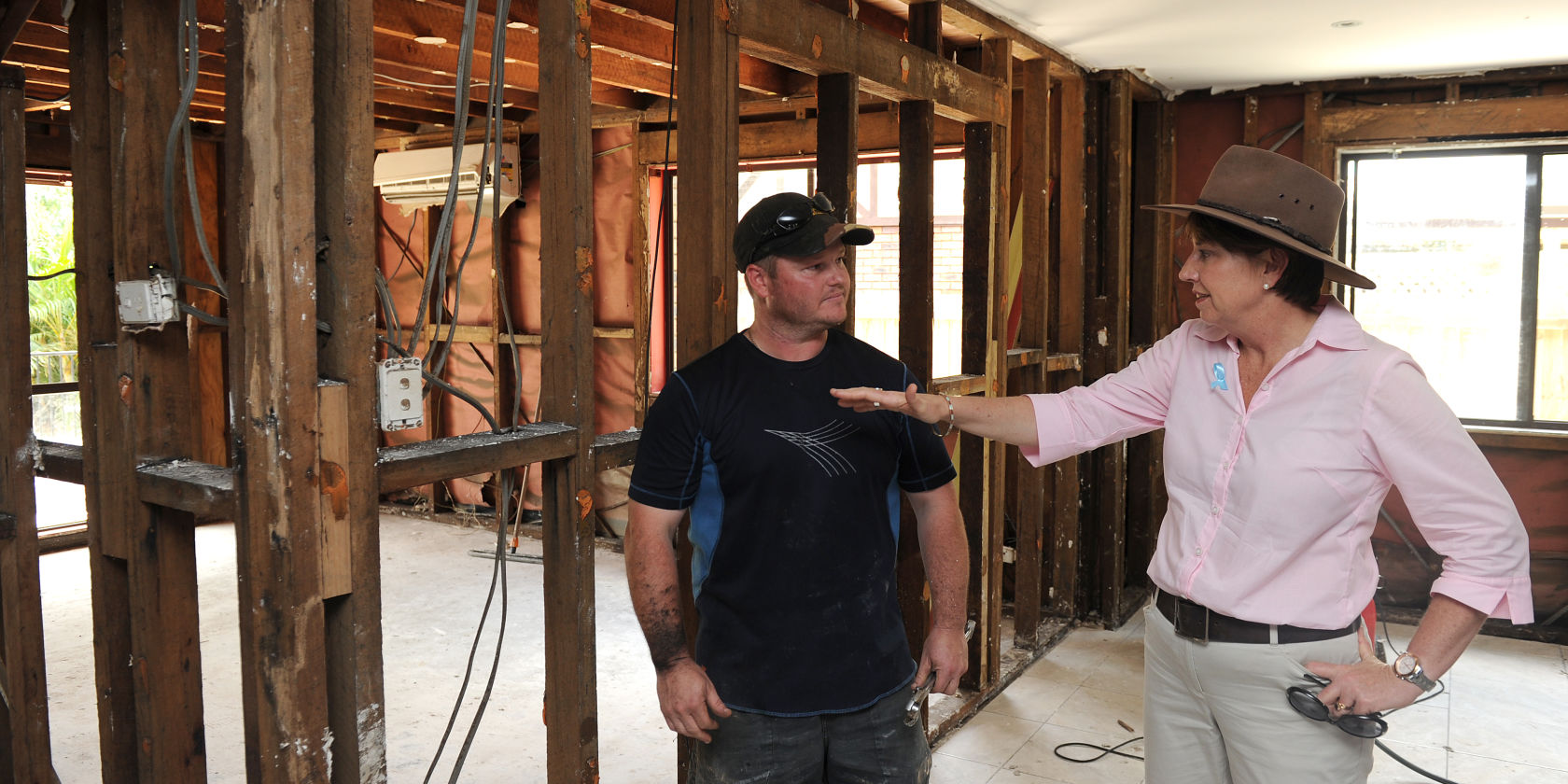 To Anna Bligh, the memories of floodwater, cyclones and decimated towns would appear to be a world away from the corporate domain she now inhabits. The Chief Executive Officer of the Australian Banking Association served as Queensland's Premier from 2007 to 2012, steering the state through a disaster that claimed 35 lives and displaced thousands of their homes and businesses.
And, while the events of 2010 and 2011 may be firmly in the past, memories remain ever-present.
"The events of 2011 were so extraordinary, but they are never far from my memory," said Anna Bligh, as she marked 10 years since the Sunshine State's devastating summer.
While flying over the Lockyer Valley in early January 2011, Anna Bligh witnessed the scale of the utter devastation left in the wake of an inland tsunami. Following that trip, she knew she had a job to do; rally the people of Queensland.
Many still remember her words and the strength Bligh displayed during those now indelible press conferences between the 10th and 14th of January.
Anna Bligh, press conference 2011

As we weep for what we have lost, and as we grieve for family and friends and we confront the challenge that is before us, I want us to remember who we are.

We are Queenslanders; we're the people that they breed tough north of the border. We're the ones that they knock down and we get up again.
"I knew that people would be so shocked and overwhelmed when they got back into their neighbourhoods," said Ms Bligh. "If I could issue a rallying cry that would resonate, that would help people find that little bit extra that they were going to need to dig deep and overcome what they would confront when they went and saw what had happened to their homes and businesses."
She took inspiration, in those days, from something many Queenslanders hold dear – rugby league. The former Premier said she channelled the spirit and grit that was often on display during the dying moments of a State of Origin match. "I was trying to capture that emotion, that confidence and that state pride, and we were going to need it - on steroids," she said.
"There is a frontier toughness that I think runs very deep in the Queensland psyche that I was trying to appeal to and that sense of never giving up."
Queenslanders answered their leader's call, and the now famous mud army was born. "Ordinary mums, dads, kids, uncles, aunties, everybody picked up a mop and a bucket, got on a bus and went to a suburb where they didn't know anybody and helped clean up," said Ms Bligh.
"I felt enormous pride that the world was getting to see the people of Queensland for who they were."
"I remember when Suncorp decided to pay the claims of all of those who had insured for flood, it was an enormous relief to me and I knew it was going to bring peace of mind, safety, and the ability to recover to so many thousands of people."

Suncorp really stepped up to the plate and I don't think Queenslanders have forgotten it.
As Queenslanders mopped up, towns got back on their feet and businesses started opening their doors again, another threat was brewing. "We got the news that we had a catastrophic cyclone heading towards Far North Queensland and it was likely to be a category five," said Anna Bligh.
"I remember just greeting it with disbelief. What else could Mother Nature be throwing at us? We just needed time to take a breath and we weren't going to get it. Our emergency service personnel were all suddenly back on deck at the front line."
Cyclone Yasi made landfall on Queensland's southern Tropical Coast near Mission Beach around midnight on the 3rd of February. Tearing through towns between Cairns and Townsville, it destroyed countless homes, businesses and crops. With winds reaching 285 kilometres per hour, it was the most powerful cyclone to hit Australia since records began.
As Australia stares down another La Niña year, Anna Bligh is confident we are well-equipped to deal with whatever the weather may throw at us. "I think Australians take disasters very seriously," she said. "We have a high degree of expertise in dealing with them at the moment they're happening, but then I think we have a very strong view that we should learn whatever the lessons are and take the opportunity to build back better."
Cyclone Yasi was a major test of a building code introduced for northern Australia during the 1980s. "I went through many of the places where Cyclone Yasi hit with devastating force," said Ms Bligh.
"Many of the houses built before the new building code had lost their roofs, some of them were flattened to the ground. Right next door would be a house that had been built since the new code was introduced and, unless a tree went through, none of them had lost their roofs. The structure and the roof held."
Anna Bligh believes there is something inside Australians, particularly Queenslanders, that breeds resilience.

"It is a beautiful place but it's often not an easy place in terms of its geography and weather - and that does toughen you up," she said.
"You have to be tough to live there and tough to succeed and you've got to know the place well because of its unpredictability.
"It does breed something deep in you."