Learn, design and adapt: Lessons on building a flood-resilient home
---
When Suncorp customer Daniel Franks moved to a suburb situated on the Brisbane River, merely months before the devastating 2011 Queensland floods, he knew he would be faced with a design challenge. With a history of devastating floods in the region, Daniel and his family set out to not only renovate, but skilfully redesign a home that would be able to withstand future flooding.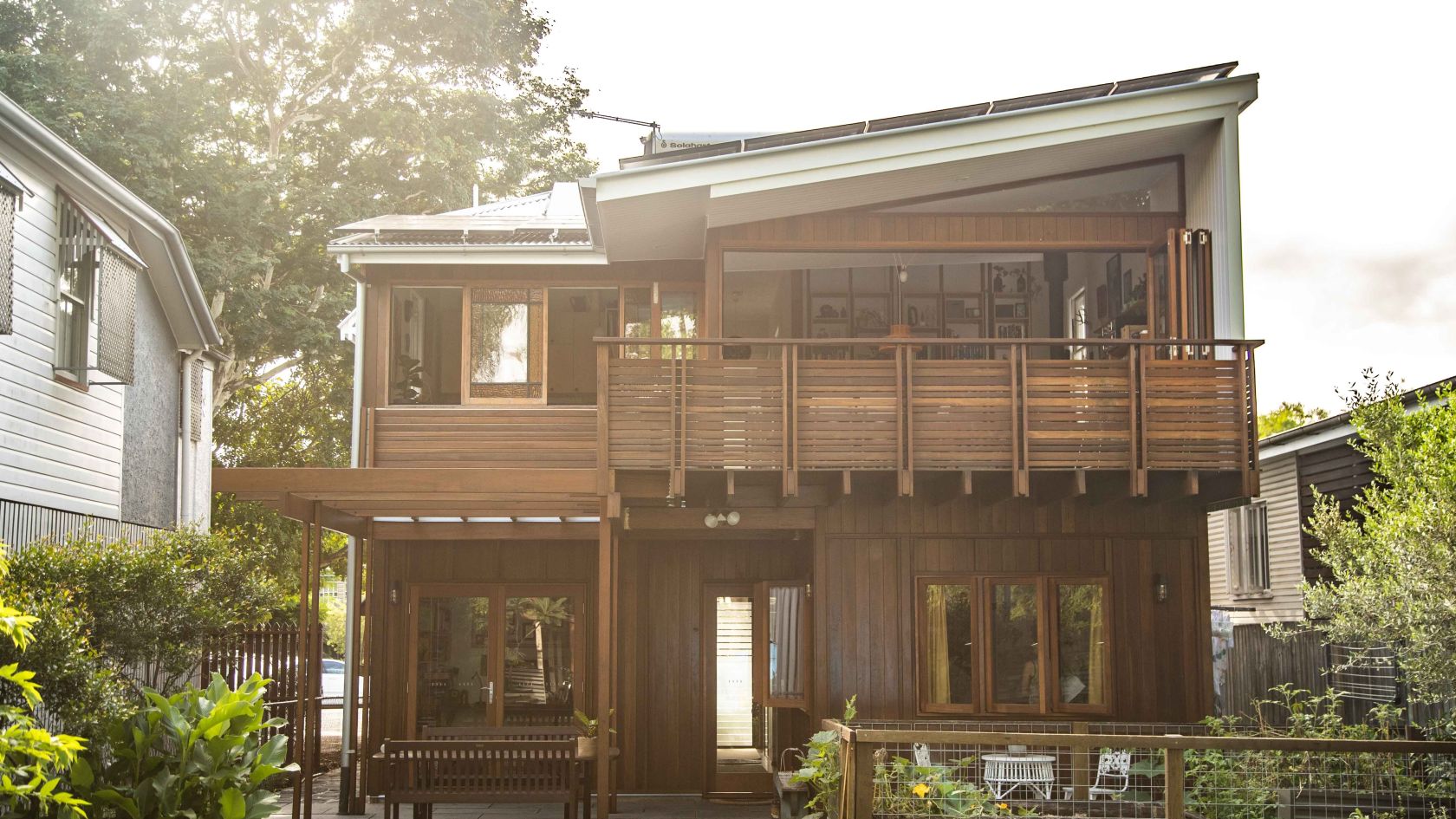 Mr Franks said he and his young family bought the house knowing it was built on a flood plain.
"It was in our minds from the beginning that if we were going to renovate the house, we wanted to do it in a way that was true to the original housing design and to where the house was from," he said.
"In 2011, our whole neighbourhood went underwater. The flood water came up our street, though stopped right at our driveway. Our neighbours remembered our house going underwater in 1974 – one neighbour even remembered sailing a dinghy down our street in 1974 and tying it to our front stairs.
"So, it just made sense to build in a way that respects our changing climate and the treacherous weather it sometimes brings."
It was then Mr Franks engaged James Davidson, an architect who specialises in designing for flood-prone regions, to re-imagine the renovation.
Mr Davidson said flood resilience design principles are simple, affordable, and adaptable to any environment.
"We spend a lot of time looking at different materials, talking to builders about techniques and understanding the local context," he said.
"We can't control severe weather events. However, through lived experiences, we can learn, design and adapt."
#Simple principles for building a flood-resilient home
---
Use water-resistant or water-proof materials. Hardwood timbers work better than softwood.
Consider a floor plan that allows water to easily flow out without becoming trapped.
Build walls that don't have cavities inside, where water can be trapped and turn to mould.
Use polished concrete floors that won't be ruined by flood water.
Use door sills that sit flush with the floor, rather than raised.
Use louvers that come down to the ground, so water can wash out easily.
Use a separate electric circuit upstairs, so if downstairs gets wet and switches off, you still have power upstairs.
Suncorp Executive Manager for Government, Industry and Public Policy Josh Cooney said helping to build more resilient communities is at the heart of what we do.
"With every disaster season, we are continually reminded just how vulnerable many of our customers are to flood, fire and storm," Mr Cooney said.
"Improving the resilience of our buildings to withstand the impacts of natural hazards is important, and this includes strengthening and upgrading existing homes.
"And as an insurer who practices risk-based pricing, the right thing to do is lower premiums when homeowners invest in upgrades and features which lower their risk."
"It just takes a little bit of thought, a little bit of inspiration, and a little bit of challenging the ideas that you may have had previously."

Daniel Franks, Chelmer homeowner
Reflecting on his now completed home, it's clear Mr Franks didn't sacrifice aesthetics for resilience – rather, by sourcing natural, sustainable materials and respecting the traditional Queenslander housing design, which, after all, was originally designed for floods – resilience and aesthetics go hand-in-hand.

"It just takes a little bit of thought, a little bit of inspiration, and a little bit of challenging the ideas that you may have had previously," Mr Franks said.
"And it's not that much more expensive; many of the materials cost the same price; you just need to know what to use. We're also saving money on our home insurance policy, and we know we're saving money down the road the next time it floods.
"Being sustainable means using the resources we've got in the best way we can. It's about using something once, but investing in it the first time, to ensure our home will be there for the long-term."