Suncorp customers benefit from the opportunity to rebuild their home stronger
---
Following South-East Queensland's hard-hitting hailstorm in May, Suncorp customers Michelle and Darren Lucas' property was left severely weakened by the impact. When submitting their claim, they were identified as eligible for Suncorp Insurance's new Build it Back Better feature: meaning any repairs included a resilience upgrade to ensure their home is better protected for future events.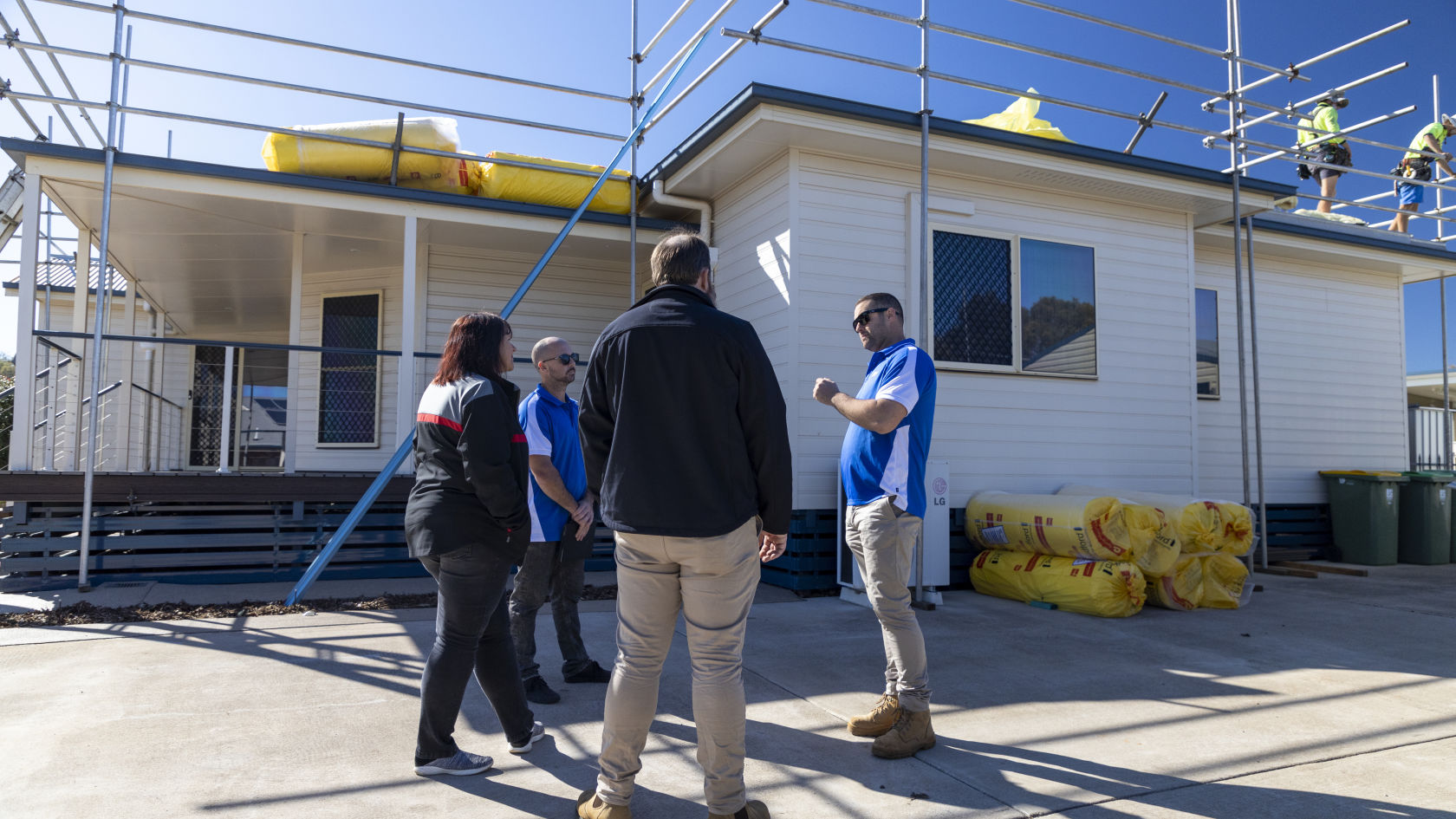 On 11 May, an unseasonal low-pressure system passed over the eastern coast of Australia, producing powerful thunderstorms, destructive winds, heavy rain, and flash hail events.
Glenvale-based Suncorp customer Michelle Lucas arrived home from work just before the storm broke, where she waited out the intense storm. After the storm passed, a quick assessment suggested Michelle and her husband had been lucky, with only some distortion to the air conditioning units, weather station, and pool matting noticeable.
Undergoing renovations to their property, it wasn't until their builders pointed out the damage to their roof that they realized the extent of the damage.
"We had our tradesmen here who said, 'you really need to get up here and take a look. It was only then, that we thought, wow, okay."
Michelle quickly spoke to Suncorp to lodge her claim, who arranged a time for an assessor to visit the property. Event Assessor Adam Fraser, supported by RPF Building, visited Michelle to assess the extent of the damage and agree on the scope of works to get the Lucas' home repaired.
Upon submitting the assessment report, it was found that the couple were the first customers to qualify for Suncorp Insurance's newest benefit – Build it back Better.
This additional coverage gives eligible home insurance customers the ability to choose from a range of options to improve a home's resilience to natural hazards. Given the frequency of storms in their location – and their rural location in dense bushland – the Lucas' had already planned on adding gutter guards to their property during their renovations. But, thanks to the new benefit, they were able to save this money via the Build it Back Better scheme.
"It was great to confirm the Build it Back Better benefit with Michelle and Darren," Adam said.
Suncorp Insurance Event Assessor, Adam Fraser

They requested gutter guards as their addition, and we were able to provide that within the policy limit. To be able to give them that boost of the benefit, to not only rebuild their home but make it more resilient, will help to future proof the property against future events.
Suncorp Home Insurance now provides up to $10,000 to help improves the resilience of our customers' homes. Known as Build it Back Better, this additional coverage gives eligible customers the ability to choose from a range of options designed to improve the home's resilience to natural hazards, water damage, fire, and theft.

Customers can access Build it Back Better when:
A claim for loss or damage to the home is covered
The assessed quote to repair or rebuild exceeds $50,000, or 10% of the sum insured - whichever is higher
A member of our supplier network is able to carry out the authorised repairs or rebuild
The home does not already have the resilience option
Michelle Lucas, Suncorp Insurance customer

Thanks for making it relatively painless and a fairly easy process – and for having clear communication – it's really important that you always know what's going on. Getting that little extra bonus is particularly nice, knowing it might safeguard you the next time where perhaps you don't have to make a claim.
Having been a Suncorp customer for more than 20 years, Michelle and Darren had made previous claims but said it felt incredibly reassuring being able to include these extra measures as part of her policy.
"Being able to put that gutter guard in at no extra cost has actually been really handy, so we can hopefully put the money towards some more family adventures, when we can get to that," Michelle said.
"The guards will make a difference, especially if there is another hailstorm, so the gutters won't fill up like they do. Given how long this storm was this time, the gutters filled up quickly and we had to pull rain heads off, so the water didn't back up into the house. These new gutter guards will stop that."
Nick Montay, Regional Manager from RPF Building, highlights the increasing importance of building more resilient homes as Australia's weather continues to become more uncertain.
"It's a great idea putting extra protective measures in place. Obviously, today's weather can be increasingly unpredictable, so adding things like gutter guards can save the owner a lot of money down the road."
Michelle said while the storm devastated her family home of 15 years, she was appreciative of Suncorp for being there when she needed support.