2022 careers: "There's a lot of life in rural Australia"
---
Starting your first fulltime job is daunting at any time – never mind during a global pandemic – but our current crop of graduates have taken it all in stride. We get their take on what it's like starting your career in 2022 and how they're creating the future they want to see.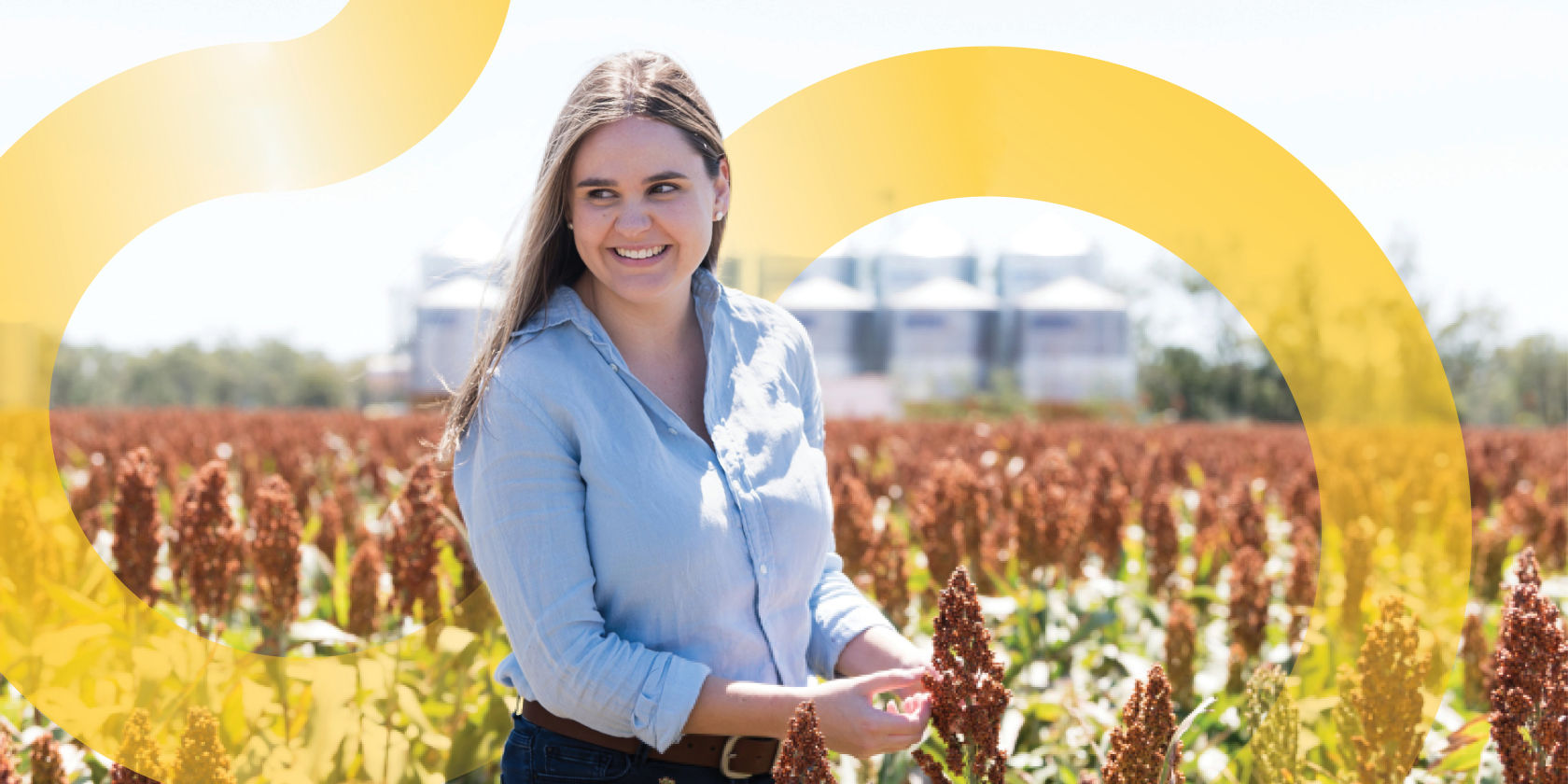 Sally Roche is a second-year business banking graduate, who supports our agricultural customers in South West Queensland. She has just moved to St George for her third graduate rotation, following stints in Goondiwindi and Dalby. The past few years have been a bit of a ride, but as she says, this generation is used to change.
Finishing my degree through 2020 was a little daunting.
I started applying for jobs in early to mid 2020, right as the pandemic began, and it was definitely a little stressful.
Like everyone, we didn't know what the future held, but you'd hear rumours about what it would mean for the job market, especially for those of us with no experience.
Our generation is used to change, and we've learned to take things in stride. You could say we're just rolling with it at this point!
There's a lot of life out here.
I'm really passionate about rural communities. The community, the people – I just love it.
I grew up on a broadacre farm in Central West New South Wales, and I've always wanted to live and work rurally.
In my final year of study, I had a few people encourage me to pursue banking as a great way to grow your career and be out on the farms, without being tied down to one spot.
One thing that really attracted me to Suncorp's graduate program was the opportunity to rotate through different teams. It was really exciting to me that I'd be able to see different towns and industries, and always be moving and trying new things. Especially when you're young and you can just pack up and move.
I'm noticing there are a lot more young people now who are willing to make that move out into regional areas, and there is life outside of the capital cities. Especially during the pandemic – I had it much easier than my city-based counterparts, who were experiencing lockdowns.
Agri is one of the most progressive and fast-moving industries out there.
It's amazing the strides we're seeing in technology out on our farms. There are tasks that ten years ago would take three days, and now they're being accomplished in three hours. Farmers are using drones to help with spraying crops.
Regenerative agriculture is also becoming the norm. A highlight from my first year was getting to visit the Hughes family and handing them a cheque to support their foundation that fosters regenerative farming.
It's important to me that I'm making a differencein the work that I do, and I love that Suncorp backs the things that are important to me too. I'm only just starting out and it's exciting to think of the changes I'll see over my career.
My favourite part of my job is when I get to meet customers and see their businesses.
I love seeing their businesses grow and knowing that Suncorp has helped along the way.
Suncorp's point of difference is that they really do care about the customers they support. I'm part of this community too, and I love meeting the people and learning from them.
I hope I can keep challenging myself.
I've been incredibly lucky so far in my rotations and the managers I've worked with, and I just want to keep learning and trying new things.
I'm happy in this role at the moment, but if I found something else I was interested in, I know that my leaders would support me in making that move. They really invest in their grads that way and there's scope for me to design the career that's right for me.
Here, I feel like I'm building the future I want to see, in the communities I want to be part of.
Suncorp's graduate program