Strengthening our homes and resilience – why mitigation matters
---
Suncorp Group CEO of Insurance Product and Portfolio Lisa Harrison reflects on an important milestone in Suncorp's mission to protect Queensland's northern coastline.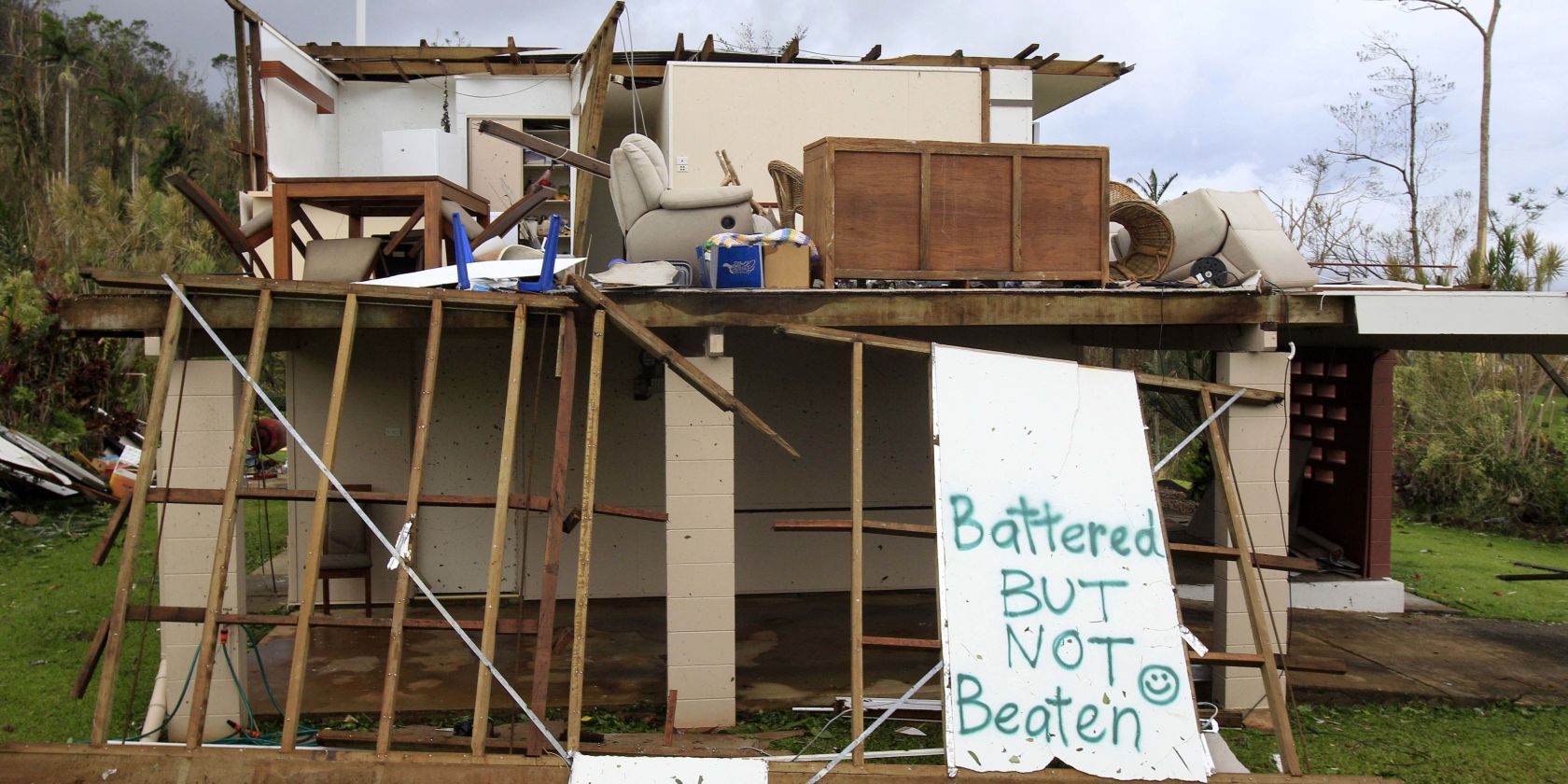 In the early hours of Thursday the 3rd of February 2011, the biggest storm in Australia's recorded history made landfall, wreaking havoc across Queensland's Far North. Although it's been a decade since Tropical Cyclone Yasi struck, for the communities affected, the memories of the disaster remain.
At Suncorp, we wanted to understand how to best help our customers in this region and provide peace of mind for those most exposed to the destruction and heartache caused by catastrophic cyclones.
Our purpose at Suncorp, something I believe in deeply, is Building futures and protecting what matters. Not only is it Suncorp's role to be there when cyclones, floods or bushfires hit, but to also have the foresight and examine preventative measures governments, industry and communities can take to be more resilient to such perils.
Part of this on-going education and planning is to ensure Suncorp maintains a strong partnership with experts at James Cook University's Cyclone Testing Station (CTS). Following Yasi we wanted to understand the impact cyclones have on homes, and what measures could be taken to reduce the risk. So, seven years ago, we provided extensive policy and claims analysis to the CTS based on the devastation caused by Cyclones Larry and Yasi.
A key recommendation from experts was mitigation. A targeted program that reduces vulnerability to the most common types of damage. This was scientific proof supporting Suncorp's long-held belief that mitigation was the best way to assist north Queenslanders with protecting themselves, their communities and their homes against cyclones.
Having worked in insurance for over 20 years, I see time and time again the community and personal impact of natural disasters. We understood there had to be a way to work together, to make homes and communities safer, the recovery easier and faster and make insurance more accessible in the region.
That's why in March 2016, Suncorp Insurance launched the Cyclone Resilience Benefit (CRB). We wanted to create an incentive structure for homeowners to embrace mitigation that would ensure stronger and more resilient homes.
We also wanted to reward our customers in cyclone-prone areas of northern Australia who invested in protecting their homes. Projects like strengthening older roofs, anchoring free-standing sheds to a concrete slab and installing shutters on all external windows. Or something as simple as installing keyed locks on windows, bracing roller doors and creating a cyclone checklist that included securing outdoor items.
During this time we also wanted to spark a conversation. We sought to engage our customers so they'd begin considering what they could do to cyclone-proof their homes. As a result, they would benefit from reductions in their home insurance premiums. More than 45,000 customers are benefiting from the scheme today.
However, mitigation isn't just about saving on insurance premiums or protecting homes, it's about protecting lives. I distinctly remember my first trip to the Cyclone Testing Station, witnessing the wind simulation on loose objects. It was almost unbelievable seeing the sheer force from various windspeeds on everyday objects. A powerful reminder of the significant threat posed by cyclones.
Although, mitigation is not just the responsibility of those living in the north. We need a significant shift in investment in mitigation across a wide range of perils - like floods and bushfires. In many instances, it will require large-scale mitigation efforts like flood levees and better land-use planning.
The fifth anniversary of the Cyclone Resilience Benefit is a tribute to the vital contribution individual homeowners can make. Insurance of course also plays an important role in supporting communities as they get back on their feet after disasters strike.
I am so proud to see Suncorp at the forefront of protecting what matters.

The Queensland Government utilised our vital cyclone research to establish the Household Resilience Program. The scheme provides grants to eligible homeowners in coastal parts of the state who improve the resilience of their properties.

This is a terrific accomplishment but there is always more to be done. Australia still spends 97 per cent of disaster funding on recovery and rebuilding while just three per cent is spent on increasing resilience and disaster prevention.

With changing climate patterns, risk around cyclones and other weather-related events will only increase over time. We need to be smarter about where and how we build our homes. Taking proactive steps to mitigate risk is essential - and it pays off.