Harnessing the talent of Veterans
---
In commemoration of ANZAC Day, Chair of Suncorp's Servus Employee Resource Group, Ben Dullroy speaks out about the struggle that many Veterans face when they exit the Defence force, and how Suncorp is working hard to remove the barriers of employment for this community.
WARNING: This article discusses suicide and mental health issues. If you or someone you know needs help, call Lifeline on 13 11 14.
-
Like thousands of other men and women around Australia, Suncorp's Ben Dullroy is a Veteran, who joined the Army before he was 18 and spent over a decade in uniform before transitioning from full time military service to the corporate world.

"Transitioning from Defence to the 'real world' has always been a challenge for our men and women in the military," says Ben.
"Serving in the Defence Forces comes with such a clear purpose and a strong sense of identity that disappears the moment you no longer pull on a uniform."
Now, Ben continues his service in a different way; as Suncorp's Executive Manager, Project Delivery in the Direct Distribution team, Ben uses his platform to give back to his fellow Veterans and their families through the Servus Employee Resource Group (ERG), which he chairs alongside his full-time job.
In honour of this ANZAC Day this year, Ben and his peers in the Servus ERG are broadening their commemoration to spark a conversation about employment opportunities for Veterans, who like Ben, might not have the easiest time finding their place in a new industry.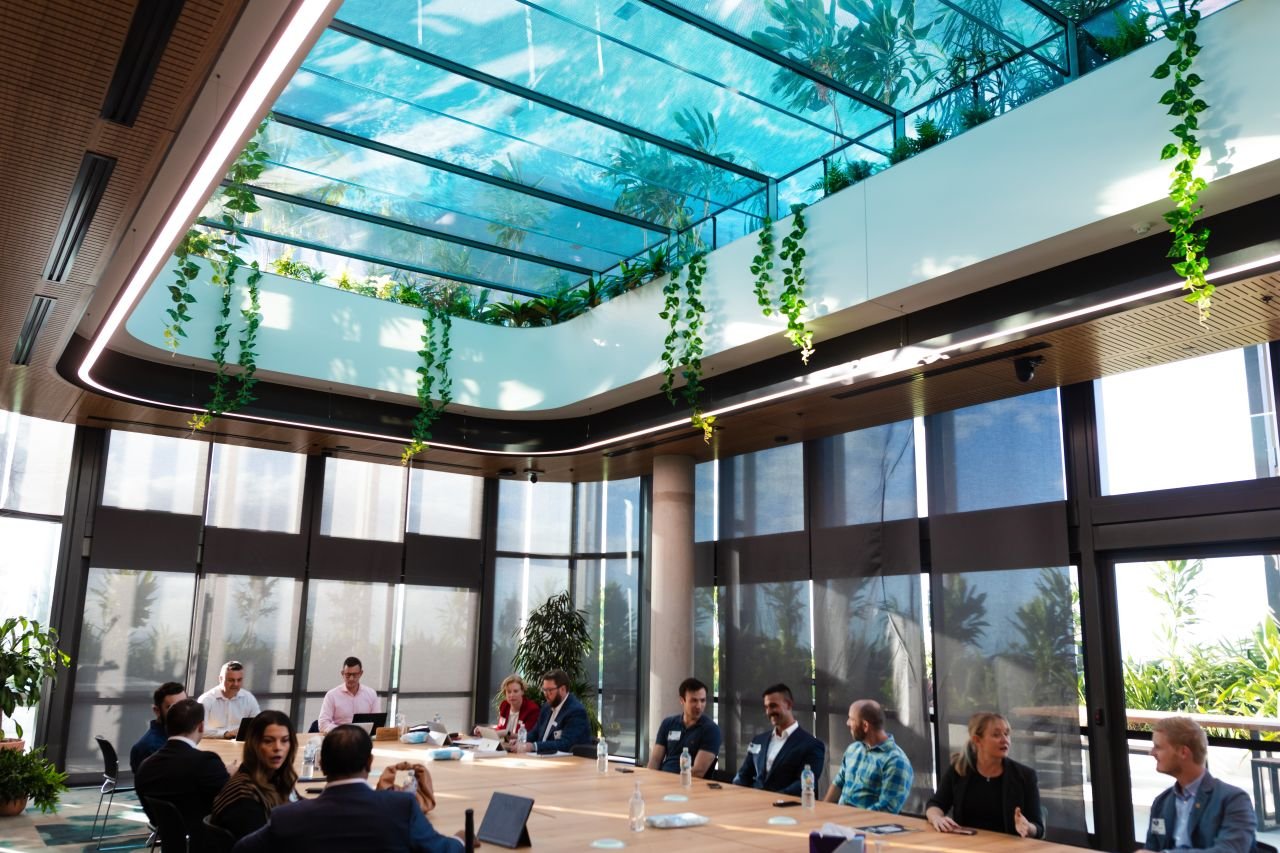 Ben Dullroy with his peers from RSL Queensland, Australian Federal Government and others at the Veterans roundtable, hosted in Suncorp's Heritage Lanes.
"For me the transition was challenging but rewarding," says Ben. "I recognise that I have been fortunate in the life and career I've been able to build after my full-time military service and I do feel a huge sense of responsibility to give back to my fellow Veterans and their families as a result."
In advance of ANZAC Day, Ben and his colleagues held a Veterans Roundtable event, hosted by the Servus team at Suncorp's Brisbane Headquarters, meeting with Department of Veteran Affairs representatives, fellow Veterans and other key stakeholders in the defence community to discuss the actions being taken to mitigate employment issues for former defence personnel.
Members from the Prime Minister's Veterans Employment Program were among the participants, sharing the growth in their program's participation rate since its inception in 2016. The team celebrated the success of the number of businesses who have officially signed up the Veterans Employment Commitment, a pledge which Suncorp has held since 2019. The team also celebrated the impact of its annual Veteran Employment Awards, which Suncorp's Servus Co-Chair Davor Strbac was awarded in 2020.
Ben says that gaining meaningful employment after serving in the Defence force is an ongoing struggle for many Veterans and their families, and it's part of his role to advocate for this community at Suncorp Group.
"Around 6,000 men and women leave the military each year and up to 30% of Defence spouses are unemployed and many more are underemployed – so there's a huge talent pool for employers to tap into," he says.
Employers like Suncorp are increasing their investment of time and understanding of how Veterans can fit within their work model, with many organisations now creating dedicated programs like Servus, with Veterans at their forefront, to improve diversity of employment and access this talent pool. Further to that, roundtable opportunities like the one held at Suncorp's Headquarters are enabling better understanding among employers for how to effectively support Veterans in their transition to a corporate workforce.
Ben Dullroy, Chair of SUNCORP'S sERVUS erg

Veteran mental health is a significant and ongoing challenge. We have now lost more Afghanistan Veterans to suicide than were killed in combat.

The Royal Commission into Defence and Veteran Suicide is underway and will be the catalyst for much needed action to improve the way Australia supports its Veterans.
Ben says that on a significant occasion like ANZAC Day, it's important to not only continue the conversation around employment barriers for Veterans, but celebrate those organisations who are making changes to support a more seamless transition out of the Defence force.
"Suncorp is definitely playing a large role in encouraging other businesses and organisations to better support our Veterans and Defence Families," he says.
"We are also exploring opportunities with the Department of Veteran Affairs and the RSL to better design their employment initiatives to suit business and get a better return on investment for Veterans and Defence Families. What Suncorp learns, we share to assist other businesses and organisations enhance their own Veterans programs and initiatives."