AAMI threads iconic VICSES uniform with tales of extraordinary heroism
---
Suncorp Group's AAMI brand is proudly celebrating almost 20 years of sponsoring the Victoria State Emergency Service (VICSES) with new, commemorative uniforms to show our appreciation for all volunteers.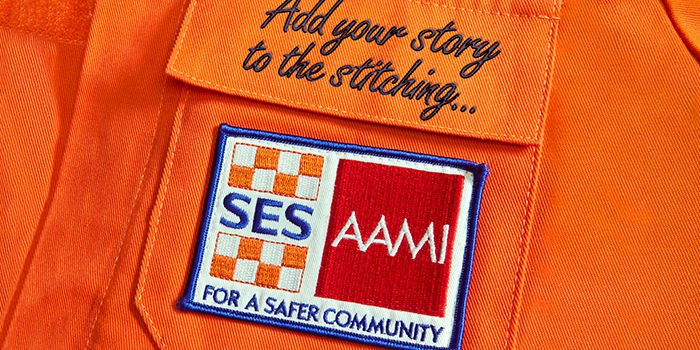 For the first time in its 70-year history, tales of VICSES volunteers' bravery and heroism, shared by Victorians they've helped, have been woven into the fabric of the iconic orange VICSES uniform.

As part of AAMI's 20-year sponsorship of VICSES, AAMI has woven those stories into two specially commissioned commemorative VICSES uniform, to show volunteers just how grateful Victorians are for their commitment to the community's safety.
The uniforms come on the back of the most challenging and busiest 18 months in VICSES' history and will be rotated among VICSES units across the state to help boost morale among the volunteers.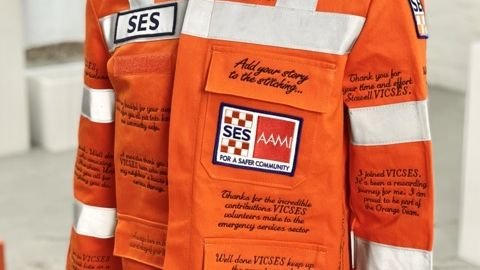 We wear your support
For nearly 20 years, AAMI has been helping the VICSES support Victorians when they need it most. Their stories of courage, dedication and bravery are woven into the very fabric of our communities.
The uniform also featured on a mural at Knox Place, at one of Melbourne's busiest CBD intersections, worn by VICSES Craigieburn volunteer Anita Lutz.
AAMI has been the Principal Community Partner of VICSES since 2002 and has provided over $9 million in funding towards critical life-saving equipment and community educations campaigns such as 15 to float.

Suncorp Group CEO Insurance Product & Portfolio Lisa Harrison said AAMI was proud to be a long-standing partner of VICSES.
"AAMI and VICSES are like-minded organisations dedicated to helping communities prevent and recover from major weather events," Ms Harrison said.
"Both organisations are among the first to respond after an event to help communities get back on their feet.
"We'd love to extend our thanks to all SES volunteers for the extraordinary role you play in our community."
Acting VICSES CEO Silvia Silverii said: "Our volunteers are extremely skilled and dedicated people, contributing to the safety of our communities right across the state. This campaign provides a fantastic opportunity to showcase the real difference that our volunteers make in the lives of people in need, every day.
"We are extremely grateful to have the long-standing support of our Principal Community Partner AAMI behind this campaign, and for our incredible volunteers."
Add your message of support to VICSES