Behind the phones: local TV star joins Apia
---
You may never see them, but peek inside a Suncorp contact centre and you will find some of the most caring and interesting people you will meet. We go behind the phones to meet Milton Cotterill, whose varied career includes busking in Kings Cross and being hailed as a local Newcastle celebrity.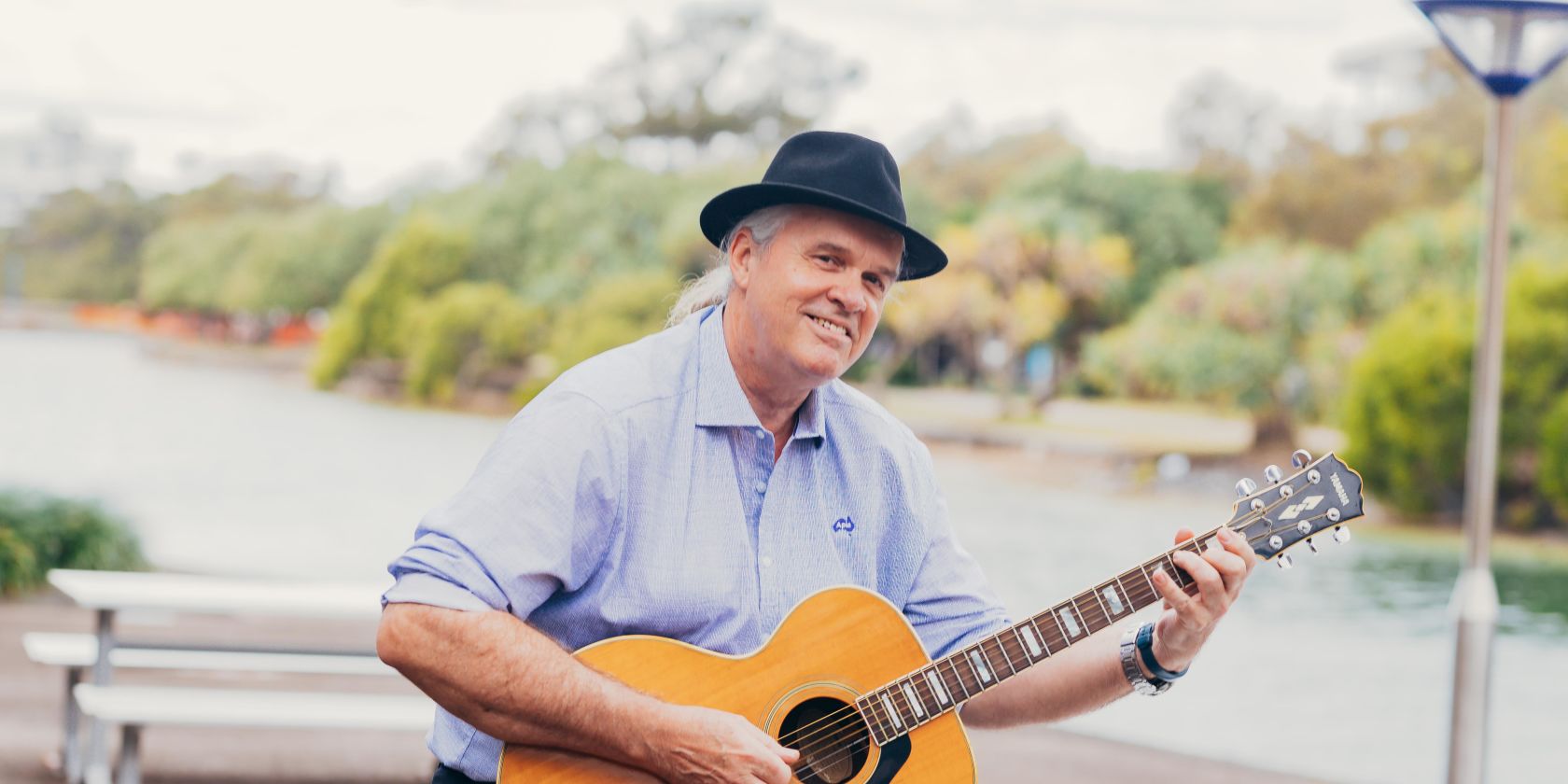 If Milton answers your phone call, you'll certainly find something to talk about.
His varied life experience began with a love of music and a music scholarship to study trombone in the 1970s.
But bored with the traditional curriculum and looking for more modern music, Milton switched to bass guitar and joined the band Total Fire Band in the early 80s where he played in Sydney's Kings Cross region.
"I remember our first gig was in the Perisha Valley though," Milton said. "That was fun – we'd play gigs each night and go skiing during the day."
Moving back to Newcastle in the mid 80s and forming a new band No Excuse, Milton received a phone call from a booking agent looking for a band for a local children's cartoon and variety show.
The show was Big Dog and Friends on the NBN network and was Newcastle's answer to Hey Hey it's Saturday.
Starting out as a guest, Milton became an instant local celebrity and was soon co-hosting the live show, swapping late night gigs for early morning kids TV.
Despite the early starts, Milton said he loved the work. "It was great making kids smile – we used to go and perform at children's hospitals on the weekend, and I remember being mobbed by a group of children once," he said.
After the show folded in 1989, a change of pace saw Milton pursue a career in real estate throughout the 90s, following in his grandfather's footsteps, while studying at night.
He admitted it wasn't the best time to go into real estate though, with skyrocketing interest rates and the housing market sitting right in between housing booms. "It was a bit of a slog," he remembered.
Tragedy forced Milton to take a break from work, when his 17-year-old son lost his life to melanoma.
Reassessing what he wanted to do next, Milton ultimately joined the contact centre for Impulse Airlines (which was later bought by Qantas) in the early 2000s.

"Everyone was joining contact centres in those days – it was a bit of a buzz job," Milton said.
"I joined right before the Sydney Olympics and was booking flights over the phone – that's where I learned my customer service skills.
"The technology has changed a lot since then – I can remember using MS-DOS software, or just jotting things down with pen and paper."
Milton joined the contact centre for Suncorp Group's AAMI brand in 2007 where he worked for 11 years, before moving up to Queensland in 2018 and arranging a transfer to our Apia brand, which has a store and contact centre on the Sunshine Coast.
"I like people, so this sort of work suits me," Milton said.
"And Suncorp has always been flexible. My leader was really supportive when I was looking for a change and was able to organise a transfer for me so I could move to Queensland but still stay with the company.
"I've also been able to switch to a four-day week, which suits me now I'm in my 60s."
This new flexibility has helped him find time for music again.
"I bumped into an old friend from Newcastle – haven't seen him for years! – and he was looking for a piano player for his band.
"I only knew a little piano, so I bought myself an electric piano and was learning it by night, while learning the Apia job by day.
"I'm also now back to playing bass guitar. Harmonica, too.
"I'll probably always be playing music."
Visit Suncorp Careers
More stories #behindthephones